Ticket gifting allows parents & carers to purchase Young Person fare bus tickets (including day, week, 10-trip, month, Student Saver and annual) on the First Bus App on their own smartphone and and then transfer these directly to their child's phone.
Therefore parents do not have to store credit or debit card details on their child's phone and nor do young people have to have access to a payment card to be able to have their bus ticket stored securely on the app on their phone.
All that is needed to share tickets is that both people must have the First Bus App installed and a personal account created. No purchases will need to take place within the app on the child's phone.
Just follow the simple steps below to see how ticket sharing works, or to get started with the app, go to our mTickets page where you'll find a step-by-step guide.
---
Ticket Gifting - Step by Step
Once you've downloaded the app and purchased your ticket, it couldn't be easier to gift it to your child by following these simple steps*.
Remember...before you start you'll need to make sure both people have the First Bus App installed on their phones and have both created separate accounts.
You can download a PDF copy of our step-by-step guide here.
STEP 1:
Buy the ticket for your child using the First Bus App on your mobile phone. Remember, anyone aged 5-19 inclusive pays Young Person fare. Only tickets with the 'Gift' icon can be gifted to another phone.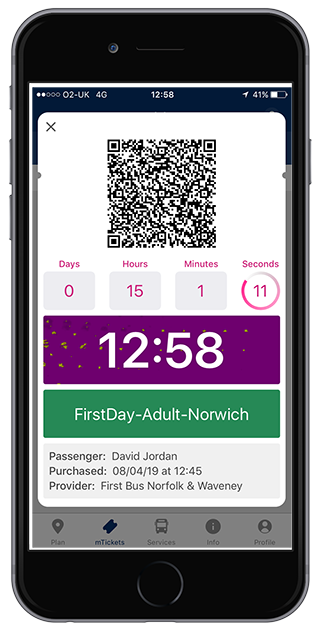 STEP 2:
Open the ticket from inside your ticket wallet, and click the gift button or share icon (top right of the screen). DO NOT activate the ticket on your phone!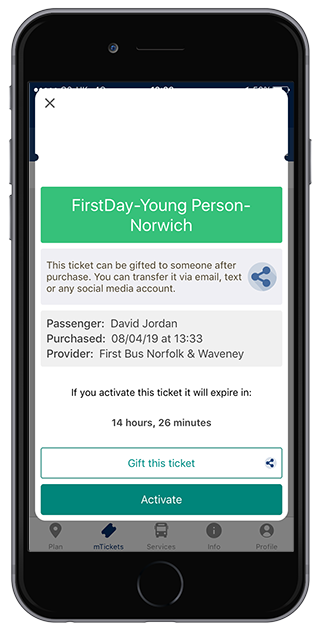 STEP 3:
Confirm that you want to share this ticket. You may be asked more than once...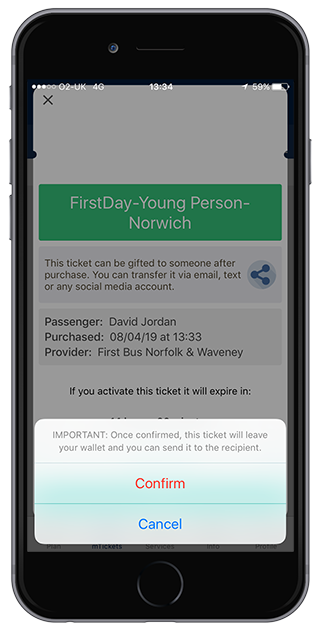 STEP 4:
Choose how you want to gift this ticket...all the usual options are available including text message (SMS) and email.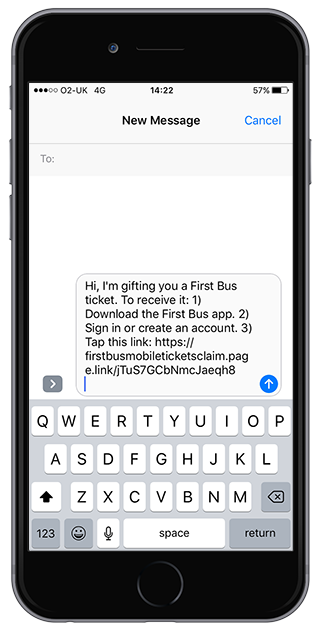 STEP 5:
Your child will get a message that the ticket has been gifted - it looks like a weblink.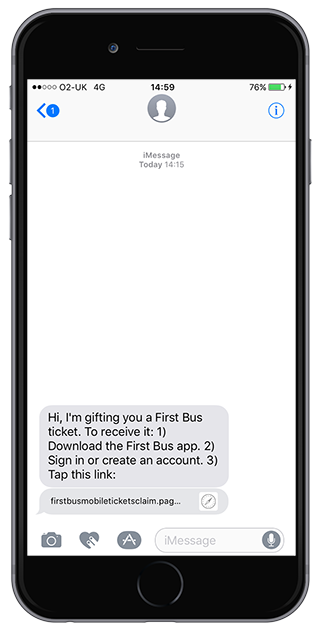 STEP 6:
Then, they need to open the link (or copy and paste into a web browser) to claim the ticket on their phone. The ticket will then work in the usual way within the First Bus App.