Clipper Cabriolet 1C - Open Top Buses

Ride around the fun and excitement of Great Yarmouth's Golden Mile, or enjoy the east coast scenary of wide golden sands and rolling dunes on board our Clipper Cabriolet open top buses.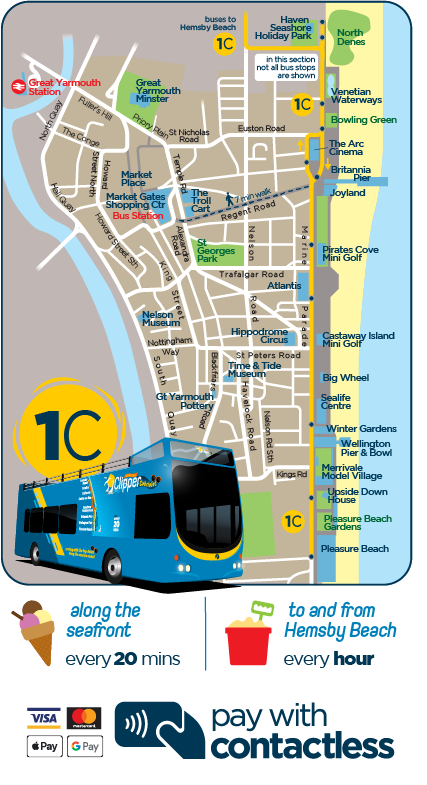 Our popular open top buses run up to every 20 minutes along Great Yarmouth seafront between the Pleasure Beach and Seashore Holiday Park in the North Denes every day from 16th May until the 25th September, extending further along the East Norfolk coast to Hemsby Beach every hour.
Click here to download our Clipper Cabriolet 1C Timetable [PDF]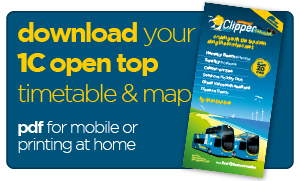 Calling at the key seafront attractions of Joyland, the Britannia Pier, Pirates Cove adventure golf, the Sealife Centre, Wellington Pier, Merrivale Model Village and the brand new Big Wheel as well as many more, there's no better way to travel around the resort.
Views from the top deck are amazing, and with our fantastic value day tickets you can hop on and off the bus as many times as you want.
All day travel anywhere between Seashore Holiday Park and Pleasure Beach is just £3 for an adult or £2 for a child and up to five people (*max of 2 adults aged 20+) can travel together for just £5 with our great value High5 group ticket.  And if you've got any ticket valid in our Coastal zone, you can use that to travel on our Clipper Cabriolet buses for FREE, as well as all of our other buses in the area.
There's no need to book in advance - simply hop on board and pay the driver for your ticket with your Contactless card or device.
And this year, as well as a brand new look, our open top buses have got an even better route as once every hour, they'll continue north along the coast to Caister-on-Sea (with it's wide sandy beach, lifeboat station and amazing fish and chips), then the holiday camps and resorts of Scratby and California and onto the seaside village of Hemsby with it's amusements, cafes and adventure golf as well as a great family-friendly beach.
To travel to Great Yarmouth from any of these places - or to travel from the town to visit any of these great new destinations you'll need a Coastal Zone ticket which also include unlimited travel on all of our other buses along the coast; you'll find the prices of these further down the page.  You can also use our other frequent Coastal Clipper buses to travel to & from these places on the same ticket.
Find more information on our main Coastal Clipper 1|1A buses here.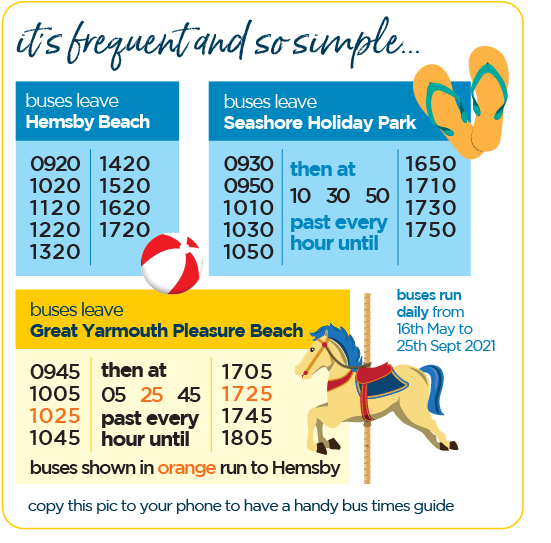 Some great value Clipper Cabriolet fares...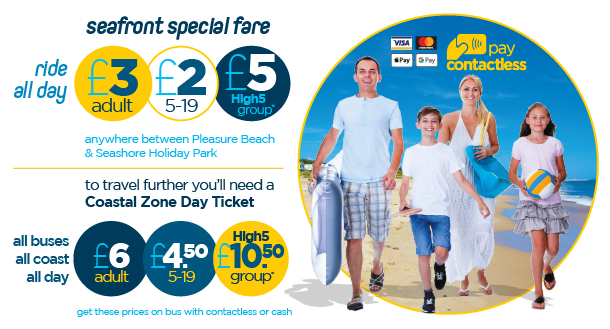 As well as our great value seafront special tickets, you can use all of our tickets for a day, week or longer that are valid in either the Great Yarmouth Town Zone,  Coastal Zone or even our Explorer Zone which includes all buses all along the east coast, plus up to and all around Norwich.
Our High5 tickets are great value for whenever you're travelling in a couple, a family or a group.  They give unlimited travel for a whole day for up to 5 people (with maximum of two adults age 20+) and offer great savings on individual single or day tickets.
Get all along the east coast with a Coastal zone ticket
Valid on all our buses along the east coast and around Great Yarmouth and Lowestoft.  Coastal zone tickets can also be used on our X1|X11,  X2|X21|X22 and 99A buses inland as far as Acle, Beccles or Bungay.   Check out our zone maps to see how far your ticket will take you.
| | | | | | | | |
| --- | --- | --- | --- | --- | --- | --- | --- |
| | Day | | Week | | 10-trip | Month | |
| | mTicket | on bus | mTicket | on bus | mTicket | mTicket | on bus |
| Adult | £5.50 | £6 | £21.30 | £22 | £22 | £75 | £77 |
| Young Person | £4 | £4.50 | £15.80 | £16.50 | £16.50 | £55 | £57 |
| High5 Group* | £10 | £10.50 | | | | | |
Our Day, Week, 10-trip (mTicket only) & Month tickets can be bought on the bus using contactless or cash or as an mTicket direct to your mobile phone where you'll get our best prices.  Check out our zone maps to see how far your ticket will take you.
Click here to download our Clipper Cabriolet 1C timetable [PDF]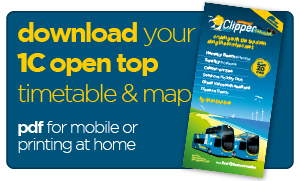 Or find out more about all of our Coastal Clipper buses, along the east coast with our main Coastal Clipper 1|1A timetable [PDF]