The largest range of Park & Ride tickets is available on our First Bus App.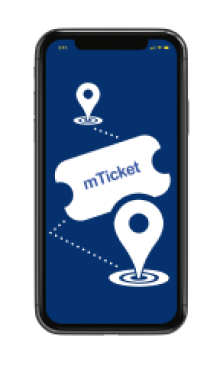 The app allows you to purchase bus tickets straight to your phone. Simply buy your ticket, activate it on the day or week required, show your phone to the bus driver and off you go!
It's really easy to buy your tickets using our First Bus App. Just follow the simple steps below and you'll be ready to tap, show & go!
1) Download the app from your app store
2) Create an account by entering some simple details as the app prompts you to.
3) Select 'Ipswich Park & Ride' from the list of areas available. Then select the type of ticket you'd like to buy.
4) Choose and buy your ticket following the simple steps within the app. If you're under 18, a parent or carer can also buy the ticket for you at this stage, using their credit or debit card.
5) When you've purchased your ticket it will appear in your 'Ticket Wallet'. Then, simply open the app, open the wallet, tap on the ticket and show the screen to the driver every time you get on the bus.
You can find out more about mTickets on our First Bus App here
---
A couple of things we should mention...
If you upgrade to the latest snazzy phone at any time whilst your ticket is still valid then we can move your ticket to your new phone. Just download the app onto the new device, log in and your ticket will be ready to use. Of course, the same applies if you lose your phone - we can transfer it to your replacement in a matter of seconds.
Oh, and just so that you know…if your phone is out of battery, broken, left at home or lost, you'll have to buy a ticket from the driver to get on the bus.