Student Savers for School, College or 6th Form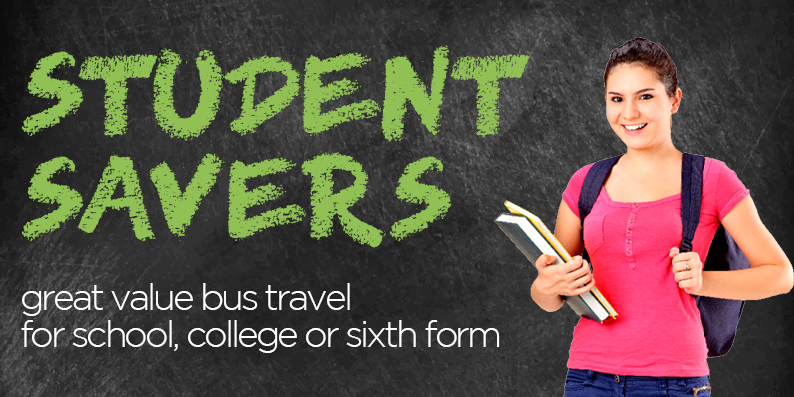 If you're under 20 and you get the bus to school, college or sixth form then we've got a range of specially discounted tickets just for you.
Regardless of where and when you travel, you'll save money compared to the cost of a weekly or monthly Young Person ticket. All of our Student Saver Solo tickets are valid for unlimited travel, 7 days a week so you can use them at weekends, in the evenings and during half term holidays too all included in the price!
The easiest and most convenient way to buy your Student Saver is as an mTicket on the FREE First Bus App and you won't have to worry about lost bus passes either. Scroll to the bottom of the page to see how to get started.

Below you'll find tickets for many of the areas that are served by our buses with current prices for 'Solo' 1-term options.
Solo tickets are sold for each term and are valid everyday in each of the three periods as shown below:
Autumn Term - 1st September 2021 to 18th December 2021
Spring Term - 3rd January 2022 to 9th April 2022
Summer Term - 18th April 2022 to 23rd July 2022
---


If you're travelling around Norwich, Great Yarmouth, Lowestoft or any of the many towns and villages in between, we've got a ticket that will suit your needs. Start by using the map below to find out which zone or zones you'll need to travel in, and then scroll down the page to find the price of your ticket.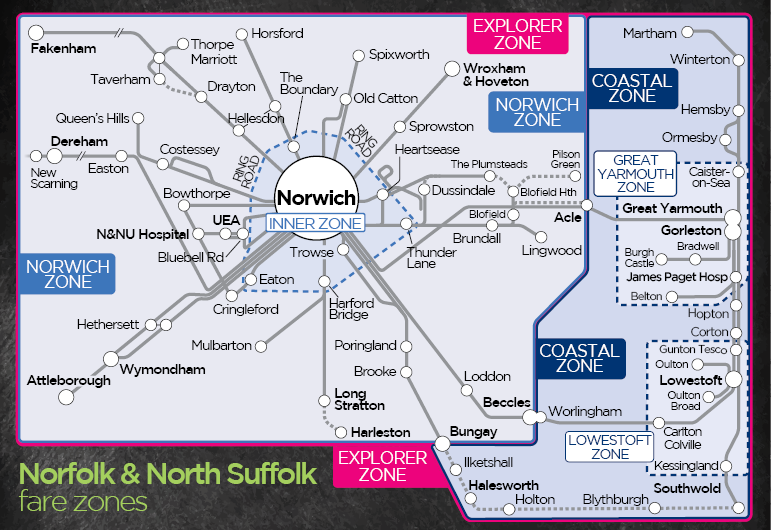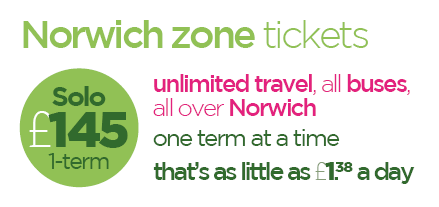 If you live in or around Norwich and need the bus to get to school, college or sixth form then this is the ticket for you.
And as it's valid all day, everyday it's great if you're heading to the city's great shops or meeting your mates for a movie.
You can use it on all of our Network Norwich bus routes at any time, plus:
Coastlink X1|X11 buses anywhere between Acle and Norwich
Coastlink X2|X21|X22 buses anywhere between Worlingham & Beccles and Norwich
excel buses anywhere between Dereham and Norwich
Download your map of the Norwich Zone here
| | |
| --- | --- |
| | Solo 1-term |
| Norwich Zone | £145 per term |
---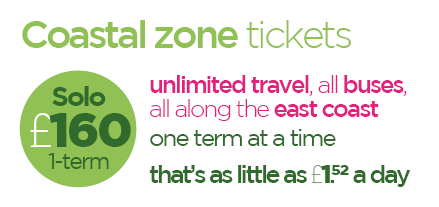 Coastal zone Student Savers can be used on any bus in and around Great Yarmouth and Lowestoft, and as far as Martham in the north, Southwold in the south and inland to Acle, Beccles or Bungay. If you're travelling up to Norwich you'll need an Explorer Zone ticket.
And if you're only travelling within Great Yarmouth or Lowestoft themselves, you can get a cheaper town zone ticket - check out the map below or our zone maps to see how far your ticket can take you.
| | |
| --- | --- |
| | Solo 1-term |
| Coastal Zone | £160 per term |
| Great Yarmouth or Lowestoft Zones | £125 per term |
Download your map of the Coastal Zone here
---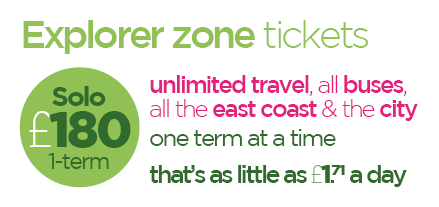 For the freedom to travel all along the Norfolk & North Suffolk coast, and all over Norwich on any of our buses, simply buy an Explorer Zone ticket. And with weekend and half term holiday travel being included as well, they're ideal for days out in the city or at the coast too.
| | |
| --- | --- |
| | Solo 1-term |
| Explorer Zone | £180 per term |
Download your map of the Explorer Zone here
---
If your journey involves using our excel buses anywhere between Norwich and Peterborough, maybe from Swaffham or Wisbech into Kings Lynn each day, then you'll need an excel zone ticket.
And you'll be able to use it for any journeys along the route in your free time too so what a better excuse to go exploring our region a bit further afield! There's loads to see and do in Peterborough and Kings Lynn and there's nothing stopping you heading into Norwich either - all for no extra cost!

If your journey takes you across both these areas, or anywhere that isn't covered by any of the areas and zones covered by the tickets above then you'll need a Network Ticket.
This gives completely unlimited travel on any bus, at any time, anywhere across any of our Norfolk & Suffolk networks, and on the entire length of Coastlink X1|X11, Coastlink X2|X21|X22 and excel routes.
Download your map of the Excel Zone here
| | |
| --- | --- |
| | Solo 1-term |
| excel zone | £170 per term |
| Network | £225 per term |
---

Whether you live on one of our Ipswich Reds bus routes in the town itself, or maybe travel in from further afield, then you'll need one of our Ipswich area tickets.
The same as all our normal range of period & multi journey tickets and passes, we've split the area into the central Ipswich Zone, and five outer area tickets so you only have to pay for the travel you need.
Our outer zone tickets (except Felixstowe Town and Alde Valley zones) are valid for completely FREE unlimited travel within the Ipswich Zone as well, meaning you can use any of our buses for those short hops around the town - maybe to the Station or one of the many out of town shopping and entertainment destinations.
You can use your Student Saver ticket on Ipswich Park & Ride too!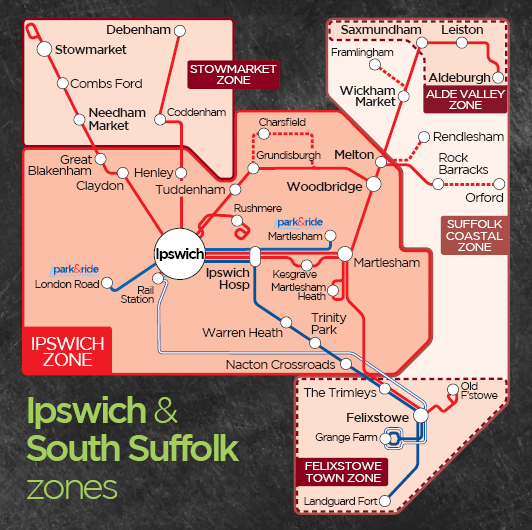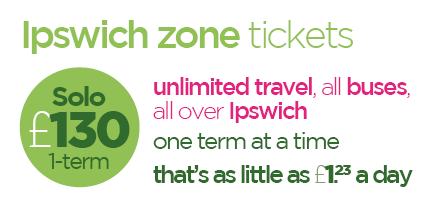 Download your map of the Ipswich Zone & outer areas here
| | |
| --- | --- |
| | Solo 1-term |
| Ipswich Zone | £130 per term |
| Suffolk Coastal + Ipswich Zone | £170 per term |
| Stowmarket + Ipswich Zone | £155 per term |
| Felixstowe Town Zone | £125 per term |
| Alde Valley Zone | £125 per term |
| Ipswich Park & Ride | £120 per term |
---

There's five really easy ways to get your hands on one of our amazing value Student Saver tickets.
1. As an mTicket on the First Bus App -
It's really easy to buy your Student Saver ticket using our First Bus App. Just follow the simple steps below and you'll be ready to tap, show & go!
1) Select the mTickets button on the menu bar. Choose your area (either 'Norfolk & Waveney' or 'Ipswich'), choose the zone you want a ticket for and select 'Student Tickets'.
2) Choose your ticket from from the selection available.
3) Tap Go to Checkout. Then either sign in or create an account.
4) Choose your payment method and buy your ticket. We accept credit & debit cards, PayPal, Google Pay & Apple Pay.
A parent or carer can also buy the ticket for you at this stage, using their credit or debit card.
5) Your ticket will appear in your ticket wallet. Simply tap to activate it just before you get on the bus.
6) Scan the QR code on the ticket machine as you board. The driver may ask to see your ticket too.
Your ticket will automatically activate and expire at the set start and end dates.
A couple of things we should mention...
If you upgrade to the latest snazzy phone at any time whilst your ticket is still valid then we can move your ticket to your new phone. Just download the app onto the new device, log in and the tickets will be transferred. Of course, the same applies if you lose your phone - we can transfer it to your replacement in a matter of seconds.
Oh, and just so that you know…if your phone is out of battery, broken, left at home or lost, you'll have to buy a ticket from the driver to get on the bus.
You can find out more about mTickets on our dedicated mTicket page.
2. Gift the mTicket from an adult's phone to a child's
Just ensure both phones have the First Bus App installed and both users have created an account (you don't have to buy anything or put card details in to create an account).
Then the parent can buy the ticket on their phone and tap the 'gift' or share icon to share the ticket following a few very simple steps. You can find more about mTicket gifting here.
3. Buy an mTicket online...
...with our secure online ticket shop, and have it delivered to the First Bus App on the child's mobile phone. The app must be installed and working, and an account must have been created.
4. Buy online and have delivered by post...
...with our secure online ticket shop and have the paper ticket delivered to your address. However, you'll pay the slightly higher price as is applied to all paper ticket purchases.
You'll need a passport sized photo for the photocard part of your ticket!
5. Buy from our Norwich or Ipswich Travel Shops
Where you can also ask our helpful staff any other questions you might have about any of our buses.
You'll find our Norwich Travel Shop on Castle Meadow, right in the centre of the city whilst our Ipswich Travel Shop is in the Old Cattle Market Bus Station.
Don't forget...you'll need to bring in a passport sized photo for the photocard part of your ticket!