Make bus travel easy with our award-winning First Bus App!
With the FREE First Bus App you can buy your mTickets before you travel...any day, at any time, when you're at home, in the office or out and about, so you have them ready for when you want to get on the bus. And what's more, you'll find our biggest range of money saving tickets for regular travel on the app too.
Just download the First Bus App from your app store, select your area, create an account and buy the mTickets securely on your phone with your credit or debit card, Apple Pay or Google Pay. You can even speed up future journeys with the handy 'Buy Again' option!
With your mTicket on your phone, that's one less thing to remember as you leave the house, so getting to the stop without your ticket will be a thing of the past.
So, make the switch today to the quick, convenient way to pay!
Download our simple PDF guide to using mTickets on the First Bus App.
Why should I make the switch to mTickets?
As well as being a much more convenient way to buy your ticket wherever or whenever you prefer without the need to pay with cash, mTickets are also much faster when it comes to getting on the bus. In fact, research has shown it's up to four times faster when using an mTicket which, in the face of increasing traffic congestion, plays a big part in keeping your bus running on time.
You can watch the experiment for yourself here.
Which tickets can I buy on the First Bus App?
With the exeception of single and return tickets, all of our other popular tickets are available on the app, making it simple to switch to quicker, more convenient bus travel. You can buy tickets for a day, a week or longer, as well as our range of flexible options for both adults and young people across all of our fare zones, alongside our full range of High5 group tickets and our Student Saver tickets for one or three terms.
Can I buy an mTicket for my child without putting my card details into their phone?
Yes! By having the app on your smartphone, as well as on your child's, you can purchase a young person's ticket for them and send this to their phone by text or email. We call it mTicket gifting. It's really simple and totally secure so all the family can make the switch to cheaper, faster bus travel. You can find out more about mTicket gifting here.
Which is the best value mTicket for me?
If you get about by bus roughly 4 to 5 days a week then you could save money with a 5-day or weekly ticket for unlimited travel on all our buses in your chosen area or zone. Or, for even better savings, why not trade up to a monthly or unlimited ticket.
Or if you use the bus less frequently but still want to save every time you travel, then a 10-trip ticket may be your best option. These are good for any 10 single trips on any bus in your chosen area or zone within 28 days from the date of purchase. Or, if you still want to enjoy unlimited travel, but don't always use the bus on consecutive days, why not get a Flexi-5 ticket which allows five whole days of unlimited travel to use anytime over 14 days from purchase.
Or maybe you or a member of your family uses the bus for school, college or sixth form? If so, then we've got a great range of Student Saver tickets for anyone under the age of 20 that allow you to use the bus during evenings, weekends and some holidays too.
But I only catch the bus into town with my family every now and again! Is there a ticket that can save me money on that too?
Again, the simple answer is yes! Our High5 tickets allow one day's unlimited travel on all of our buses in your chosen area or zone for a group of 2 to 5 people, with a maximum of 2 adults age 20+. And what's more, it's generally cheaper than two equivalent adult return tickets (where available) so even if there's just the two of you heading out you can buy one and save!
Is there a way I can buy my monthly mTicket automatically by direct debit?
Yes - with FirstUnlimited; an adult monthly ticket purchased online by direct debit and delivered automatically to our mTicket smartphone app. Check out our ticket finder for more information.
What if I lose or change my phone?
If you upgrade to the latest snazzy phone at any time whilst your ticket is still valid then you can move your mTicket to your new phone. Of course, the same applies if you lose your phone - we can transfer it to your replacement in a matter of seconds.
Oh, and just so that you know…if your phone is out of battery, broken, left at home or lost, you'll have to buy a ticket from the driver to get on the bus.
Ok...I'm going to make the switch! How do I get started?
It's really easy to buy your tickets using our First Bus App. Just follow the simple steps below and you'll be ready to tap, show & go!
Download our simple PDF guide to using mTickets on the First Bus App.
1) Select the mTickets button on the menu bar. Choose your area and choose the zone you want a ticket for. You can find maps of all our zones here.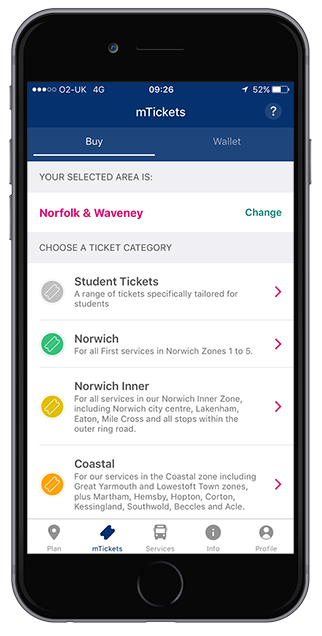 2) Choose your ticket from from the selection available. You can also use the handy 'buy again' button if this appears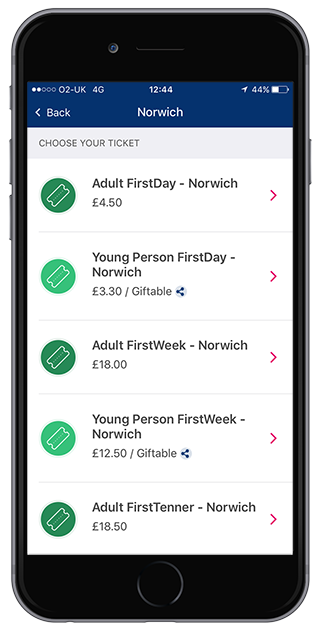 3) Choose how many tickets you want to buy and tap Go to Checkout. Then either sign in or create an account.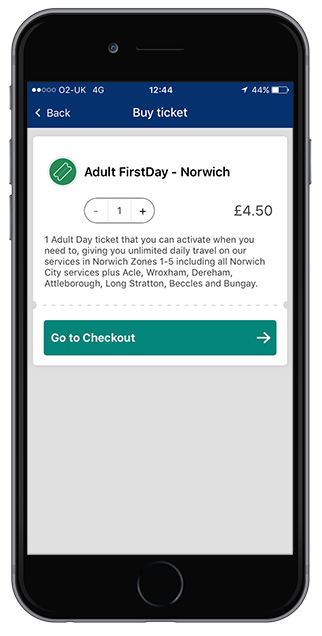 4) Choose your payment method and buy your ticket. We accept credit & debit cards, PayPal, Google Pay & Apple Pay.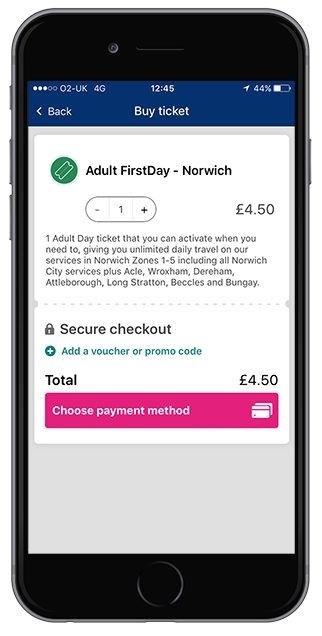 5) Your ticket will appear in your ticket wallet. Simply tap to activate it just before you get on the bus.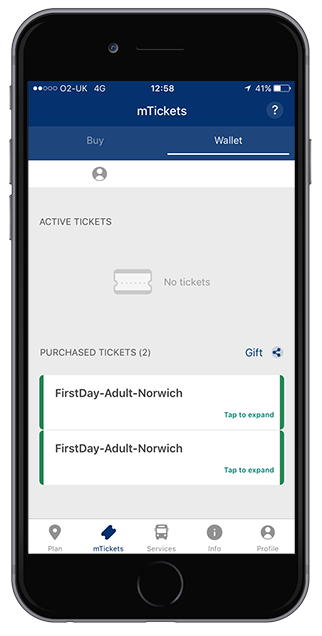 6) Scan the QR code on the ticket machine as you board. The driver may ask to see your ticket too.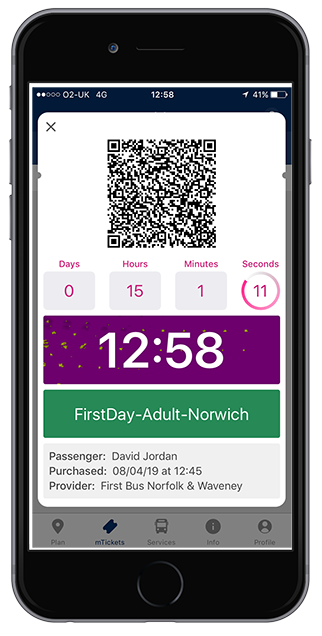 Download our simple PDF guide to using mTickets on the First Bus App.