An unforgettable day out for animal lovers with African species including giraffes, meerkats, hunting dogs, rhinos and more. Enjoy a bird's eye view of the magnificent lions from 'Lookout Lodge', visit 'Lemur Encounters' or jump on the Safari Roadtrain around the Park.
OPEN DAILY
Buses: Coastal Clipper 99
More info: africa-alive.co.uk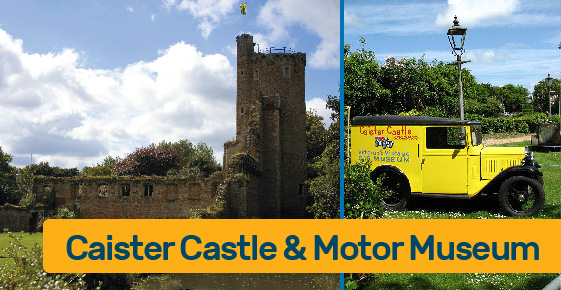 Dating from 1432 the 90-foot tower remains intact - a climb to the top offers a magnificent view of the castle ruins and the surrounding countryside, while the motor museum houses over 120 fine and rare veteran, vintage, classic, sports and touring cars and motorcycles.
OPEN MAY TO SEPTEMBER
Buses: Coastal Clipper 1|1A, Great Yarmouth Town Service 8
More info: caistercastle.co.uk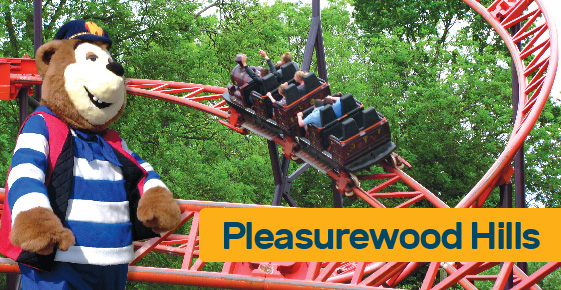 Visit the home of Wipeout...the tallest, fastest and most extreme roller coaster in the East of England! Get soaked on Timber Falls log flume, ride the traditional carousel, climb aboard the pirate ship or simply relax and be entertained by The Sea Lions or Playful Parrots.
OPENING VARIES - see website
Buses: Coastlink X1, Coastal Clipper 1|1A
More info: pleasurewoodhills.com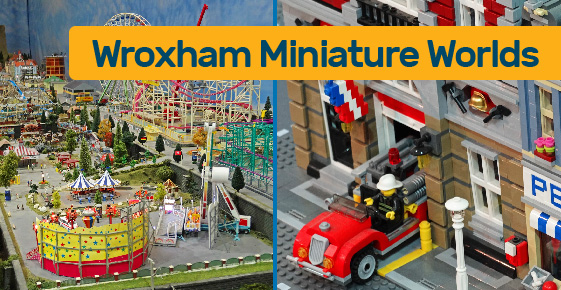 The largest indoor modelling attraction in the UK with some of the largest model railways in the world. You'll find slot car displays, a city made from Lego, model boats and a host of toys from across the decades.
OPEN ALL YEAR
Buses: Pink Line 12
More info: wroxhamminiatureworlds.co.uk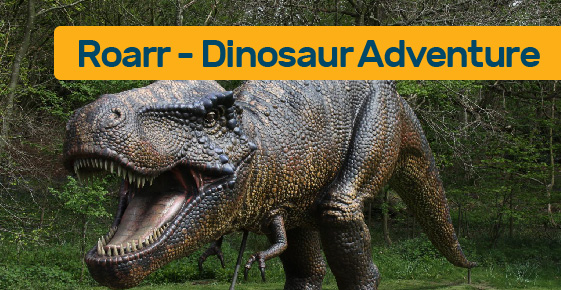 Enjoy a day of prehistoric fun with the dinosaur trail, adventure playground, animals and reptiles, high-ropes and zip wires and even crazy golf.
OPEN DAILY
Buses: Yellow Line X29
(Please note that there is a 15 min walk from the bus stop to the park entrance. Please take care, as the road does not have a pavement.)
More info: roarrdinosauradventure.co.uk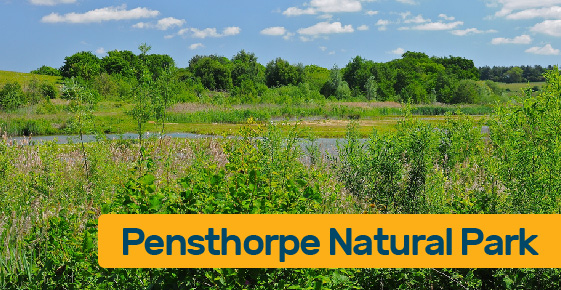 Perfect for families, bird watchers, wildlife enthusiasts and garden lovers, explore woodland walks and lakes; four stunning gardens, outdoor and indoor adventure playgrounds for all ages!
OPEN DAILY
Buses: Yellow Line X29
More info: pensthorpe.com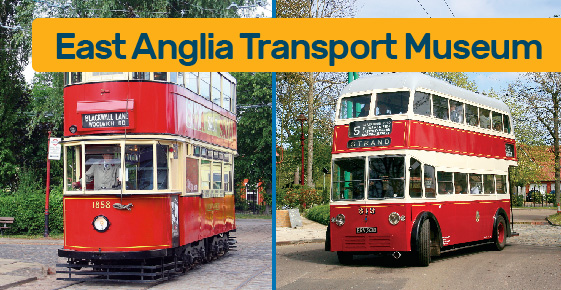 The only museum in the British Isles where visitors can ride on vintage trams, trolleybuses and a light railway in the same day, explore the large collection of historic vehicles of all types including buses, cars, taxis and steam rollers.
OPENING VARIES - see website
Buses: Coastlink X2|X21|X22
More info: eatransportmuseum.co.uk
Ride through the Norfolk Countryside aboard a preserved diesel or steam hauled train or a heritage diesel railcar. The station at Dereham has a cafe, shop and small museum whilst Wymondham Abbey station is a 10 minute walk into town.
OPENING VARIES - see website
Buses: excel A|B|D, Green Line, Turquoise Line
More info: mnr.org.uk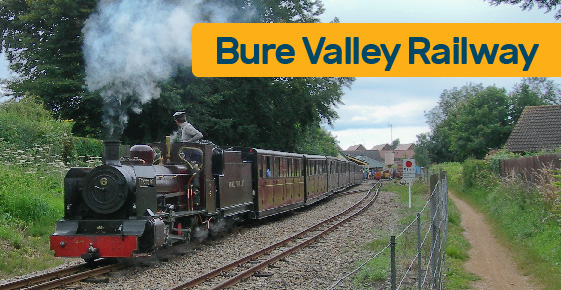 Experience an 18-mile round trip by steam on Norfolk's longest narrow gauge railway through the pretty Bure Valley countryside. You can hop off and explore by foot and there's a parallel footpath along the length of the line.
OPENING VARIES - see website
Buses: Pink Line 12
More info: bvrw.org.uk

Photo Credit (top to bottom): Tim Parkinson (Flickr); Gt Yarmouth Tourist Board; Evelyn Simak (Flickr); Jeremy Thompson (Flickr); Tour Norfolk; Dave Catchpole (Flickr); Martin Pettitt (Flickr): David Jordan; Chris Sampson (Flickr); Michael Button (Flickr) - all Flickr images used under Creative Commons Licence.