Pink Line 10|11|12
---


between Sprowston, the city centre and the Norfolk & Norwich University Hospital
up to every 10 minutes     Monday to Saturday daytimes
up to every 30 minutes     Sundays & Bank Hols
and around hourly in the evenings*
beyond Sprowston, to & from Wroxham
up to every 30 minutes    Monday to Saturday daytimes
or between Mousehold Heath, the city and Eaton
up to every 30 minutes    Monday to Saturday daytimes
* evening buses operate from Sprowston to the city centre only.  For the hospital, use Turquoise Line 13A
Download your Pink Line Timetable & Route Guide here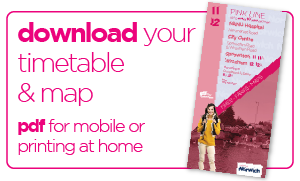 Whether you travel once in a while, a couple of times a week or every day we've got a ticket that's right for you.  All of the tickets shown below can be bought from the driver with contactless or with cash, but please have the right money as it helps us to stay on time.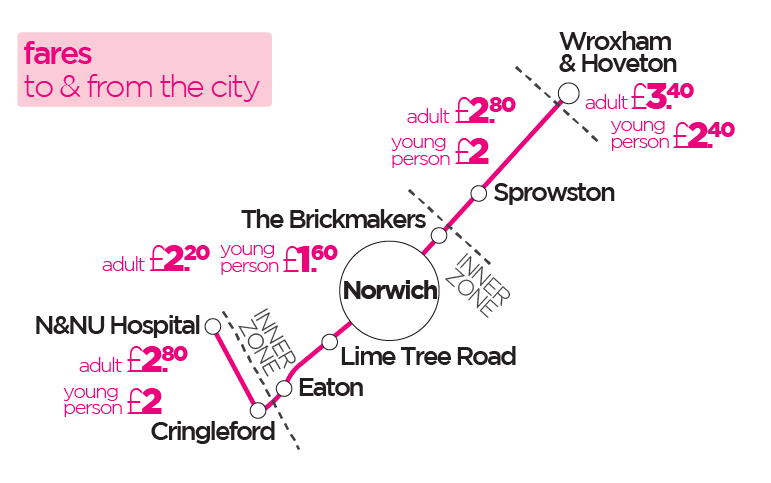 Day tickets for unlimited travel...
| | | | | | | |
| --- | --- | --- | --- | --- | --- | --- |
| | Adult | | Young Person (5-19) | | High5 Group* | |
| | mTicket | on bus | mTicket | on bus | mTicket | on bus |
| Norwich Zone | £4.80 | £5 | £3.60 | £3.80 | £8.50 | £9 |
| Norwich Inner Zone | £3.60 | £3.80 | £2.70 | £2.80 | £6.30 | £6.80 |
Click here for our zone maps to see how far your ticket can take you.

We also sell a whole range of money saving tickets for regular travellers. Our day, week, 10-trip & month tickets can be bought as an mTicket direct to your mobile phone on the free First Bus App (where you'll get our lowest prices), or from the driver of the bus with contactless or with cash (10-trip tickets only available on mTicket).
You'll find all of the prices of these tickets on our tickets & passes page or you can use our online ticket & fare finder.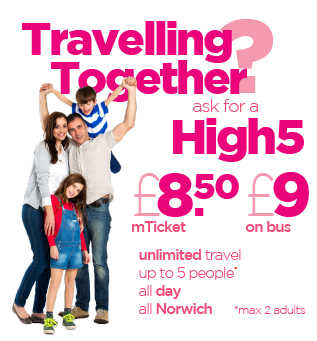 And if you're under 20 and in full time education, we offer a range of discounted Student Saver tickets.  They're ideal to get to and from school, college or sixth form and give you FREE unlimited travel in the evenings, at weekends and during some holidays too!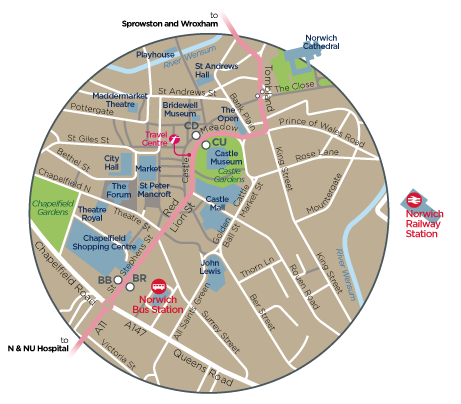 Wherever you're heading in the city centre, our Pink Line buses will takes you straight there.  You can get on or off at any of the following places:
Anglia Square
Tombland
Castle Meadow
St Stephens Street
If you're making a connection in the city, then you can catch most of our other Network Norwich services from Castle Meadow.  If you're changing to or from Charcoal Line buses, our Coastlink X1 & X11 or X2|X21|X22 or excel A|B|C|D buses from Norwich Bus Station, then you'll need to make the switch at St Stephens Street.