Ipswich Reds - frequent links into Suffolk's county town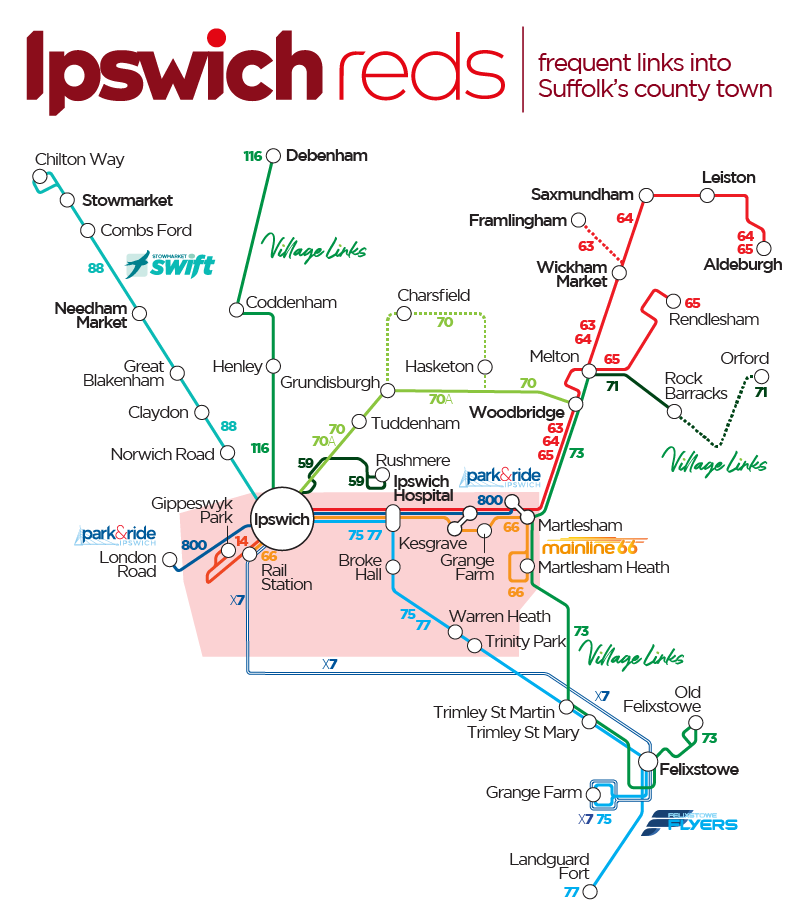 Our Ipswich Reds network runs frequent bus services from across South Suffolk into and around the county town of Ipswich.
There's a bus up to every 30 minutes or better on our core services into Ipswich, which include our Felixstowe Flyers services to & from Felixstowe, our Mainline 66 to Martlesham and Kesgrave or Stowmarket Swift 88 running direct between Stowmarket, Needham Market and Ipswich.
We also operate a network of 'Village Links' services, some with support from Suffolk County Council, linking many South Suffolk villages and towns to the north and east of Ipswich with the centres of Ipswich, Woodbridge or Felixstowe. As well as providing direct point-to-point services into major towns, the services are also ideal for linking onto other services at some of our already busy hubs at places such as Woodbridge, Martlesham Heath or Felixstowe. Most of these services operate around every two hours on Mondays to Saturdays, with journeys across the day designed to meet the needs of commuters, students, shoppers and leisure travellers with some services also including links to additional villages off the main service at the morning and afternoon peak times.
In addition, we operate Ipswich Park & Ride - you can find out more from the dedicated website.
You'll find PDF downloadable timetables for all of our services into and around Ipswich by clicking the links in the table below. And for information on fares, just scroll down the page.
---

All single journeys for adults and young people are currently capped at a maximum of £2, as part of HM Government's Single Fare Cap.
Travelling regularly...
We sell a great range of money saving tickets for multiple days or journeys, giving you the flexibility to buy the right ticket to suit when, where and how often you travel. You'll always find the best range of options exclusively on our FREE First Bus App and some can also be bought on board the bus with contactless or even cash...the exact fare is best!
5-day ticket - allows 5 consecutive days unlimited travel - buy on app or on bus
Weekly ticket - allows 7 consecutive days unlimited travel - buy on app or on bus
Flexi-5 - unlimited travel for any 5 days in 14 - buy on app
10-trip ticket - valid for any 10 single journeys in 28 days - buy on app
Monthly ticket - unlimited travel for a whole month - buy on app
The best value options are shown below, but for full details you can visit the fares section of our website.

Travelling together? You'll save with a High5 ticket...
Whether there's two adults or a family or group of up to five people* our High5 tickets offer great value for a day out by bus. Valid for a day's unlimited travel in your chosen area...buy on app on on bus. FInd out more about High5 tickets here.
*maximum of 2 adults aged 20+
And if you're under 20 and in full time education, we offer a range of discounted Student Saver tickets. They're ideal to get to and from school, college or sixth form and give you FREE unlimited travel in the evenings, at weekends and during some holidays too!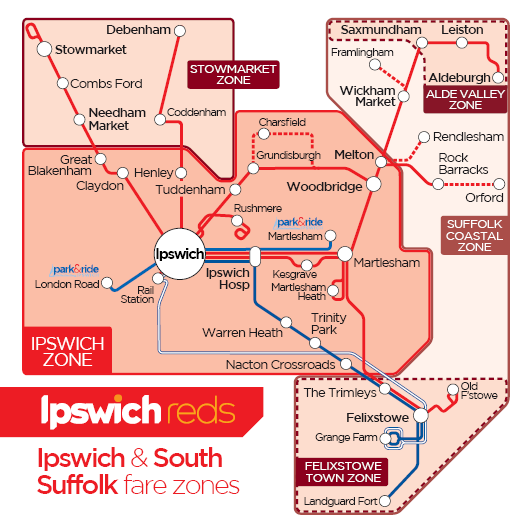 Ipswich Zone
Day

5-day

Week

Flexi-5

10-trip

Month

First
Unlimited

on app or
on bus
on app or
on bus
on app or
on bus
on app
on app
on app
on app
Adult
£5.50
£19
£21
£21
£20
£75
£71.25
Young Person
£4
£14
£16
£16
£15
£57
High5 Group
£10
Monthly subscription ticket
- sign up online
Suffolk Coastal Zone
Suffolk Coastal Zone tickets are also valid in the whole of the Ipswich Zone
Day

5-day

Week

Flexi-5

10-trip

Month

First
Unlimited

on app or
on bus
on app or
on bus
on app or
on bus
on app
on app
on app
on app
Adult
£7
£23
£25
£25
£25
£90
£85.50
Young Person
£5.50
£17.50
£19
£19
£19
£70
High5 Group
£13
Monthly subscription ticket
- sign up online
Stowmarket Zone
Stowmarket Zone tickets are also valid in the whole of the Ipswich Zone
Day

5-day

Week

Flexi-5

10-trip

Month

First
Unlimited

on app or
on bus
on app or
on bus
on app or
on bus
on app
on app
on app
on app
Adult
£6
£21
£23
£23
£23
£78
£76
Young Person
£4.50
£16
£17.50
£17.50
£17.50
£58
High5 Group
£11
Monthly subscription ticket
- sign up online
Alde Valley or Felixstowe Town Zones
Day

5-day

Week

Flexi-5

10-trip

Month

First
Unlimited

on app or
on bus
on app or
on bus
on app or
on bus
on app
on app
on app
on app
Adult
£5
£18
£20
£20
£19
£70
£66.50
Young Person
£3.70
£13.50
£15
£15
£14
£55
High5 Group
£9
Monthly subscription ticket
- sign up online
Click here for a map of our Ipswich & South Suffolk Zones