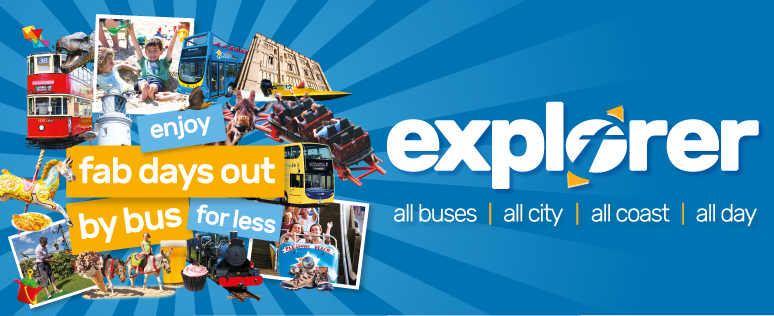 From Spixworth to Sandcastles, Wroxham to Rollercoasters or Dereham to Donkey Rides...
...you can enjoy great days out by bus for less with an Explorer Day Ticket from First Eastern Counties.
What's more, you'll save money too with our tickets often working out cheaper than the equivalent day-out costs of fuel plus parking...

And to help you plan your fab day out, we've put together our 'Explore' map, showing our network of bus services that are most useful to get you from A to B, plus some ideas for walks & pubs you can get to by bus.

Between coast & city and back again...
No matter where you live across the city, you can use our frequent Network Norwich bus routes to get you to the city centre; they're colour coded to make them really simple to understand.
Once you're there just head over to Norwich Bus Station where you can jump on our direct Coastlink services to the seaside resorts of Great Yarmouth and Lowestoft, calling at plenty of other great places on the way.
They run every day up to every 15 minutes (up to every 30 minutes on Sundays) and are ideal for a fun, relaxed, fun day enjoying the best the east coast has to offer. Most buses on these routes have big panoramic windows and comfy leather seats as well as plenty of space for bags and knees.
And once you're there, we run loads of other bus services to help you get around if you want to go that bit further - maybe for a walk at Winterton, to the beach at Caister or to see the animals at Africa Alive in Kessingland. You can even use your Explorer Day Ticket on our Clipper Cabriolet Open Top bus in Great Yarmouth (runs in the summer months).
Or, if you're lucky enough to live at the coast, you can use an Explorer Day Ticket to come up to Norwich, and head off to one of the many great places around and about...you can go as far afield as the Mid Norfolk Railway at Dereham; the famous market at Fakenham or head out on the river from Wroxham and loads more.
With an Explorer Day Ticket, you'll get there, back and all around, all day with unlimited travel on all our buses in Norwich and all along the east coast with just one ticket.
buy on app or
on bus
Adult
£8
Young Person (5-19)
£6
High5 - up to 5 people (max 2 adults)
£14
You can even get it straight to your mobile phone when you buy an mTicket using our FREE First Bus App so you can buy before you leave the house. Or you can pay the driver of the first bus you travel on with your contactless debit or credit card or even good old-fashioned cash.
And if you want to your money to go even further when you're heading out with family or friends, ask your driver for a High5 Explorer. This gives unlimited travel, all day for up to 5 people (with a maximum of two adults aged 20+) at a price that works out at as little as £2.80 per person.
Travelling together? You'll save with a High5 ticket...
Whether there's two adults or a family or group of up to five people* our High5 tickets offer great value for a day out by bus. Valid for a day's unlimited travel in your chosen area...buy on app on on bus. FInd out more about High5 tickets here.
| | |
| --- | --- |
| Norwich Zone | £11 |
| Coastal Zone | £12 |
| Explorer Zone | £14 |
*maximum of 2 adults aged 20+
As well as being a great way of taking the kids on an adventure, a High5 Explorer is ideal for groups of teenagers who want to get out and about for less without relying on the taxi of Mum and Dad.
And if you're travelling for more than a day, you can buy an Explorer Zone ticket for 5-days, a week or longer...
5-day

Week

Flexi-5

10-trip

Month

First
Unlimited

on app or
on bus
on app or
on bus
on app
on app
on app
on app
Adult
£26
£28
£28
£27
£100
£95
Young Person
£20
£21
£21
£20
£75
Monthly subscription ticket
- sign up online

5-day ticket - allows 5 consecutive days unlimited travel - buy on app or on bus
Weekly ticket - allows 7 consecutive days unlimited travel - buy on app or on bus
Flexi-5 - unlimited travel for any 5 days in 14 - buy on app
10-trip ticket - valid for any 10 single journeys in 28 days - buy on app
Monthly ticket - unlimited travel for a whole month - buy on app