We welcome contactless payments on all our buses across Norfolk and Suffolk so you don't need to have cash to travel! What's more, paying with contactless can shave minutes off your journey, helping us to get you to your destination on time.
You can pay for any ticket priced up to £45*, using any contactless card displaying the Visa or Mastercard logo. And to make things even easier, you can also use Apple Pay or Google Pay to pay using your phone or other compatable device.
We even accept Apple Pay Express Mode...
For anyone using Apple Pay, you can now use Express Mode on our buses. Just tap the blue card reader with your device (iPhone or Apple Watch) when boarding the bus. There is no need to wake or unlock the device, open an app or use Face ID or Touch ID, easy and quick!
How it works...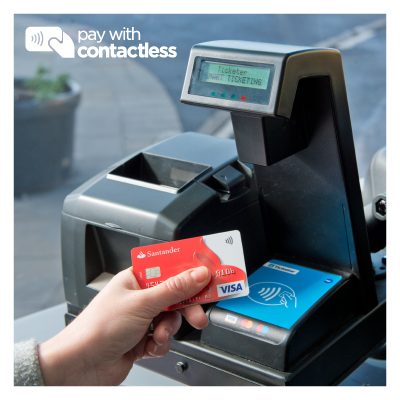 1) Ask your driver for the ticket of your choice when you board the bus.
2) Tell the driver that you'd like to pay with contactless.
3) Place your card or device on the card reader on the ticket machine - it's shown with a bright blue sticker.
4) The ticket machine will read your card or device, take payment and issue your ticket along with a reciept.
It's so simple!
*Please note that, despite the current contactless bank limit of £100, due to the relatively low average spend made on-bus we are maintaining the £45 limit on single transactions at the present time.
---
Your Questions Answered
All payments are processed by FirstGroup Holdings Ltd on behalf of First Bus.