The east coast's premier seaside resort, Yarmouth is ideal for a fun-packed day out; from the town centre's historic market with its' renowned collection of chip stalls, to the Golden Mile with it's two piers, gardens, cafes and numerous adventure golf courses. A visit to the Pleasure Beach with it's wooden rollercoaster is a must, whilst Joyland has rides for younger children.
See sharks & penguins at the Sealife Centre, explore Merrivale Model Village or go back in time at the fascinating Time & Tide Museum - a short walk from the seafront.
Buses: X1 & X11, Coastal Clipper, Great Yarmouth Town Buses
More info: great-yarmouth.co.uk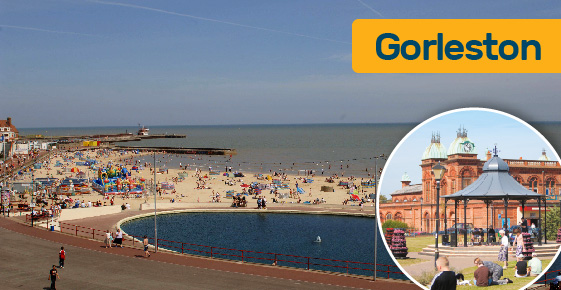 Set below cliff gardens, the beach is a firm favourite for lazy days in the sun. There's a large paddling pool and yacht pond, tennis courts and a trim-trail on the cliff top with views of the beach, pier and Edwardian theatre. Enjoy the amusements, or the restaurants, pubs and cafés in the town.
Buses: X1 & X11, Coastal Clipper, Great Yarmouth Town Buses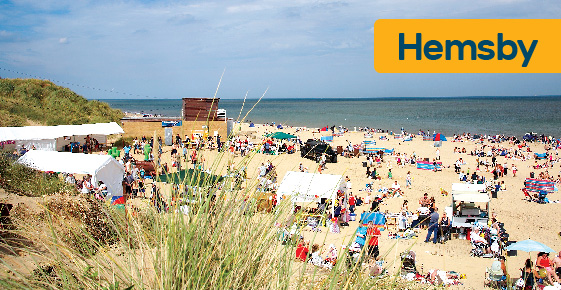 A short walk from Hemsby village, the beach area is great for families with soft sand, dunes, amusements and traditional seaside cafes. You'll find ten-pin bowling, Lost World adventure golf and MB's Funhouse indoor play area with its' slides, cargo nets and ball pits - great for when it's wet.
Buses: Coastal Clipper
More info: tournorfolk.co.uk/hemsby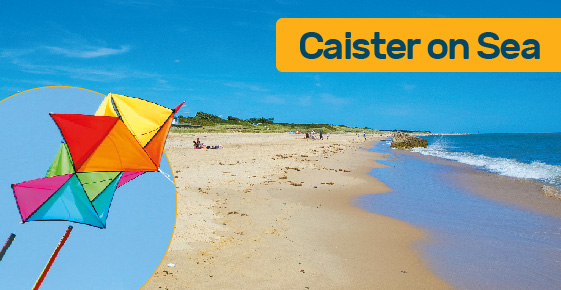 This popular seaside resort is steeped in history, not least with the remains of a Roman fort built in 200AD. It's a great place to enjoy the picturesque and family-friendly coastline and is also an ideal location to fly a kite from the beach!
Buses: Coastal Clipper, Great Yarmouth Town Buses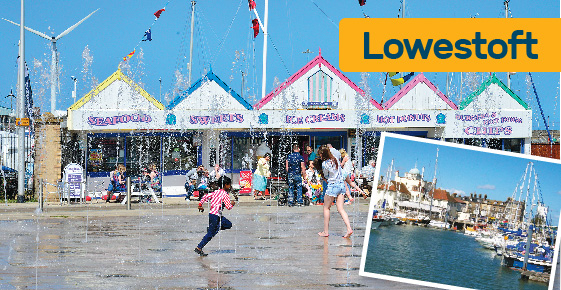 Famous for being the first place to see the sun in the UK, the award winning beach is a favourite with families or enjoying a stroll along the prom or through the Victorian seafront gardens.
One of the coast's best places to 'do lunch', there are great cafes & tearooms to enjoy delicious, homemade food overlooking the sea. Head up into the historic High Street and explore The Scores trail, enjoy a walk through the Sparrows Nest Gardens or visit the Maritime Museum to learn about the town's long history with the sea.
Buses: X1, X2|X21|X22, Coastal Clipper, Lowestoft Town Buses
More info: visitlowestoft.co.uk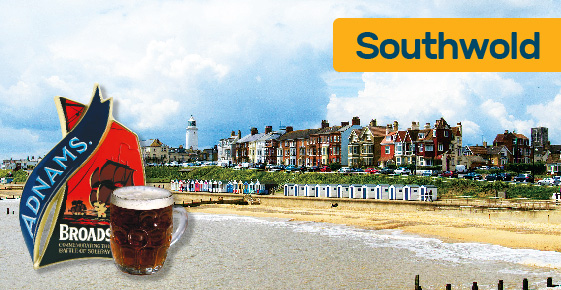 A charming and famous seaside town, the working lighthouse, beach huts, award-winning pier, Adnams Brewery, busy harbour and sandy beach combine to make Southwold a quintessentially English resort. There's a host of fascinating, traditional shops, cafes and pubs - all serving local Adnams ales.
You can venture across the River Blyth by foot ferry to the tiny fishing village of Walberswick, perhaps crossing back by the footbridge built along the trackbed of the old Southwold Railway.
Buses: Coastal Clipper
More info: visitsouthwold.co.uk

Photo Credits (top to bottom): Gt Yarmouth Tourist Board (top 3); John Walker (Flickr - used under Creative Commons Licence)