Coastlink - X1|X11 & X2|X21|X22 - Norwich to Great Yarmouth & Lowestoft
If you're travelling into the city on Coastlink from Worlingham, Beccles or Acle then you can take advantage of our great Autumn offer...

---

Hello, and welcome to Coastlink – your quick, comfy and direct connections between the east coast and Norwich.
Operating up to every 15 minutes during the day from Monday to Saturday and up to every 30 minutes on Sundays, our two Coastlink routes offer regular, fast and direct links between and around the east coast towns of Great Yarmouth, Gorleston and Lowestoft, and up to the fine city of Norwich.
Coastlink X1|X11
Norwich - Acle - Great Yarmouth - Gorleston - JPH
then Lowestoft (X1) or Belton (X11)
Coastlink X2|X21|X22
Norwich - Loddon - Beccles - Lowestoft
via Carlton Colville (X22) or Hollow Grove & Pakefield (X2|X21)
From seaside resorts to shopping centres, market towns to theme parks, cliff tops to colleges or holiday spots to hospitals, Coastlink is ideal whether you're travelling for work, life or just for leisure.
And we stay out late even on a school night!  Our evening buses are ideal for the journey home after a great night out in the city.

You can get on board our fastest buses to enjoy some really great journey times.  For example:
Beccles to Norwich

- in under 35 minutes


Great Yarmouth to Norwich

- in just 40 minutes


Lowestoft to Norwich

- in as little as 72 minutes


Great Yarmouth to Lowestoft

- in just over 45 minutes


Acle to Norwich

- in under 25 minutes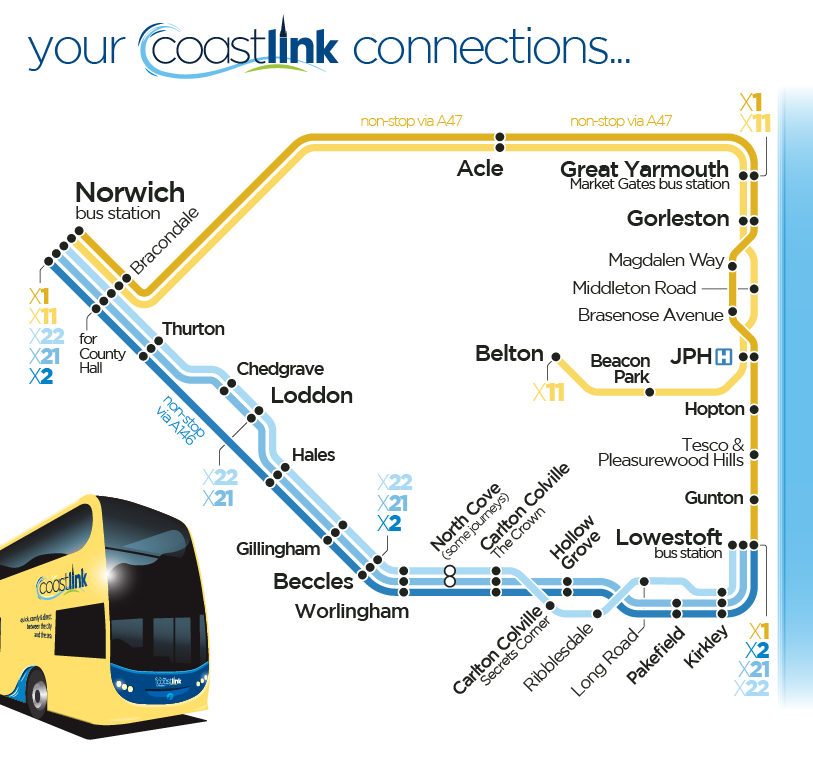 Our fleet of dedicated Coastlink double-deck buses have got luxurious leather seats, tonnes of extra legroom and free wifi, so you can sit back, relax and stay connected whilst we take care of the driving.  And there's plenty of space for buggies, a wheelchair and your shopping too.

And with our range of great value fares, travelling with Coastlink really is the best way by bus between the city and the sea.
---

We've got a great range of fares to suit everyone and that you can buy from the driver with contactless or with cash.  Tickets for a day or longer are also available at our best prices as an mTicket direct to your smartphone with the FREE First Bus App.  (10 trip tickets only available on mTicket).

Our weekly and monthly tickets are valid for unlimited travel in your chosen area, whilst the 10-trip ticket allows ten single trips and is ideal if you use the bus less often but still want to save money every time you travel!

And if you're under 20 and in full time education, we offer a range of discounted Student Saver tickets.  They're ideal to get to and from school, college or sixth form and give you FREE unlimited travel in the evenings, at weekends and during some holidays too!
Coastal Zone
Anywhere between Lowestoft, Belton, Gorleston or Great Yarmouth and inland as far as Acle or Beccles.
| | | | | | | | |
| --- | --- | --- | --- | --- | --- | --- | --- |
| | Day | | Week | | 10-trip | Month | |
| | mTicket | on bus | mTicket | on bus | mTicket | mTicket | on bus |
| Adult | £5.50 | £6 | £21.30 | £22 | £22 | £75 | £77 |
| Young Person | £4 | £4.30 | £15.80 | £16.50 | £16.50 | £55 | £57 |
| High5 Group* | £10 | £10.50 | | | | | |
Download a map of the Coastal Zone [PDF]
Explorer Zone
For travel all along the coast & up to and all over Norwich
| | | | | | | | |
| --- | --- | --- | --- | --- | --- | --- | --- |
| | Day | | Week | | 10-trip | Month | |
| | mTicket | on bus | mTicket | on bus | mTicket | mTicket | on bus |
| Adult | £6.50 | £7 | £24.30 | £25 | £25 | £85 | £87.50 |
| Young Person | £4.50 | £5 | £18.30 | £19 | £19 | £64 | £66.50 |
| High5 Group* | £12 | £13 | | | | | |
Download a map of the Explorer Zone [PDF]
Norwich Zone
From Acle or Worlingham & Beccles to Norwich and all over the city
| | | | | | | | |
| --- | --- | --- | --- | --- | --- | --- | --- |
| | Day | | Week | | 10-trip | Month | |
| | mTicket | on bus | mTicket | on bus | mTicket | mTicket | on bus |
| Adult | £4.80 | £5 | £19.30 | £20 | £20 | £67.50 | £70 |
| Young Person | £3.60 | £3.80 | £14.30 | £15 | £15 | £50 | £52 |
| High5 Group* | £8.50 | £9 | | | | | |
Download a map of the Norwich Zone [PDF]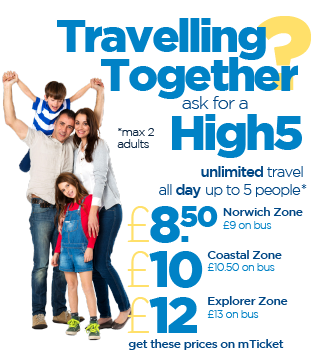 *High5 tickets are valid for up to 5 people, with a maximum of two adults, age 20+