Network Norwich Tickets and Passes

Whether you travel once in a while, a couple of times a week or every day we've got a ticket that's right for you.
And the best news is that the more you travel - the more you'll save with the best range of money saving options always available when you buy on our FREE First Bus App.
All of our tickets for a day or longer are valid for unlimited travel on any of our buses across the Norwich Zone - shown in the map below. You'll find our detailed Fare Zone Maps here.

As well as all of our Network Norwich coloured lines, you can use Norwich Zone tickets on:
Coastlink X1|X11 buses as far as Acle
Coastlink X2|X21|X22 buses as far as Beccles & Worlingham
excel buses as far as Dereham & New Scarning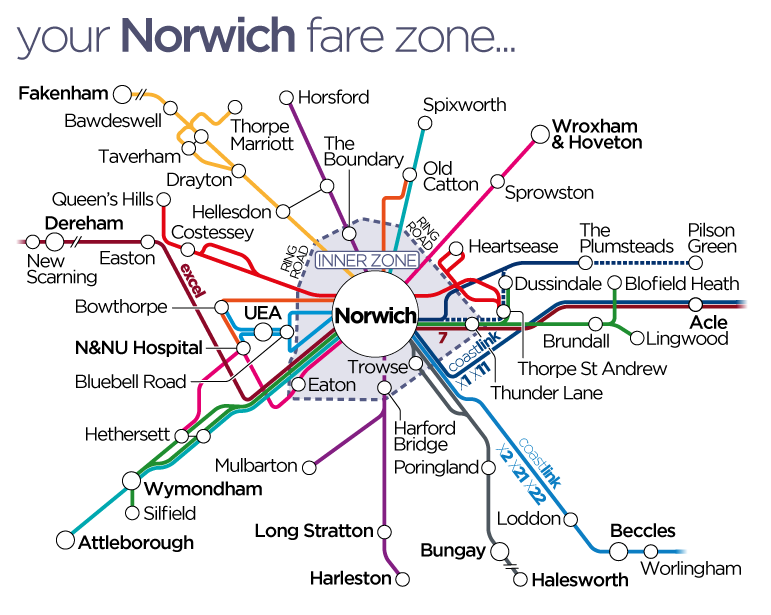 Day tickets for unlimited travel...
Buy on app or on bus
| | | | |
| --- | --- | --- | --- |
| | Adult | Young Person (5-19) | High5 Group* |
| Norwich Zone | £6 | £4.50 | £11 |
| Norwich Inner Zone | £5 | £3.70 | £9 |
We sell a great range of money saving tickets for multiple days or journeys, giving you the flexibility to buy the right ticket to suit when, where and how often you travel. You'll always find the best range of options exclusively on our FREE First Bus App and some can also be bought on board the bus with contactless or even cash...the exact fare is best!
5-day ticket - allows 5 consecutive days unlimited travel - buy on app or on bus
Weekly ticket - allows 7 consecutive days unlimited travel - buy on app or on bus
Flexi-5 - unlimited travel for any 5 days in 14 - buy on app
10-trip ticket - valid for any 10 single journeys in 28 days - buy on app
Monthly ticket - unlimited travel for a whole month - buy on app
Norwich Zone tickets
Day

5-day

Week

Flexi-5

10-trip

Month

First
Unlimited

on app or
on bus
on app or
​on bus
on app or
​on bus
on app
on app
on app
on app

Adult

£6
£21
£23
£23
£22
£80
£76

Young Person

£4.50
£16
£17.50
£17.50
£16.50
£60
High5 Group*
£11
Monthly subscription ticket
- sign up online
Download a map of the Norwich Zone [PDF]

1. As an mTicket on your smartphone
You can buy any of our Norwich Zone tickets listed on this page as an mTicket direct to your smartphone, using First Bus App, available FREE from your app store. What's more, you'll always get our best deals when you buy on the app, meaning you can save time and money too!
You can find out more about our mTicket app, including our step-by-step guide to how to get started here.
2. On the bus...
As well as single tickets, you can buy our Day, Week and 5-day tickets from the driver when you get on the bus. You can pay with your contactless debit or credit card (or Apply Pay or Android Pay enabled device) or with cash. We do carry some change, but please have the right money as it helps us to stay on time!

3. From our Norwich Travel Centre...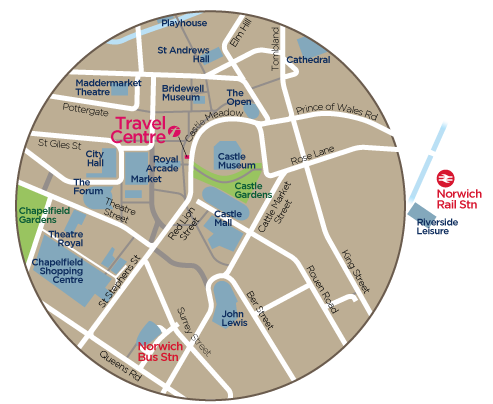 With a great location right in the heart of the city on Castle Meadow, our friendly travel centre advisors are here to help with all your ticket and travel needs. They'll even show you how to use our mTicket app.
We're open Monday to Friday from 9.30am until 1.30pm and 2.30pm to 4.30pm.
Just click here or on the map for a PDF copy so you won't get lost on your way to find us.
4. Online...
You can purchase our First Unlimited subscription tickets online and have them delivered direct to your mobile phone.