Welcome to Network Norwich - your frequent, colour-coded bus routes taking you all across our fine city and beyond.
No matter whether you're using the bus for school, work or enjoying a day's shopping or and evening out in the city, we'll get you straight to the heart of the action, using the new bus lanes to get you there faster and more relaxed.
And if your journey takes you across the city, maybe to the UEA, the hospital, Broadland Business Park, the Rail Station or for a day out to explore somewhere new, you can make easy connections onto other lines in the centre, with most routes coming within a few footsteps of one-another.
We've also got a great range of simple tickets that you can use for unlimited travel on our buses, anywhere on our Network Norwich buses or further afield in our Norwich Zone.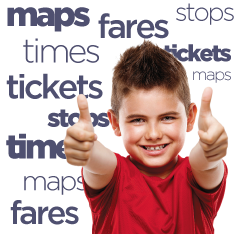 It's our aim to make bus travel as simple as possible, so on the menu to the left there are pages dedicated to each one of our colour-coded routes. On these pages you'll find:
Maps - including where to get on & off
Information on fares & tickets
Timetables that you can check out online, download or print depending what suits you best.
Links to our journey planner, eTicket and mTicket pages
You can even download a PDF copy of our route guide for each route that'll have all the information you'll need to hop on the bus with ease.
---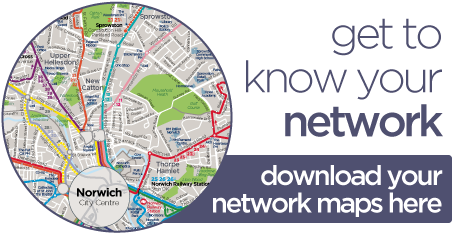 We've created a whole set of maps showing all of our Network Norwich bus routes and where they go all over the city.
You can download and print your own copy by clicking the link below, or if you want a printed copy just pop into our Travel Centre on Castle Meadow and, as long as they're in stock, you'll be able to pick one up!
Includes road and bus stop level detail for the wider Norwich area and bus stop guide for Norwich City Centre
Dated 29th October 2023