Getting to Adastral Park by bus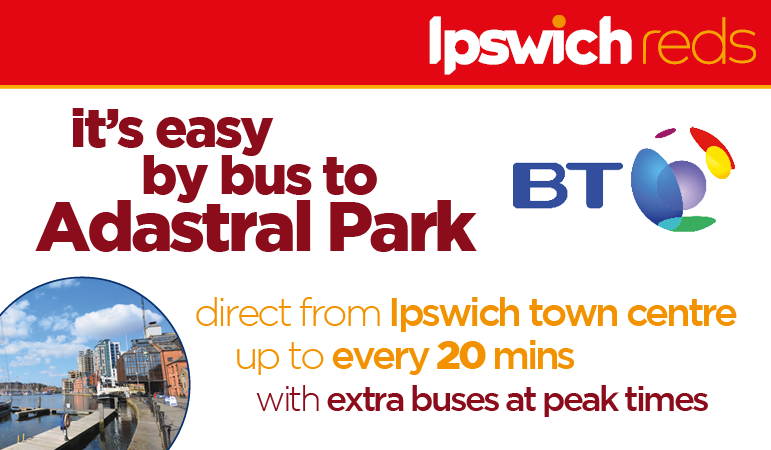 Getting from Ipswich town centre to Adastral Park couldn't be easier than by bus. There's regular services 7 days a week from both the Rail Station and all the main town centre stops, with extra buses at peak times providing a range of direct links across Ipswich.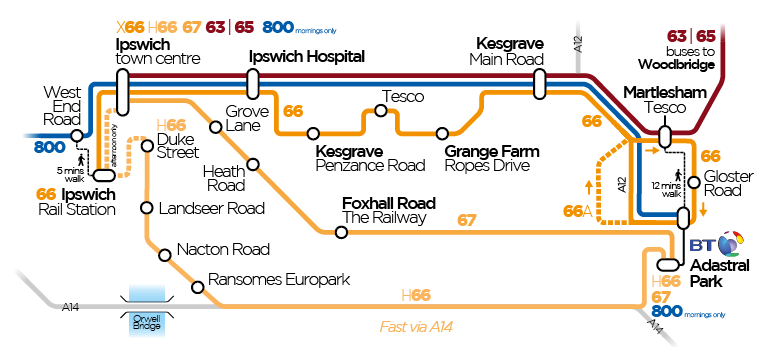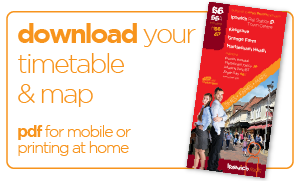 Bus Fares & Tickets
Buy single or day tickets from the driver with contactless or with cash - but please have the right money ready as this helps us to run on time. Daily, Weekly, 10-trip and monthly tickets are cheaper and quicker as an mTicket on the free app.

Tickets for the Ipswich Zone...
| | | | | | | | | |
| --- | --- | --- | --- | --- | --- | --- | --- | --- |
| | Day | | Week | | 10-trip | | Month | |
| | mTicket | on bus | mTicket | on bus | mTicket | on bus | mTicket | on bus |
| Adult | £4.70 | £5 | £16 | £17 | £16 | £17 | £56 | £60 |
| Young Person | £3.30 | £3.60 | £11 | £12.50 | £11 | £12.50 | £38 | £44 |

BT Employees are members of the First Eastern Counties Commuter Travel Club, which provides staff with the most cost effective way of travelling by bus. For example, a staff member living in Ipswich would pay around £64 per month buying weekly tickets or £56 for a monthly ticket. When a monthly ticket is purchased through the Commuter Travel Club you will actually pay just £42. For more details on how the scheme works click here.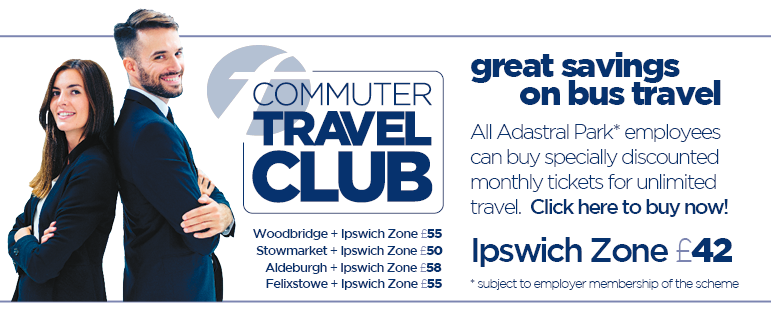 If you are travelling to Adastral Park by train you can also take advantage of the PlusBus scheme, which for a small amount more, allows you to travel on any bus by simply showing your rail ticket to the driver. Just remember to add it when you book your rail ticket!
​Bus Times
There's a timetable summary below (click on it if you'd like a printable PDF copy) or scroll down to find full timetables for each of the services to and from Adastral Park.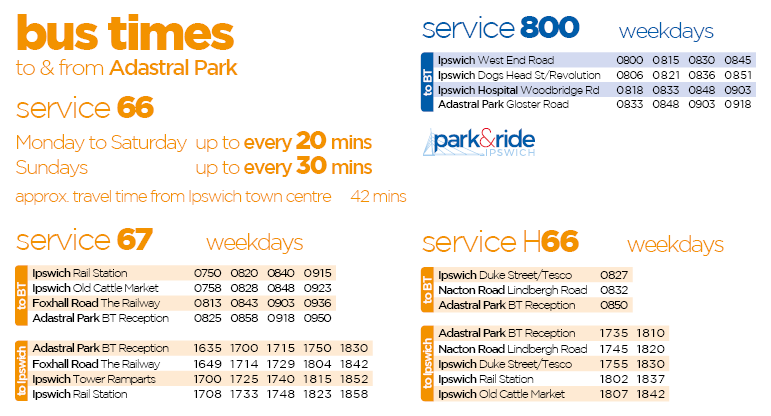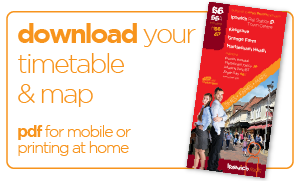 FAQ's
Can buses stop anywhere between Adastral Park and Ipswich Rail Station?
Yes, buses will be able to stop, if requested, at any public bus stop along the routes they serve, except for service 800 which stops outside the town centre at Ipswich Hospital, Kesgrave Fisheries and Kesgrave High School only.
Can non-BT passengers use Services H66 and 67 to travel to Adastral Park?
Yes, anyone can travel on the bus as long as they present or purchase a valid ticket.
Where will the bus stop at Adastral Park?
Services H66 and 67 start and finish their journeys at the dedicated bus stop outside the reception building in Adastral Park. Service 66 and 800 (mornings only) pick up and/or drop off at the stop on Gloster Road, which is only a short walk from reception.
I am a regular commuter to Adastral Park. What deals can I get for travelling?
First Eastern Counties offer a large range of flexible and great value fares, which can be purchased on and off their buses. For further savings, check out their
Commuter Travel Club
.