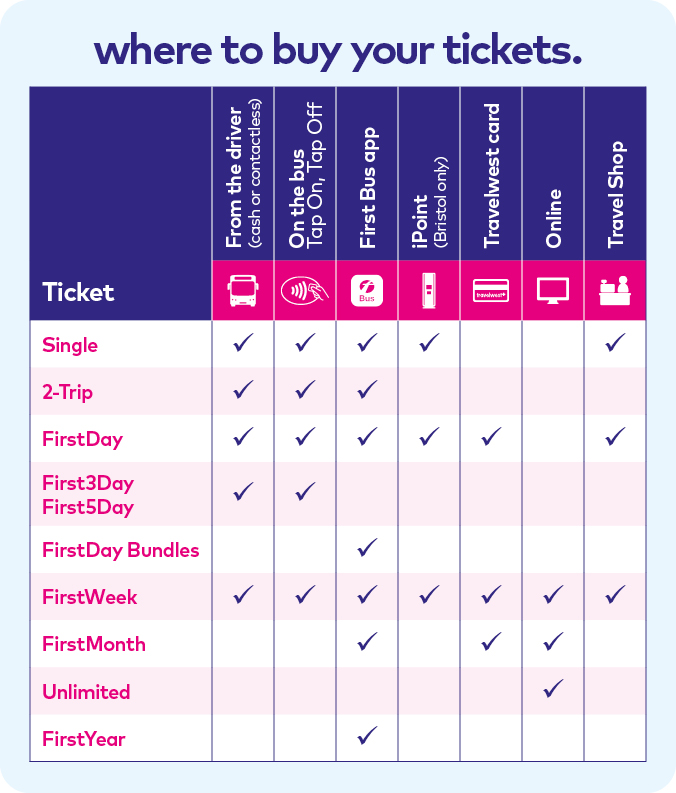 Buying before you board is the easiest way to purchase your bus tickets...
The free First Bus app is available on the Apple App Store or Google Play. Child tickets can also be bought on one mobile phone and transferred to another with the First Bus app.

Visit our mTicket FAQ section for more information.

Buy Week, Month and Year tickets online at www.firstbus.co.uk/onlinetickets You can order tickets online and get them delivered straight to your door. Just choose the ticket that's right for you. It's as simple as that.

Don't wait for your ticket to arrive by post. We'll send your ticket straight to your mobile phone.

Choose 'To Mobile' as your delivery method to get your ticket straight to your phone. Use it immediately or when you are ready — mobile tickets could even save you money.

Our staff are available to sell tickets at the Travel Hub at Bristol Bus & Coach Station or the Travel Shop at Wells Bus Station

Bristol Travel Hub is open from 9am to 6pm, Monday to Friday and 10am to 4pm, Saturday. The Travel Hub will be closed on Sunday's and Public Holidays.

Well Travel Shop is open from 9.30am to 1.30pm Monday to Friday.

iPoints are available at every metrobus stop in Bristol. metrobus is a buy before you board or Tap & Cap service. If you have a Travelwest Travelcard, you can top it up or collect tickets purchased online at the iPoint.

If you don't already have one, don't worry, as many tickets are dispensed on a Travelcard from the iPoint.

Travelwest smartcard available from www.buytickets.travelwest.info
For speedy boarding we encourage customers to pay on the First Bus app or Tap On, Tap Off but you can also get a ticket onboard and pay with contactless or cash.
Paying with contactless is a simple and secure way to pay for tickets without cash on all our West of England buses and metrobus services when purchasing Adult Single, 2-Trip, Day or Week tickets.

One tap of your contactless card, Apple Pay or Google Pay and you're aboard and ready to go, no need to worry about having the right change.

You can buy tickets up to the value of £45, quickly and securely with contactless. So whether it's a last minute trip or a regular journey, paying for your ticket has never been more convenient. To find out more about contactless payments click here.

Tap On, Tap Off uses contactless payments to cap our adult bus fares at Single, 2-Trip, Day, 3Day, 5Day or Week. Tap On, Tap Off is the most convenient way to pay for bus travel and provides the best value when buying one of these tickets. We accept payments on VISA, Mastercard, Apple Pay (now with Express Mode) and Google Pay. To find out more click here.
We advise where possible to buy your bus tickets in advance on the First Bus app or pay using a contactless device. If you are paying with cash, please try to use the exact fare.