About us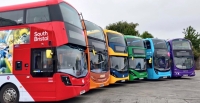 First West of England covers the cities of Bristol and Bath in the North, the coastal resort of Weston-super-Mare in the West, parts of West Wiltshire in the East and Glastonbury, Street and Wells in the South.
First West of England Key Facts
(Approximate figures. Last updated Nov 2018)

| | |
| --- | --- |
| Number of passengers carried per year | 67 Million |
| Number of miles travelled each year | 25 Million |
| Number of routes | 103 |
| Number of staff | 1800+ |
| Number of drivers | 1439 |
| % of low-floor fleet | 100% |
| Fleet size | 611 |
Management Team
Our senior management team have a wealth of experience in running high quality, reliable bus services.
First West of England
Managing Director
Doug Claringbold
Operations Director
Chris Hanson
Commercial Director
Rob Pymm
Employee Director
Steve Scott
Engineering Director
Richard Northey
History
Bristol Bus Boycott
In 1963 activist Dr Paul Stephenson led a boycott of the Bristol Omnibus Company, protesting its refusal to employ Black or Asian drivers or conductors. After a 60-day boycott supported by thousands of Bristolians, the company revoked its colour bar. In 2014 a commemorative plaque was unveiled at Bristol Bus Station in Marlborough Street to mark the successful campaign and Giles Fearnley, First Bus Managing Director, apologised on behalf of the Bristol Omnibus Company, saying:
"It is right that the end of the Bristol Bus Boycott is marked in this way. Fifty years on and thankfully many things have changed, not least the fact that companies like our own now exist, offering equal opportunities for everyone.
"We remain appalled though at the systemic discrimination that existed back then, which prevented black and ethnic minority people from working on Bristol's state-owned buses. It was completely unacceptable, and so we salute the efforts of those brave and committed Bristolians who campaigned against the colour bar. We'd like to take this opportunity to, once again, apologise on behalf of the operators who owned and managed these companies before we took them over."
Company details
First West of England Limited. Registered in England & Wales No 00025088, Registered Office, Enterprise House, Easton Rd, Bristol, BS5 0DZ
Office: Enterprise House, Easton Rd, Bristol, BS5 0DZ