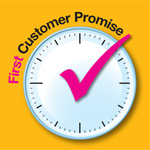 We aim to provide the best service possible, but occasionally we fall below the high standards we set ourselves.
In these cases, we apologise for any delays, disruption or inconvenience to our customers. Our Customer Promise offers customers who hold a valid travel ticket or pass the opportunity to make a claim for free travel in the following circumstances: -
A service departs from a scheduled timing point more than one minute early
A service departs from a boarding stop more than 20 minutes late
We fail to operate an advertised service for reasons within our control
To claim, please complete our Contact form - please provide full details of your attempted journey and the type of ticket or pass you hold/are claiming for. We are unable to provide refunds for alternative transport, or where travel would have been undertaken without charge to the pass holder. We will acknowledge your query as quickly as possible and aim to respond within 2 weeks, however due to the high number of enquiries we receive and depending on the complexity of your query and whether we need to contact you for further information this may occasionally take longer.