Thank you, Bristol Bus Boycott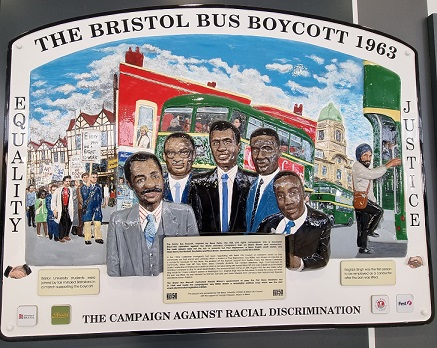 Proud of the Bristol Bus Boycott's contribution to racial equality, First West of England has teamed up with Bristol Festival of Ideas, Creative Connex and Curiosity UnLtd to launch Drive for Change. Over the coming year, this campaign will proudly celebrate 60 years of the Bristol Bus Boycott legacy.
What was the Bristol Bus Boycott?
Inspired by the civil rights activist Rosa Parkes, on April 30th 1963, the Bristol Bus Boycott began. It started after Guy Bailey was rejected for a job as a bus driver because of the colour bar. In the 1960s, this racist employment policy actively discriminated against recruiting Black and Asian Bus Drivers and Conductors.
The Bristol Bus Boycott was organised by Paul Stephenson, Roy Hackett, Audley Evans, Prince Brown, and Barbra Deterring. It was supported by countless unsung heroes, sheroes, Bristolians and students.
After four months of peaceful protest, on August 28th 1963, the Bristol Bus Boycott defeated the colour bar. This happened the same day as Martin Luther King's I Have A Dream speech.
One month after it ended, Bristol's first Black and Asian Bus drivers and conductors were employed. These - The First Bus pioneers - included Raghbir Singh, Norman Samuels, Norris Edwards, Mohammed Raschid and Abbas Ali.
As part of its legacy, the Bristol Bus Boycott helped create the Race Relations Act, which today sits at the heart of the Equalities Act 2010.
Here's a short film featuring Vernon Samuels, the son of Bristol's first Black Bus Driver, Norman Samuels. Thank you to QuickTake Films.
What is Drive For Change?
Drive for Change is a series of events and initiatives that will commemorate and celebrate the Bristol Bus Boycott.