Across the UK, First Bus now has over 1,000 vehicles fitted with new exhaust systems and e-Fans to comply with Euro VI emission requirements. Investing in retrofitting is vital to ensure the full lifecycle of each vehicle is fully utilised while reducing emissions, helping support longer term clean air ambitions.
First Bus is focused on becoming a leader in the transition to a low-carbon future and are committed to operating a zero-emission bus fleet by 2035; we have pledged not to purchase any new diesel buses after December 2022.
Zero Emission Mission 2035 from Just Brilliant People on Vimeo.
In Bristol we have 99 biomethane fuelled double decker buses operating throughout the city. These help to improve air quality and are more sustainable as they are fuelled by a byproduct of food waste.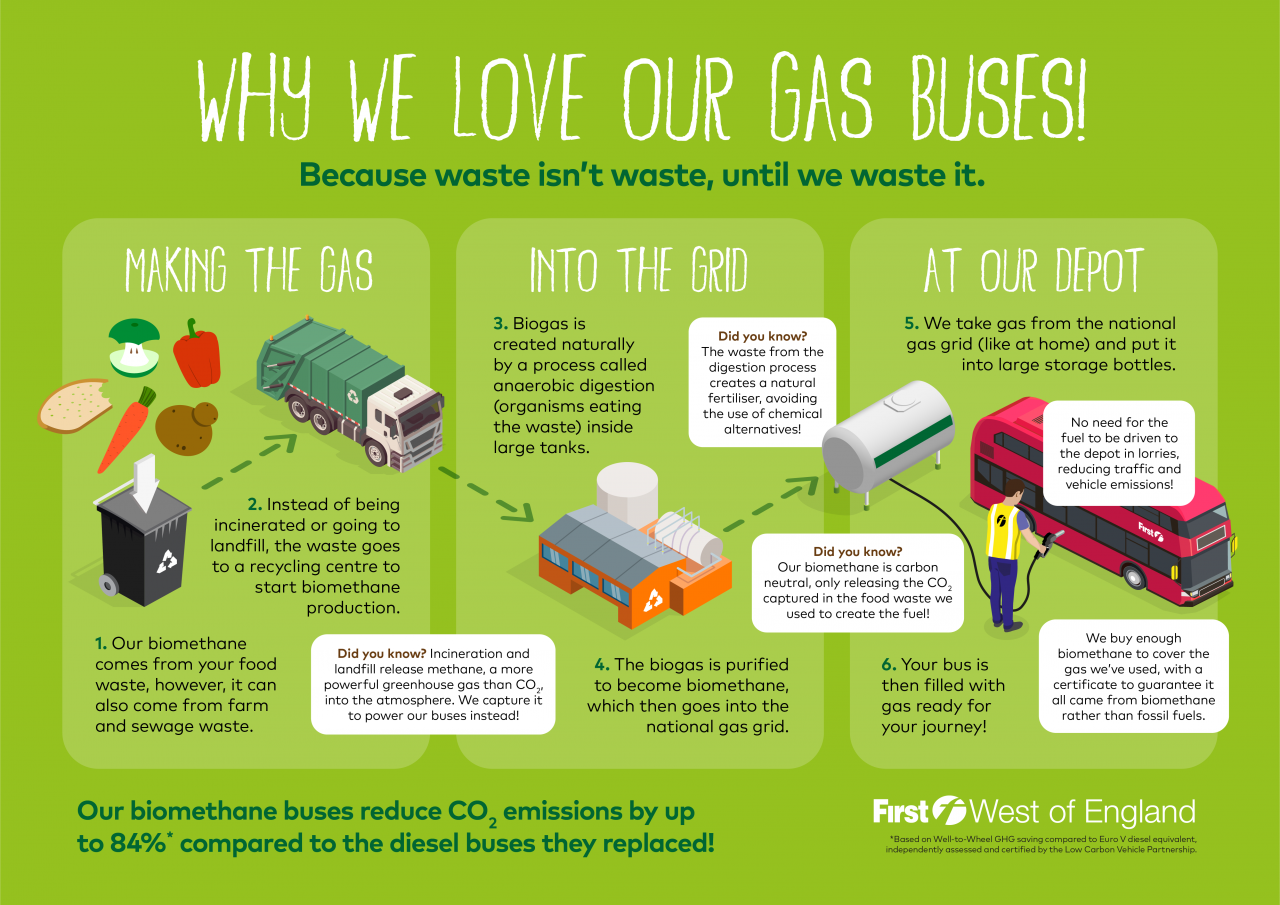 Bath's Clean Air Zone came into operation on Monday 15th March 2021.
We have worked closely with Bath and North East Somerset Council to ensure that we continue to provide customers with a reliable service throughout the city while complying with the new legislation. Our buses in the city are compliant at Euro VI standard, with a combination of new-build vehicles and retrofits of new technology to slightly older models. We estimate that each retrofit reduces air pollutants and harmful emissions by up to 95%, as compared to the oldest buses that have now been replaced.
Work on these vehicles is part of a £30million investment programme across the whole of First West of England's fleet to ensure that we're at the forefront of cleaner, greener travel in the region. This programme has been possible due to Government funding, with technical support for the process provided by Energy Saving Trust.
Last Spring, we introduced more than £3million worth of Euro VI buses in the new Aquae livery on the popular Bristol to Bath route, services 39 and X39.
FirstBus - Clean Air Zone - extended from Just Brilliant People on Vimeo.