Tap & Cap Bristol
You can Tap & Cap for adult fares in the Bristol Zone.
Tap & Cap uses contactless payments to cap our adult bus fares in Bristol so you'll never pay more than £5.30 a day or £23 per week, no matter how many journeys you make. Tap & Cap is the most convenient way to pay for bus travel. We accept payments on VISA, Mastercard, Apple Pay (now with Express Mode) and Google Pay.

You Tap 
 We Cap £ 
Choose which contactless card or device you want to pay with and tap it on the ticket machine as you board the bus. There's no need to ask the driver for a ticket; just make sure you tap the same device each time you travel.
How will Tap 

 

& Cap benefit you?
With Tap & Cap there's no need to work out which ticket you should buy, as we work out the fare for you based on how much you travel. The price you pay is based on the number of trips you make and will never be more than the caps outlined below. This way, if your travel plans change, you'll never pay for more travel than you need.
See how we work out what you get charged with Tap 
& Cap
Once the cost of your daily trips reaches the price of our Day ticket, the price you pay is capped at this amount and you won't pay any more that day no matter how many additional trips you make.
We'll also track your bus travel across 7 days and apply our weekly cap. So when the cost of your travel reaches £23, the price you pay is capped at that amount for the rest of the week, saving you up to £14.10 compared to the normal contactless price of 7 Bristol Adult Day tickets.
FAQs
How Tap 
& Cap works
What's the difference between Tap & Cap and normal contactless payment?
Contactless payment is available for all the ticket types we sell on our services, and is a great way to avoid the hassle of using cash if you don't want to use mTickets on the First app. To pay using contactless, you need to ask the driver for your specific ticket, or on metrobus services, use the iPoint at the bus stop.
Tap & Cap is even simpler as you don't need to choose your ticket type, which is especially useful when you're not sure how many times you're going to be using the bus. It uses contactless technology to guarantee that you will never pay more than you need to, no matter how many trips you make! Our system keeps track of your trips for you and will automatically 'cap' your fare.
It also speeds up boarding the bus – when you get on, you can simply 'tap' your card or phone on the ticket machine, rather than needing to ask the driver for a certain ticket and waiting for the ticket to be issued.
For those of you using Apple Pay, we are now accepting Express Mode on our buses. With Express Mode for Apple Pay, just tap the blue card reader with your device (iPhone or Apple Watch) when boarding the bus. There is no need to wake or unlock the device, open an app or use Face ID or Touch ID, easy and quick! 
Tip: To make sure that the correct card is charged when you pay at a contactless reader, keep the card or device that you want to pay with separate from your other cards or devices.
Tip: When using Apple Pay make sure you only use one device and do not swap between your phone and your watch. Although they might be linked to the same account, Apple Pay assigns a different card number to each device and therefore capping would not work properly.
For further information on using contactless payment on our buses, please see our contactless information page. 
Which zones does it work in?
Tap & Cap is available for all journeys in the Bristol Fare Zone, including on metrobus services.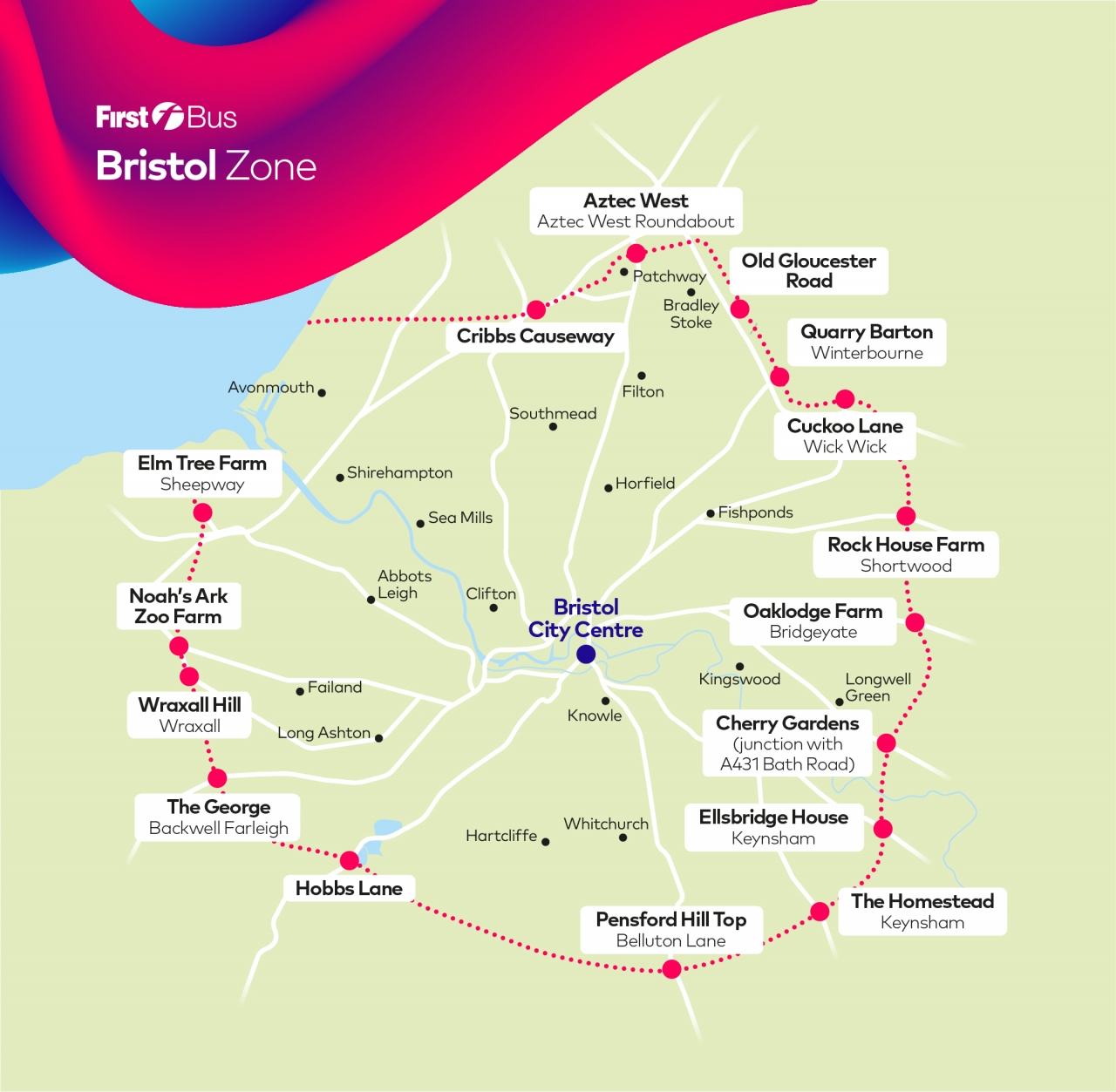 If you're making a journey that starts or finishes outside the Bristol Zone you'll need to buy a ticket in the normal way. If you wish to pay using contactless, you'll need to ask the driver for the relevant ticket as normal and not use your card or device until the driver has selected the ticket first.
What about 3-Stop Hop fares or the Airport service?
3-Stop Hop fares are not available through Tap & Cap. If you would like to purchase one of these tickets using contactless, you should ask the driver for a 3-Stop Hop ticket and not use your card or device until the driver has selected the ticket first.
Bristol Airport is outside the Bristol Zone, therefore on service A1 (Bristol City Centre – Bristol Airport) you'll not be able to use Tap & Cap to reach the Airport. You will need to buy a West of England Zone ticket. Tap & Cap will not work beyond the Hobbs Lane stop, at the Bristol Zone boundary, as shown on the above map.
Paying via Tap 
& Cap
How can I check my charges?
With Tap & Cap we don't issue paper tickets (so you're also doing your bit to cut down on paper use!). To keep track of your spending, click below to visit the transaction portal. Please select First West of England region from the drop down menu. Purchases do not show immediately, but your trip(s) will appear on our online portal within a few hours. Once you've entered your card details, you can see what trips you've made and how much you've been charged over the past 90 days.
.
Will the money come out of my account straight away?
Yes, and this will be based on the number of trips you have made. The amount you will be charged is calculated in real time, so for example if it is your 4th tap that day, you will not be charged because the £5.30 Bristol Day price will have already been reached.
Tap 1 = £2.20
Tap 2 = £4.30
Tap 3+ = £5.30
Can I use Tap & Cap on more than one payment card or device?
No, when you use Tap & Cap, your card acts as your ticket. If you use more than one card or device, each will act as a separate ticket and will be entered into separate caps.
Can I still use my card to pay for tickets other than Tap & Cap?
Absolutely, you can still use your contactless card for all types of tickets up to the value of £45. This includes if you were to make a 'tap' for yourself, and then straight away use the same card or device to buy another ticket (not using Tap & Cap) for others travelling with you.
metrobus will remain a Buy Before You Board and Tap & Cap only service, and if using contactless, other tickets (including Child, Student or Group) should be purchased from the iPoint machines at metrobus stops or on the First Bus app prior to boarding the bus, rather than from the driver. 
Does Tap & Cap allow for payment for people to travel together?
When using Tap & Cap, your card acts as your ticket, therefore you cannot use the same card or device to make two or more taps for different people travelling at the same time.
You can however use the same card or device to make one tap, and then straight away buy another ticket using normal contactless payment rather than Tap & Cap for others travelling with you. 
Why has my payment failed?
Unfortunately, due to the nature of contactless payments, our drivers will not always be able to explain why a payment has failed. However, if for any reason a payment does fail, you can try a different card or pay using an alternative payment method, such as using an Apple or Google Pay-enabled device or purchasing a ticket via our First Bus app.
Below are some of the more common reasons why a contactless transaction may have failed:
The card hasn't been approved by the bank for the transaction.
This can occur as a result of several contactless transactions in a short space of time, which can trigger automated fraud risk management policies with your bank or card issuer.
The card hasn't been used at a Chip and PIN terminal for a certain period or is new.
Most banks and card issuers require a Chip and PIN transaction every so often to help ensure it really is you using that card. Once a Chip and PIN transaction has been seen by your card issuer, this temporary block will usually be removed.
More than one card or device has been detected by the reader at the same time.
If this happens the reader will not take any payment and the driver will be notified that no payment has been made. This is not a problem – simply make sure that only one card or device is presented to the reader and try again.
Currently capped transactions will not be affected if a payment fails.
My payment was declined and my card blocked. What happens next?
If you use a card for a payment which is subsequently declined for insufficient funds, unfortunately your card will be automatically blocked by our ticket machines.
However, we will try again to recover the money owed automatically after a few days or when you try to use the card again on our buses. As soon as the amount outstanding is settled with your bank or card issuer, your card will be unblocked by our ticket machines and you can make contactless payments on our buses once more.
Currently capped transactions will not be affected.
Customer services and help
Who can I contact for help if there's been a problem?
If you're unsure about a payment showing against your card in the portal, or a journey has been registered on the portal that you do not recognise, just give our customer services team a call on 0345 646 0707 between 8am and 6pm Monday to Fridays. Alternatively you can contact customer services using our contact form www.firstbus.co.uk/help-and-support. Live Chat is also available in the First Bus app.
How do I get a refund?
Our drivers are only able to 'undo' a tap for a short while after the tap was made. If anything has gone wrong, or you otherwise require a refund after the point of purchase, you will need to contact our customer services teams on:
0345 646 0707
Normal opening hours: 8am–6pm Monday to Friday.
To help our customer service agents to resolve your request, please provide the following information:
The service on which you were travelling
The date and time and boarded and 'tapped'
The first 6 and last 4 digits of your card, or
Whether you paid via Apple or Google Pay.
Alternatively, you can email mTicket-support@firstbus.co.uk, who will respond within 24 hours on working days.