onebus

One Bus services offer dedicated morning and afternoon bus routes direct to ONE, exclusively for students.
---
Your One Bus routes & times...
SO1 - Stowupland | Stowmarket | Combs Ford | Needham Market | Gt Blakenham to & from ONE
SO2 - Grange Farm | Felixstowe | Walton | The Trimleys to & from ONE
SO3 - Stowupland | Stonham | Claydon | Bramford to & from ONE
---
Getting on One Bus...
To use One Bus simply requires a termly payment of £230 for the 2019/20 Academic Year made direct to ONE.  Whilst payment will not be required until the ONE Enrolment Day on the 22nd August 2019, the number of places on each bus may be subject to availability. Applications are therefore treated on a first come first served basis, so please ensure you apply as early as possible using the online application form here.
Once the application has been accepted, students can get on board the service for which they have paid in two ways:
Showing their 'ONE' ID card which has the valid bus route printed on it
With a dedicated 'One Bus' mTicket on the First Bus App.
---
Why use an mTicket?...
There's some real advantages to having your One Bus travel ticket on the First Bus App:
1...You can use your One Bus ticket to travel on certain 'Ipswich Reds' bus services operated by First Eastern Counties within the Ipswich Zone (including Ipswich Park & Ride 800 buses between ONE and Ipswich town centre), plus any buses to/from the area you get on your One Bus service. 
You'll find information on our Ipswich Park & Ride 800 buses to & from ONE here.
For example, if you normally use SO1 or SO3 you'll be able to use your ticket on Ipswich Reds service 88 between Ipswich | Needham Market | Stowmarket.  If you normally use SO2, you'll be able to use your ticket on any Ipswich Reds bus between Ipswich & Felixstowe, including the FAST X7 service.
You'll find maps and times for all of our other buses here.
2...You'll get FREE travel on the bus services shown above in the evenings, at weekends and in the half term holidays.
3...You'll never lose your ticket again.  If you lose your phone, you can simply transfer your ticket to your new phone.
---
How to get your One Bus ticket on the First Bus App...
Download your simple PDF guide to getting and using your One Bus mTicket on the First Bus App here 
1) Select the mTickets button on the menu bar - choose the area called 'Eastern Counties Communities' - select the Suffolk One tickets.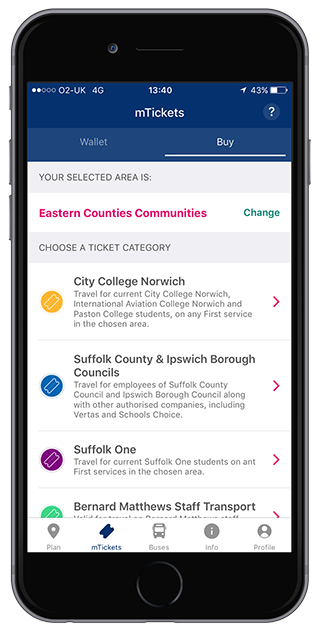 2) Choose your ticket for the route you have been allocated a place on (SO1, SO2 or SO3).  You can also use the handy 'buy again' button if this appears. p.s. Ignore the £999.99 price...we'll deal with that in a minute!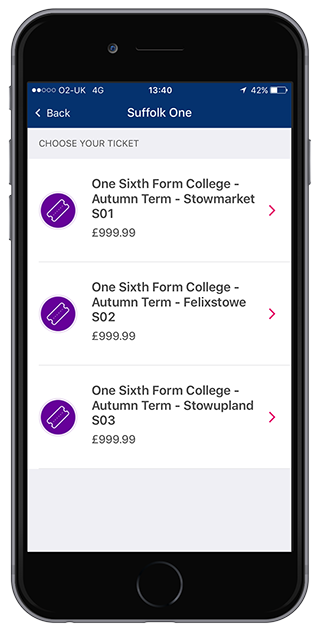 3) Tap 'Go to Checkout'.  Then either sign in or create an account - it's really easy and will only take a moment.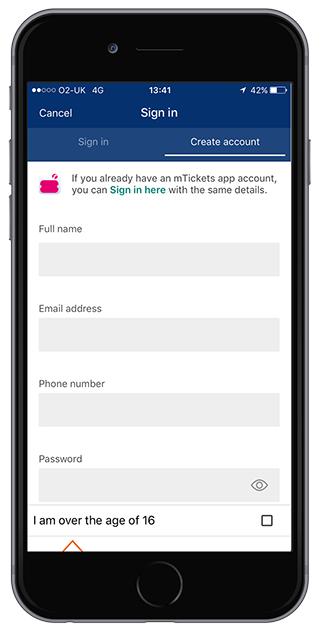 4) Tap 'Add a voucher or promo code'.  Then enter the code that you were given by ONE (all letters are capitals).  This will make the ticket free.  Then tap 'Get your free ticket'.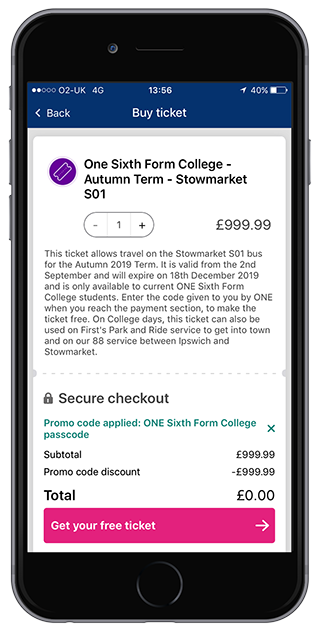 5) The ticket will appear in your ticket wallet.  Simply tap to activate it before you get on the bus.
6) Scan the QR code on the ticket machine as you board.  The driver may ask to see your ticket too.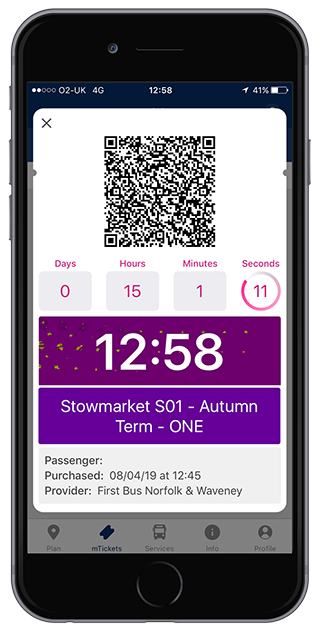 Download your simple PDF guide to getting and using your One Bus mticket on the First Bus App