University of Bath (Bath Unibus)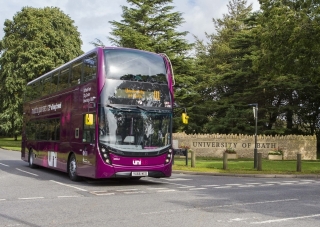 You probably already know that Bath is a great city to be a student in.
So why not make the most of this beautiful city by jumping on our buses and exploring it. We've got great services to the University of Bath plus a network of buses that go pretty much everywhere else you'll need to go.
Bath Unibus Service U1 is your best option for getting between the University of Bath, the City Centre and Oldfield Park. With a bus every 5 minutes during the day and services running till 11.30pm its your perfect choice for your time in Bath. 
Service 20a & 20c runs Monday to Friday up to every 30 minutes and every 60 minutes on Saturday linking University of Bath with Combe Down, Odd Down, Southdown and Twerton. Over the Christmas period the frequency of this service will reduce to meet customer demand. 
Service U3 is temporarily suspended until further notice
Map of services to University of Bath (U1, 20a, 20c)
Map of City Centre bus stops (U1, 20a, 20c)
And as we run over 20 bus services in Bath whether you're going to university, the city centre, cinema, supermarket, train station or visiting friends we've got it covered with routes going all over the city.
Service U1: University of Bath - Bathwick Hill - City Centre - Oldfield Park (early, evening, weekend and uni holidays only)
To view timetable from 11 April 2021 please click here
We also operate a reduced freqency U1 service during the university holidays, so you will always have a bus to campus.
Services 20a & 20c (Daytime only): Bath Circular 
To view the timetable from 11 April 2021 please click here
Tickets
We've got a fantastic range of student tickets meaning there is something to suit your needs however often you use the bus. The range includes singles, day, week, sets of single journeys, term, semester and uni year tickets. University staff can also buy at these prices on production of valid staff photo ID.
The Whole Package 
Allows travel on our Bath Uni Bus service U1 plus over 20 First Bus services in the Bath Zone.
| Student/Staff* Prices | mTicket |
| --- | --- |
| Term 3 (12 April to 28 May 2021) | £79 |
Bath Unibus only tickets 
Allows travel on our Bath Uni Bus service U1 only. 
Student/Staff* Price
Bath Unibus 10 Journey 

mTicket exclusive offer  

£15.00 
Bath Zone Tickets 
Allows travel on any service in the Bath Zone including Bath Unibus Service U1
| Student/Staff* Prices | From the driver | Buy before you board |
| --- | --- | --- |
| Day | £3.20 | £3.10 |
| Night (7pm to 7am) | £2.50 | £2.30 |
| Week | £14 | £12.80   |
| Month | n/a | £49.20 |
| Year | n/a | £485 |
West of England tickets 
Allows unlimited travel within the West of England zone as far as Salisbury, Glastonbury, Street, Wells, Weston-super-Mare and Bristol. 
| Student/Staff* Prices | From the driver | Buy before you board |
| --- | --- | --- |
| Day | £4.90 | £4.60 |
| Night | £3.80 | £3.70 |
| Week | £18.20 | £16.95 |
| Month | n/a | £61.60 |
| Year | n/a | £647 |
*on production of valid University of Bath student/staff photo ID card
All students get up to 30% off our adult single, day and season ticket prices with valid student ID (University of Bath Student ID card).
Where to buy?
You can buy your university bus tickets from the following places:
Via mTickets on the First Bus App allowing your bus ticket to be purchased and used on your smart phone. 
Just click on the mTickets tab, Buy and select Student Travel in the Bath Zone for University of Bath Uni Year, Semester or Term tickets. Single, Day, Night, Week or Month tickets are also available. 
From the driver of any First Bus in Bath: Singles, Day or Week
Keep up-to-date with Bath Unibus 
For the latest updated on Bath Unibus services follow us on Twitter at @bathunibus 
Want to chat?
If you comment, suggestion or complaint about Bath Unibus services email bath-uni.feedback@firstbus.co.uk 
Travel advice during Coronavirus
Here's some key information you'll need to know to keep you, your fellow passengers and our staff safe when travelling.
You MUST wear a face covering (unless you meet the exemption criteria set by the government) and will not be allowed on the bus without one.
We've introduced social distancing measures on board and therefore many of the seats have signs on them asking you not to sit there. Please make sure you keep a safe distance from others and only sit in a designated seat.
Because of the social distancing measures we're only able to carry about half the amount of passengers on a bus compared to before. So, if a bus doesn't stop, even though it might not look full it could have reached its new capacity. We're running as many buses as possible to try and ensure this doesn't happen but please allow extra time for your journey if possible.
We've recently introduced a number of features on the First Bus app to help you plan your journey including being able to track your bus and see how many seat are available on-board. For more information see the video below.