Stay updated
Register your details to be informed about changes to your Bus services, products, news, surveys and promotions.
Register here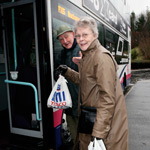 There is a national, Scotland wide concessionary scheme.
This scheme allows eligible persons and travelling companions to travel free on First services in our network.
A Scottish Concession Card must be scanned when boarding the bus to ensure free travel.
Application forms are available from local authorities, Post Offices and SPT Travel Centres, depending on where you live in Scotland. It may be best to contact your local authority or local concessionary travel scheme office for information on the application process in your area.
You will need to provide a recent passport-type colour photograph. When making an application you will also need to produce current documentary evidence of your age or disability along with proof of your current address.
What to do if your card fails?
On occasions where the concessionary card does not read because of a card failure, the customer can take the following actions:
Give the card to the First driver who will ensure it is returned to Transport Scotland. The driver will then issue the customer with a 7 day concessionary pass with a QR code to scan on First services in your local area.
If you would rather not hand over your card to a First driver, you will be charged the full fare for the journey you are making.
Customers can order a new concession card from their local council or call

0845 608 0910

.