Stay updated
Register your details to be informed about changes to your Bus services, products, news, surveys and promotions.
Register here
Introducing our very own Kids Pack!
We've created our very own Kids Pack, designed around the framework for Cirriculum for Excellence, designed to help families, parents, teachers and schools!
Designed to suit the abilities of children from P1 through to P7, the pack contains a series of activities to appeal to each age and stage, as well as tapping into children's love of all things bus. From creating posters on the environmental benefits of using the bus, to writing about a favourite bus journey, a word search, a 'build a bus' challenge, an acrostic poem and the opportunity to design a bus, the pack has been created with fun as well as education at front of mind.
Click the activities below to view, download and print-at-home!
Click the image below to view and download the full Kids Pack!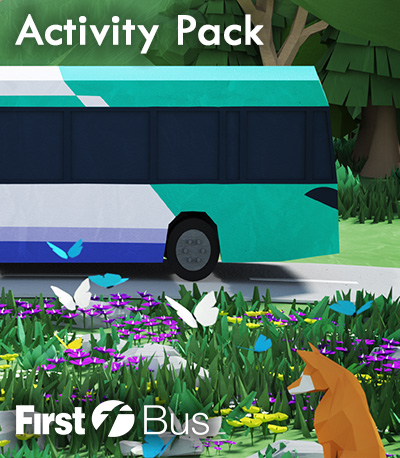 Don't forget to show us what you made!
We'd love to see the fun you've had working on our pack at home, don't forget you can send us your pictures via Social Media!
Facebook: @FirstAberdeen
Twitter: @FirstAberdeen
---
Please note our competition ended on 1st September 2020.