We're proud to be home of the World's First Hydrogen Powered Double Decker Buses! Through our commitment to operating a zero-emission fleet by 2035, we have also welcomed 24 brand new electric buses to our fleet.
Aberdeen's zero-emission fleet is currently made up of 25 Hydrogen Powered buses and have also welcomed 24 brand new Electric Powered buses meaning 40% of our fleet is emission free.
Our Aberdeen depot has undergone major infrastructure developments to power our fully electric vehicles.
Choose bus for a cleaner, greener Scotland! If everyone took 1 more bus journey per month, CO2 emissions could be reduced by 2 million tonnes a year! We're driving to reduce road congestion and harmful emissions - our hydrogen and electric buses release ZERO emissions.
| | |
| --- | --- |
| We've created a Kids Activity pack full of fun activities involving our new sustainable fleet designed to suit the abilities of P1 through to P7. Click the image to view, download or print-at-home! | |
---
Want to know what changes we're making across our Scotland depots?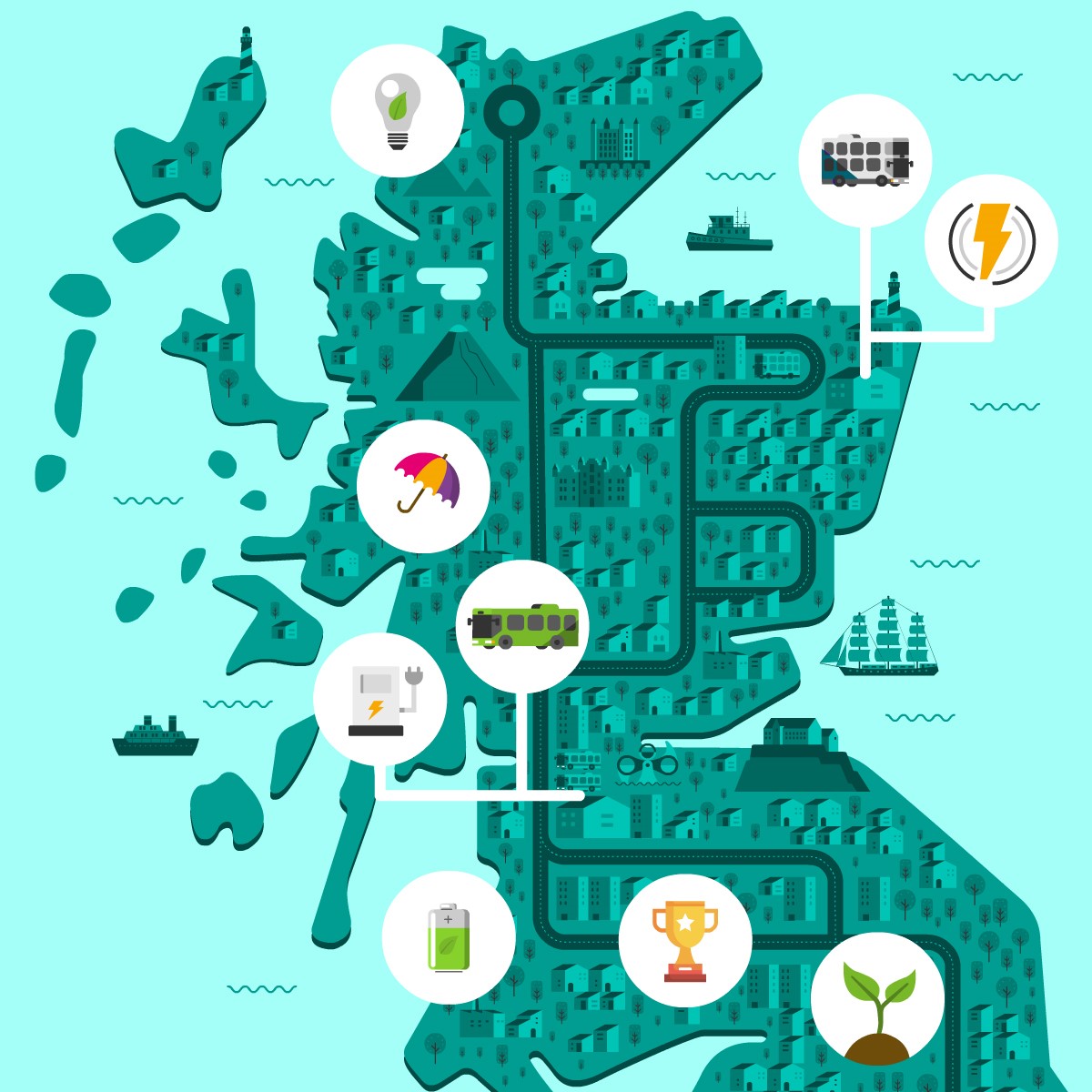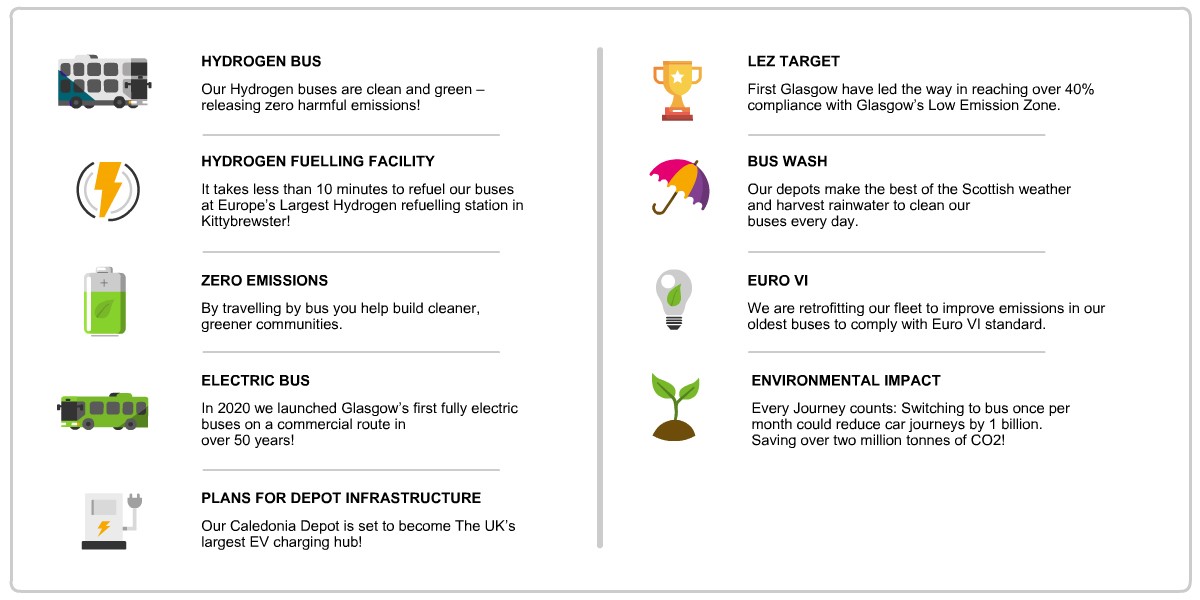 ---
First Aberdeen:

The World's First Hydrogen Powered Double Deckers
Our hydrogen buses are clean and green, and only emit water from their exhausts!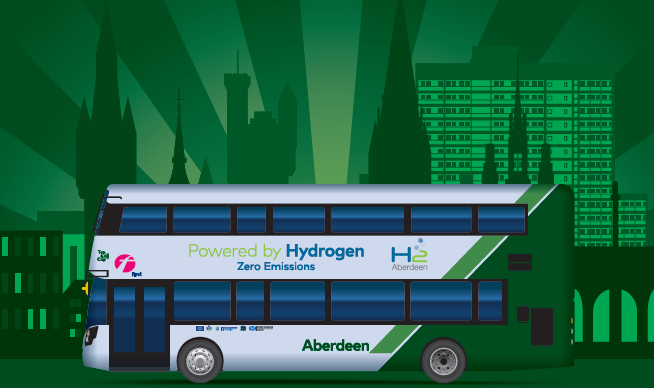 Our King Street depot had to undergo significant alterations to accommodate the city's hydrogen buses. We've installed electrical points at each of the hydrogen parking bays. When the hydrogen buses aren't out in service, they need to be plugged in at their docking point so that their temperature can be monitored. The bi-product of hydrogen fuel is water, so it's essential that the buses are kept above 5°C to ensure that their pipes do not freeze and rupture. To make this happen, a fully trained team of engineers needed to dig up a large section of the depot floor and lay electric cabling underground so that each parking bay could be fitted with its own plug socket.
We're really proud with what we've achieved and are excited to be known as Europe's hydrogen capital as we embrace alternative fuel to meet our wider net zero ambitions.
Reasons to leave your car at home and travel by bus

Clean Air: By travelling by bus you reduce congestion, and car emissions in local communities.

Make an impact: Just one bus can take up to 75 cars off the road, easing congestion and air pollution.

Every Journey counts: If everyone switched just one car journey a month to a bus instead, that would mean up to a billion fewer car journeys, saving two million tonnes of CO2!

Make the swap: Replacing car journeys with public transport can help reduce CO2 emissions by 42%, creating a cleaner, greener Scotland.
Free Time: Relax with a podcast, make plans for your free time or get a head start on your day while you travel by bus.

Improve you health: by walking to the bus stop you'll be improving your health by being more active getting in the recommended 30 minutes of exercise.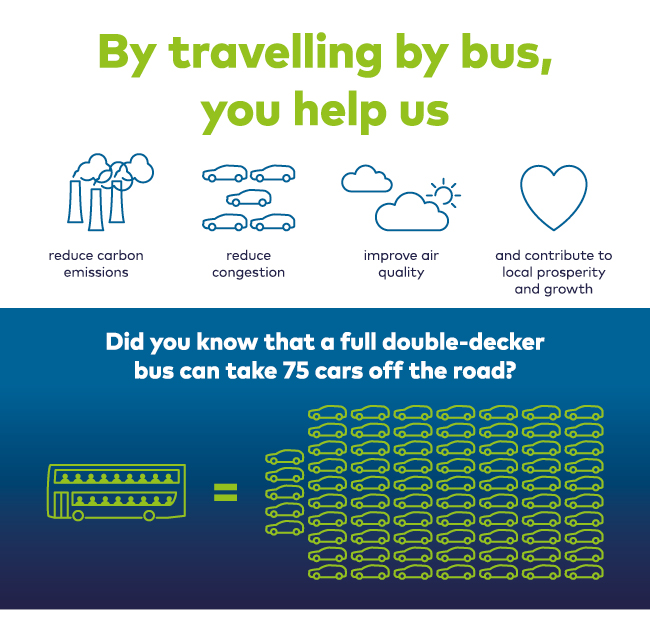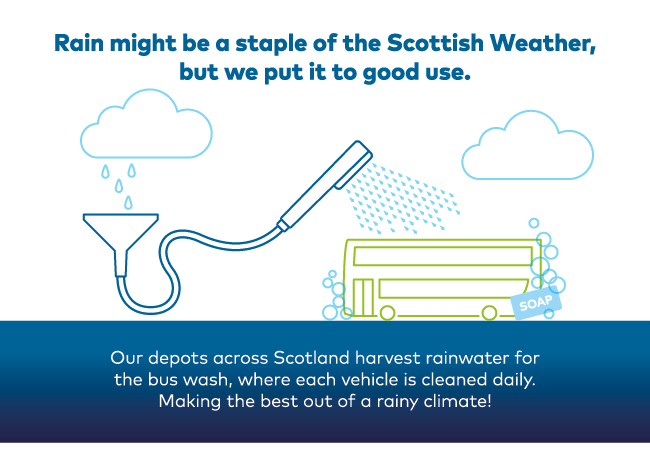 ---