Where to buy

---
First Bus App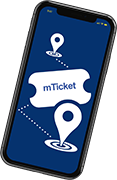 Buying mTickets on the First Bus App >> is the most convenient way to buy tickets 24 hours a day 7 days a week and they are often cheaper, so why not buy before you travel?
With a wide range available, including weekly and monthly tickets, there's no need to have the right change as you can make your purchase in advance. Simply scan your mobile ticket when you hop on board, and you're ready to go.
More about the First Bus App >>
Download the App
.
Online

Some tickets can be sent to your mobile, your email address or by post. We also offer direct debit subscriptions for some longer-term tickets.
Students can also buy their tickets online or by using our First Bus App and have the option of annual, term or academic year period tickets.
Sending tickets to your mobile using the First Bus App is the quickest option, and could even save you money.

More about the First Bus App >>
On the Bus

We encourage all customers to switch to contactless payments and purchasing tickets via our Mobile app where possible. We appreciate your assistance in helping to limit the spread of coronavirus.
Contactless payments >>, Apple pay, Google pay and cash are accepted on our buses.