Swansea University
Varsity 2022
We have increased the frequency of our services for this year's Varsity, check out the timetable below for details;
Varsity 2022 - Special timetable
Don't forget, you can purchase your term 3 ticket at the reduced price of £66, you can get it even cheaper at £44 with the free MyTravelPass from Welsh Government! Your term 3 ticket allows travel on all services across Swansea, Neath Port Talbot etc.
You can catch our late night service 8 from Kingsway up until 1:30am.

We have re-designed the Campus-to-Campus routes specifically around the needs of our students. Our routes are more student focused with direct connections between Hendrefoelan Student Village (HSV), Singleton Campus, City Centre and Bay Campus.
In addition to service changes we have also implemented several safety measures, including an increased cleaning regimen and mandatory face masks. The Campus-to-Campus routes have been designed around students, and so will be used mainly by those travelling between HSV, Singleton Campus, City Centre and Bay Campus.
Face coverings and masks are mandatory whilst on board our vehicles, these must be worn as you board the bus and remain covering your nose and mouth for the entire journey. If you are not wearing a mask on board you may be refused entry, this is to ensure the safety of our passengers and drivers.
If you have an exemption and you are unable to wear a face covering please be prepared to inform the driver, we have created Extra help to travel cards, which you can download or screenshot from our website (Journey assistance card).
For more information about all the safety measures in place please visit our Covid-19 Customer Information page
timetables
During University term time, services 8, 9 & 10 are running every 30 minutes Mondays to Saturdays and hourly on Sundays and Bank Holidays (service 8 & 10 only).
During University holidays, service 8 operates every 90 minutes Mondays to Saturdays. There is no service on Sundays & Public Holidays during University holidays, and services 9 and 10 also will not operate.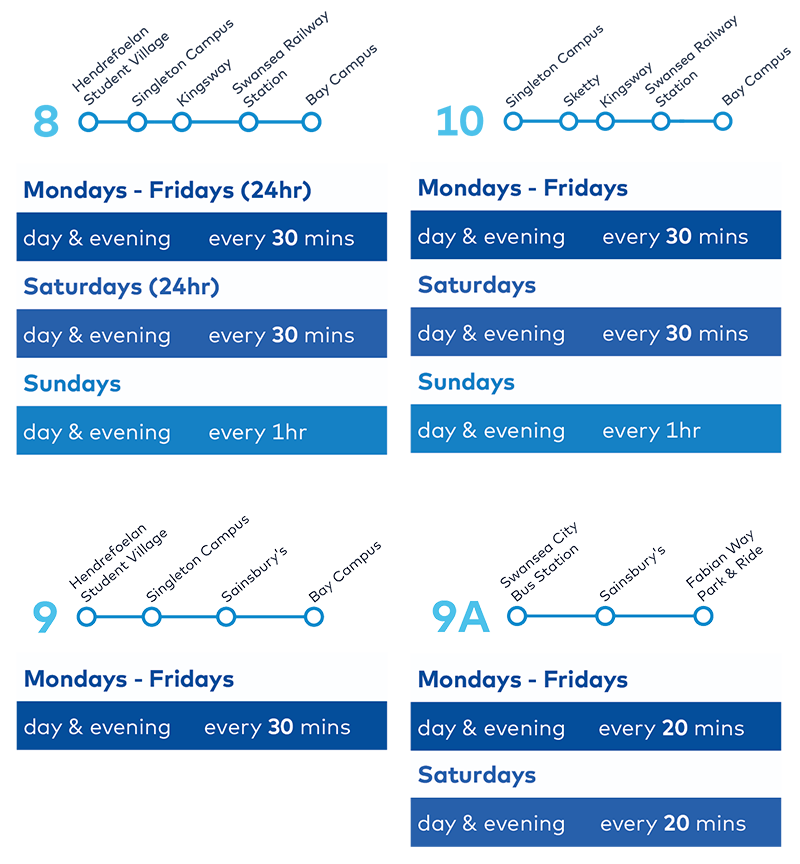 ---
services for travel to Singleton Campus, Bay Campus and Hendrefoilan Student Village

---
ticket price list
We have several different ticket options available including, Term Time tickets*, Flexi-5 and Day tickets. Don't forget to sign up for the MyTravelPass (MTP), which gives discounted ticket prices for 16 to 21-year olds**
| Ticket Type | Normal Fare | 16-21 (with mytravelpass)** |
| --- | --- | --- |
| Term 1 (Autumn) For travel 20 September - 10 December 2021 | £145 | £97 |
| Term 2 (Spring) For travel 4 January - 8 April 2022 | £145 | £97 |
| Term 3 (Summer) For travel 25 April - 1 June 2022 | £66 | £44 |
| 3 Term Academic Year pass (Including travel within the Christmas & Easter holiday periods.) For travel 20 September 2021 - 1 June 2022. | £330 | £220 |
| Full Year (Full 52 weeks) Valid for 12 months from the date of purchase | £380 | £254 |
| Student Day Ticket A day's unlimited travel on services 2A, 3A, 4/4A, 9A, 38, X1, X5 & X7 between the University Campuses & City Centre and for the entire route on services 8, 9 & 10. The ticket can be purchased any time and is valid through to the end of the day's services. Student Day tickets can be bought on the bus with Student ID or on the First Bus App. | £3.50 | £2.35 |
| Student Day - Flexi5 A bundle of 5 day tickets bought exclusively on the First Bus App. Buy a bundle of 5 tickets and choose when you use them. Valid on services 2A, 3A, 4/4A, 9A, 38, X1, X5 & X7 between the University Campuses & City Centre and for the entire route on services 8, 9 & 10. Student ID must be produced when boarding. | £17.50 | £11.75 |
*as we cannot predict what will happen with the current Coronavirus pandemic, we are recommending that students purchase Term Time tickets, rather than the Annual/Full Year pass, a Flexi-5 ticket; a pack of 5 day tickets that can be used whenever needed or single Day tickets for the time being. Annual and Full Year passes are available to buy.
**For MyTravelPass (MTP) discounted travel, a valid MyTravelPass must be shown to the driver along with the mticket for travel or the ticket is not valid and a fare will be required. See mtravelpass.gov.wales for more details.
payment methods
We are encouraging customers to use contactless payment methods, as this reduces contact with our driver. You can use mtickets (mobile tickets, available on the First Bus App) or pay with contactless, Apple Pay or Google Pay. You can buy tickets up to the value of £45, quickly and securely on board. If you still need to pay using cash, please have the correct fare available.
We have introduced new features on our First Bus App. You can now track where your bus is and see how many seats are available on board, including the wheelchair space. By using the app you will be able to track the capacity on board the bus before you get to the bus stop.
Mtickets (mobile tickets) can be bought directly on the app or on our website and transferred to a designated mobile device. This is to allow parents or carers to purchase the tickets/passes on behalf of their children and send them directly to their mobile phone. The First Bus app is available on both android and apple systems. For more information visit our Tech the Bus page.
download the First Bus App