First Bus celebrates completion of UK's largest rapid EV charging hub at flagship Glasgow depot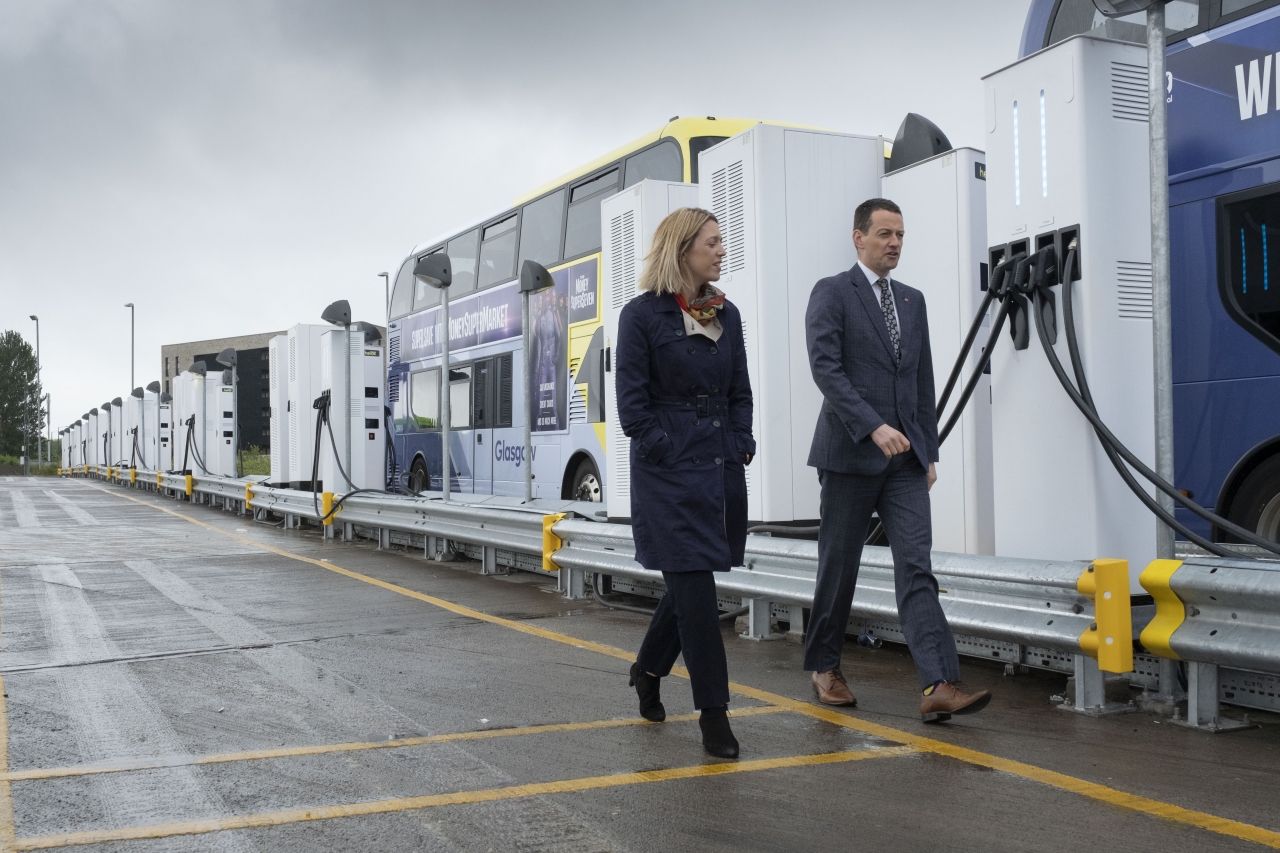 Glasgow is now home to the UK's largest electric vehicle (EV) rapid-charging centre as First Bus completes the major transformation of its flagship Caledonia depot.
Scottish Transport Minister, Jenny Gilruth, visited the site today (25th May) to mark the completion of works, which will allow 150 EVs to be charged at the depot at one time – a feat that the Minister hailed as 'a game changer'.
Caledonia depot, located in Glasgow's southside, has had 160 state-of-the art, rapid-charging points installed over the last nine months, supporting First Bus's ambition to be emission-free by 2035.
The depot will not only support First Bus's growing electric fleet in Glasgow, it will also help other organisations operating in the city to decarbonise their own fleets. With a first-of-its-kind innovation for the transport sector, First Bus is trialling the use of its charging infrastructure to third-party businesses during the day when its buses are out on service.
First Bus now plans to expand the depot further, in partnership with Ofgem and Scottish Power Energy Networks, with the construction of a new substation. This will supply enough power to host an additional 200 vehicles and charging points and will see Caledonia depot home to a total capacity of 350 charging points once built.
Scottish Minister for Transport, Jenny Gilruth, said:
"I am delighted to visit the depot to see the scale of what the largest D.C. charging centre in UK is now, which has been made possible by £26.3 million of Scottish Government investment. This really is a gamer changer in our progress towards decarbonising Scotland's buses.
"Alongside free travel for under-22s and over half a billion pounds in long term funding for bus priority infrastructure, we're putting buses at the heart of Scotland's just transition to net-zero by helping people to choose to travel more sustainably.
"We can only achieve that transition by all pulling together. What's been achieved at the Caledonia depot is a great example of partnership working with the bus, energy and finance sectors to make the best use of Scottish Government investment."
Duncan Cameron, Managing Director at First Bus Scotland, said: "We are thrilled to announce the completion of our Caledonia depot. It's a landmark moment on our journey to an entirely zero emissions fleet and a vital step in decarbonising the local environment and improving air quality.
"We're proud to enable more Glasgow companies to realise their own paths to zero emissions, too. With the great range of our new EVs, and the immense power of these new charging stations, our buses only need to stop to be charged overnight, allowing us to free up the depot during the day for other electric fleets in and around Glasgow".
First Glasgow's Caledonia Depot bus fleet will be 50% electric by December 2022 when it takes delivery of a further 52 electric buses. Glasgow currently has 98 electric buses operating in the city.
The depot's new rapid-charging stations can fully charge a bus in just four hours if required and will be controlled via smart-charging software. This intelligent solution will ensure that power is used in the most efficient way - minimising the draw-down from the National Grid at peak times. First Bus plans to replicate this model across many more sites as part of its decarbonisation journey.
This ground-breaking project will now act as a pathfinder for other locations around the UK as First Bus look to ramp up their decarbonisation programme with further investment committed alongside recently awarded funding via ScotZEB (Scot Gov) and ZEBRA (UK Government).
First Bus Managing Director, Janette Bell, said: "Today marks another major milestone in our decarbonisation journey with the completion of the Glasgow Caledonia electrification project.
"This inspiring project has seen the depot transformed into one of the biggest EV rapid charging hubs of its kind anywhere. To deliver a project of this scale is a magnificent achievement for all the teams involved.
"Caledonia Depot is now our pathfinder project as we roll-out electric vehicles at scale across the rest of the UK and marks a very exciting turning point for both our people and our customers."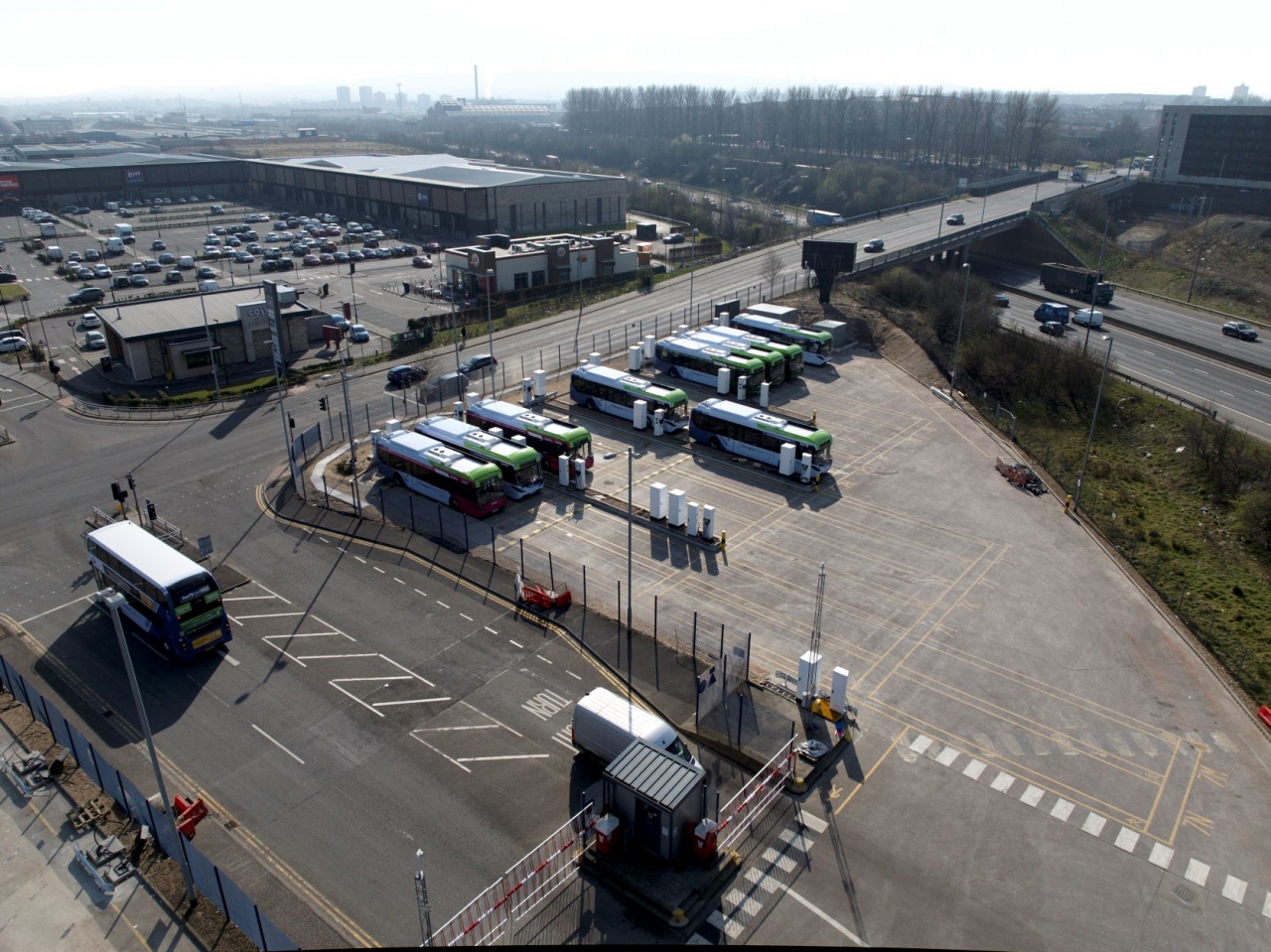 More electric vehicles will soon be coming to Glasgow and further afield, too, with First Bus successful in the Scottish Government's ScotZEB funding round; 50 new electric buses are now planned for First Glasgow's Scotstoun depot, and First Aberdeen's zero-emission fleet will be bolstered with an additional 24 electric vehicles.
In addition, First Bus and its local authority partners in five regions have been successful in their bid to secure UK Government funding for new electric vehicles through the Zero Emission Buses Regional Area (ZEBRA) scheme.
First Bus will now receive funding towards a total of 193 EV buses across the following regions;
Leicester (68 Buses) in partnership with Leicestershire County Council
York (44 Buses) in partnership with York City Council.
Bramley (32 Buses) in partnership with the West Yorkshire Combined Authority.
Norfolk (15 Buses) in partnership with Norfolk County Council.
Portsmouth (34 Buses) in partnership with Portsmouth City Council & Hampshire County Council.Each regional project will now be completed over the course of the next two years to deliver a total of 193 new fully electric buses, and the completion of the electrification of the Glasgow Caledonia site is another huge step on the road to an entirely zero emission fleet by 2035.
Ends