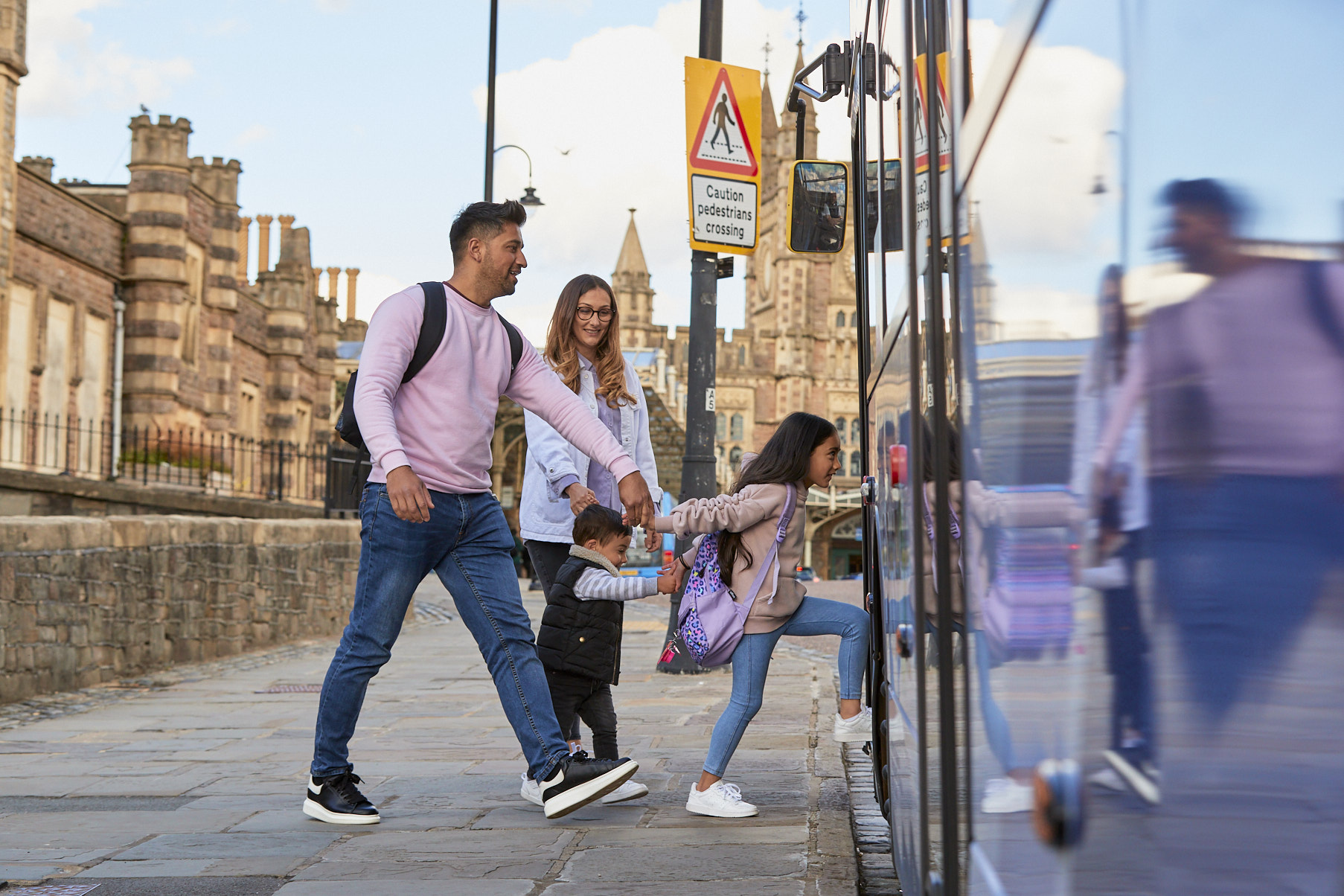 No cash? No problem. Secure contactless payments are now available on all of our buses.
Paying with contactless is a simple and secure way to pay for tickets without cash.
One tap of your contactless card, Apple Pay or Google Pay and you're aboard and ready to go, no need to worry about having the right change.
You can buy tickets up to the value of £45, quickly and securely with contactless. So whether it's a last minute trip or a regular journey, paying for your ticket has never been more convenient.
Apple Express Pay
For those of you using Apple Pay, we are now accepting Express Mode on our buses. With Express Mode for Apple Pay, just tap the blue card reader with your device (iPhone or Apple Watch) when boarding the bus. There is no need to wake or unlock the device, open an app or use Face ID or Touch ID, easy and quick!
Tip: To make sure that the correct card is charged when you pay at a contactless reader, keep the card or device that you want to pay with separate from your other devices or physical cards.
Your Questions Answered
Sometimes the payment will be taken from your account at the end of the day, and if you make multiple journeys on the same day, the cost of these journeys might be combined and taken from your account in a single transaction.
You can check what you've been charged for each journey on our customer portal :
Check your contactless payments
Contactless is a simple and secure way to pay for bus travel without needing cash. Contactless payments can be made for any tickets up to the transaction value of £45 by placing your contactless card or device on the ticket machine's reader. Simply tap and go!
Look for the contactless symbol

on your credit, debit or pre-paid cards. Most new cards are issued with this feature, however, if you're not sure whether your card is contactless enabled please check with your bank or card issuer.
You can also check whether your device is Apple Pay or Google Pay capable by searching for them on the relevant app store.
You will need first to set up Apple Pay. On iPhone, simply open the Wallet app, tap +, and follow the steps to add your credit or debit cards.
To enable Express Mode for Apple Pay take the following steps:
For iPhone:
Open Settings, scroll down and tap Wallet & Apple Pay
Tap Express Travel Card
Select a card. You will then need to authenticate with Face ID, Touch ID or passcode.
For Apple Watch:
Open the Watch app on your iPhone and select the My Watch tab.
Select Wallet & Apple Pay, then tap Express Travel Card.
Select a card, then authenticate with your Apple Watch passcode.
Find more information on Apple Pay on their website.
All Visa and MasterCard cards displaying the contactless symbol

, along with Apple Pay and Google Pay, can be used. Unfortunately, we do not accept payments by American Express or Maestro.
If you're using a pre-paid card, please ensure you have enough credit before trying to purchase your ticket as unfortunately this could result in your card being rejected.
Most contactless cards issued outside of the UK will be accepted on our ticket machines, however, if you find that your card didn't work this time please contact your bank or card issuer. Please be aware that cards issued outside of the UK may incur overseas transaction fees applied by your bank or card issuer.
You can use contactless to purchase any of our tickets up to a total value of £45. This can include more than one ticket in a single transaction, e.g. an adult and a child ticket so long as the total price does not exceed £45.
For purchases of more than £45 we recommend using mTickets on the First Bus App. For FAQs on mTickets click here.
The limit for contactless payments in the UK is £45. Unfortunately we're unable to process single contactless transactions above £45 on-bus.
For purchases of more than £45 we recommend using mTickets on the First Bus App. For FAQs on mTickets click here.
From time to time, we authorise a payment for a nominal amount. This allows us to check with your card issuer that the card is valid and will be replaced by the full transaction amount in the next 24-48 hours.
Unfortunately, due to the nature of contactless payments, our drivers will not know why a payment has failed. However, if for any reason a payment fails, you may wish to try a different card or pay using an alternative payment method such as; using an Apple or Google Pay enabled device, or purchasing a ticket via our First Bus App.
Tickets are often cheaper as mTickets on the First Bus App, so why not buy before you travel?
Below are just some of the more common reasons why a contactless transaction may have failed:
The card hasn't been approved by the bank for the transaction.
This can occur as a result of several contactless transactions in a short space of time which can trigger automated fraud risk management policies with your bank or card issuer.
The card hasn't been used at a Chip and PIN terminal for a certain period.
Most banks and card issuers require a chip and PIN transaction every so often to help make sure it really is you using that card. Usually once a chip and PIN transaction has been seen by your card issuer, this temporary block will be removed.
More than one card has been detected by the reader at the same time.
If this happens the reader won't take any payment and the driver will be notified that this is the case. Don't worry though, simply make sure that one card is presented to the reader and try again.
If you use a card for a payment which is subsequently declined for insufficient funds, unfortunately your card will be automatically blocked by our ticket machines.
However, we will try again to recover the money owed automatically after a few days or when you try to use the card again on our buses. As soon as the amount outstanding is settled with your bank or card issuer, your card will be unblocked by our ticket machines and you can make contactless payments on our buses again.
Yes, you will get a receipt once your transaction has gone through, along with a ticket for your journey. Please ask your driver for your receipt as well as your ticket if you're unsure you have received one.
Contactless payments are more secure than carrying cash for several reasons:
The information on your card is protected with secure Chip and PIN technology. Data transmitted during transactions is encrypted and protected with a digital signature that is much harder to forge than a handwritten one.
If your card is lost or stolen, you're protected against unauthorised payments provided you inform your bank as soon as you realise it's gone. Your card will be blocked immediately.
If your card does fall into the wrong hands, the maximum amount per transaction is £45, and after repeated payments, the person will be asked for a PIN. For payments over £45, authorisation is required, so nobody can make purchases without your PIN or device passcode.
Each time your contactless device interacts with a payments terminal, it generates a one-time-only electronic signature and cryptogram, making it just as secure as a normal Chip transaction.
Your bank may notice unusual spending patterns or locations and request a Chip and PIN transaction.
Express Mode for Apple Pay is entirely secure, but we understand that paying without authentication is not for everyone. We encourage you to use Express Mode as it helps you boarding the bus quicker, however you can still pay with Apple Pay using Face ID, Touch ID or passcode.
To turn off Express Mode, you should take the following steps:
Navigate to Settings on your devices
Tap on Wallet & Apple Pay
Tap Express Travel Card
Select "None" or "Off"
Disabling this mode will not stop Apple Pay from working as normal on the bus.
We don't currently accept contactless payments for topping up smart cards on our buses as we believe this may increase boarding times and therefore, delay our buses.
All payments are processed by FirstGroup Holdings Ltd on behalf of First Bus.