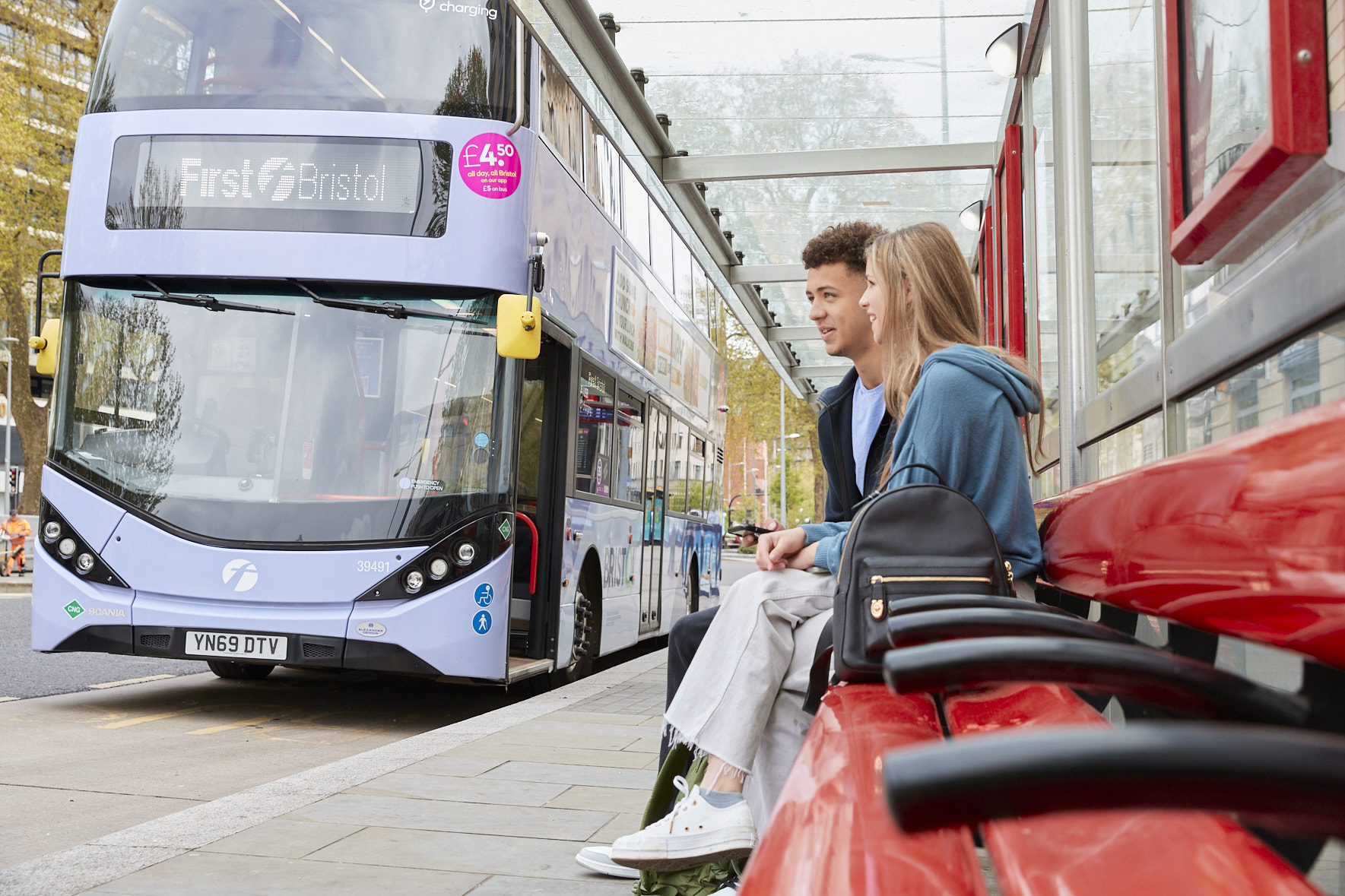 Our step-by-step guide to catching a bus
You will find help below on how to:
Getting the bus is the simplest and cheapest way to travel around. So, whether you're new to catching a bus, haven't travelled on a bus in a while or simply have some questions, check out our helpful guide below to catching the bus.
1. Plan your journey
If you're planning your journey in advance or need a route last minute, we've got you covered. Simply download our app or head over to our route planner → to find your most convenient stop. There are three main ways to find out where you need to be and how to get to the place you're going.
Do it all from the palm of your hand wherever you are. The new First Bus App makes travelling with First Bus even easier. You can plan your journey door to door and buy your First Bus mobile tickets (mTickets) all in one place, making getting where you need to be simple and stress-free.
Simply open the app, select your departure point and destination in the search bars at the top and we'll plan your journey for you. It'll even show you the length of your walk to and from the bus stops either side of your journey. You can also use the app to check when your bus is due using real-time information.
To find out more about our app please visit our app page → which has more information including a useful video and step-by-step mTicket guide.
Try our online Journey planner »» to find the best route without even leaving your house. Once on the journey planner page, choose your area of departure and your destination. The suggested routes will show directions to the bus stop, departure and arrival times and service numbers (bus route number). You can also see the route highlighted on a map.
Getting more specific
If you want to find out more about a specific route, you can use our timetable pages to see the latest timetables, and our news and service updates pages to look for disruptions and route changes.
Select the timetable pages for your area
At the bus stop, bus departure times and days that the buses operate from that stop are listed. From here, you can work out what times you can catch the bus.
If in doubt, ask your bus driver for more information as you step on the bus.
If you're unsure where your nearest stop is, download the First Bus App and open the map. The app will show you every bus stop nearby!
---
2. Choose your Ticket
We have ticket options to suit all needs. Read our summary of ticket options below to help you decide which is best for you.
SINGLE - Ideal if you are going one way and not coming back. These can be bought on the bus from the driver, and can be paid for using cash or contactless.
FIRSTDAY - For unlimited travel on a bus within your zone for a whole day, a FirstDay is your ticket to ride. Perfect if you're making multiple journeys in one day. You can find out zone information for your region below.
FIRSTWEEK - For unlimited travel 24 hours a day for 7 days within your zone, a FirstWeek is just the ticket.
FIRSTMONTH - Travel as much as you want for a whole calendar month. The more you use it the better value it is!
UNLIMITED - If you're a regular traveller, then the Unlimited ticket is perfect. This is the cheapest way to pay monthly for your bus travel.
GROUP - Travelling with friends or family? The Group ticket allows several people to travel together at a reduced rate. Prices will depend on the region and some group tickets may only be available during off-peak travel times. .
View zone information for your area
If you know you will be taking a lot of trips on the bus in a month, you could save money by buying a FirstMonth or a First4Week ticket in advance.
---
3. Buy your Ticket
When it comes to buying your ticket you've got several options.
To ensure you get the best value ticket available, we recommend buying your ticket in advance on your mobile phone. Buying in advance means you don't need to carry cash and means you can keep your tickets on your mobile in one place. There are two options for buying in advance;
First Bus App: From cheaper tickets to planning your journey, the First Bus App makes travelling even easier.
Online: You can also buy tickets in advance from our website
Select the ticket page for your area
All our buses accept contactless payment for purchases under £45, so you can hop on and tap your contactless credit or debit card, no matter where you're going.
Cash is still accepted on all our buses, but it's always advisable to have the correct change to speed up your boarding time.
Select the ticket page to see prices for your area
With the First Bus App, we're making it even easier to buy tickets. You can now find your previous tickets and 'buy again' in one simple step, perfect for if you regularly make the same journey.
---
4. Catch the bus
Once you have found your desired route, the stop you need to depart from and decided if you're going to buy your ticket in advance or on the bus, it's time to head to the stop and catch your bus.
You can use the real time information on the Next Bus page → on this website, or on the First Bus app → to see when your next bus is arriving.
Need more help? Additional things you might want to know about making your journey. →
Wondering where your bus is? Download the First Bus App and view real time information to see when your bus is due.
---
Any questions
If you have any other questions about how to catch the bus, please visit our FAQs →.
If you would like to contact customer support please see our Help and Support page →.