Service 370 | Rayne Road, Braintree | Road closure
Mid Essex
Location

Rayne Road, Braintree

Responsibility

Essex County Council
Rayne Road, Braintree will be closed on a nightly basis, from Monday 9th October 2023 to Saturday 25th November 2023, between the hours of 19:00 and 05:00.
Rayne Road, Braintree will be closed between the junction with Aetheric Road/Pierrefitte Way and the roundabout on Coggeshall Road/Blyth's Meadow.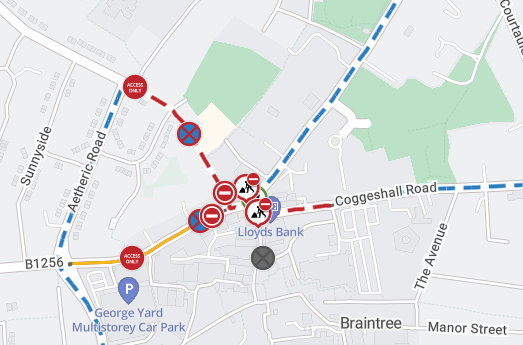 Service 370, travelling towards Braintree, will divert via St Michael's Road and Fairfield Road before returning to normal line of route at Braintree Bus Station.
Whilst the road closure & diversion are in place - the following bus stops will not be served (journeys travelling towards Braintree only):
Panfield Lane
Blyth's Meadow
Mount Road
Railway Street
Clinic
We apologise for the inconvenience caused.