Essex Fare Changes from Monday 14th August 2023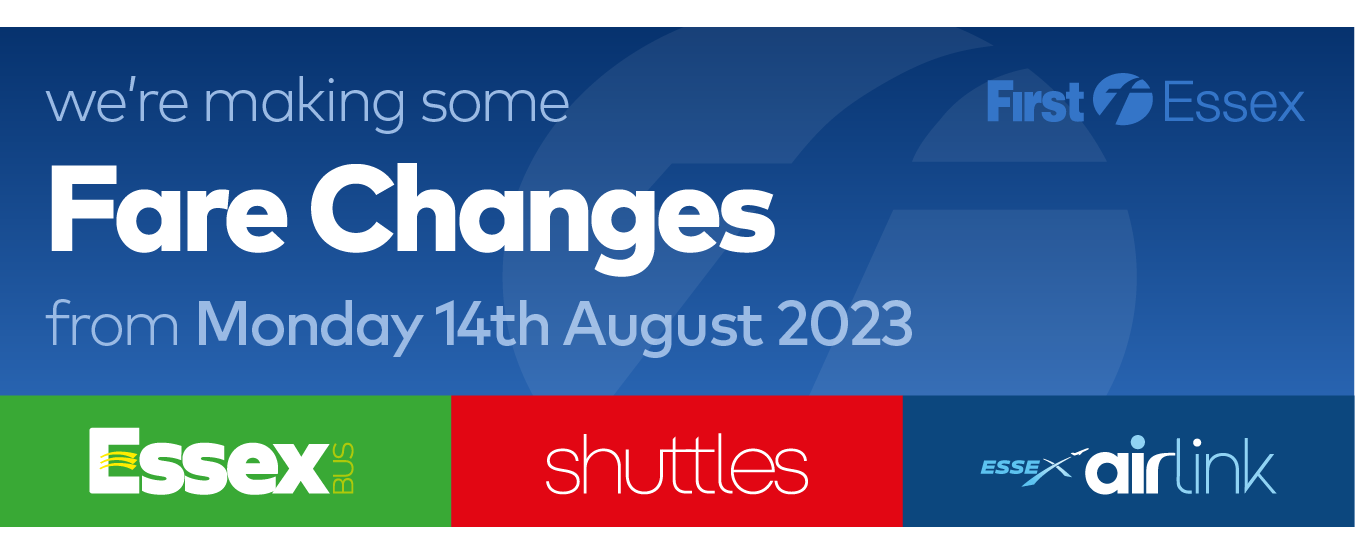 From Monday 14th August 2023, some of our fares are changing across Essex.
Most fares under £2.00 single and £4.00 return will increase in price. However, the current £2.00 maximum single fare cap will remain in place until 31st October 2023. The prices of most of our Day, Week and 4-Weekly tickets will increase.
Our Thurrock zone tickets, which are available for use on First Essex and Ensign Bus services throughout Orsett, Chadwell St Mary, Tilbury, Little Thurrock, Grays, South Stifford, Lakeside, Purfleet-on-Thames, Aveley, Belhus, South Ockendon and Stifford Clays, will also be valid for use on Ensign route X80 through to Bluewater
In the Southend area, covering the Southend, Castle Point and Rochford District areas, we will be introducing Tap&Cap. The scheme will operate in the same way as it does in Basildon, Chelmsford and Colchester.
As most customers pay using contactless, were introducing a new, simpler more flexible ticketing option called Tap&Cap. For single fares, a maximum fare of £2.00 applies until 31st October 2023 – pay by Tap&Cap with your card when you board the bus using contactless. Fares under £2.00 for some short distance journeys will still be available to buy from the driver. Return tickets will no longer be available entirely within the Southend, Castle Point and Rochford district areas. If you make two journeys within the area you will pay no more than £4.00.
Simply board the bus, tap your contactless card or device on the reader, wait for the beep and take your seat. If you are travelling from within the Southend area described above to destinations outside of the Tap&Cap zone, please ask the driver for a Single, Return or Day ticket and pay by cash or contactless.
Please see below map for Southend Tap and Cap Zone: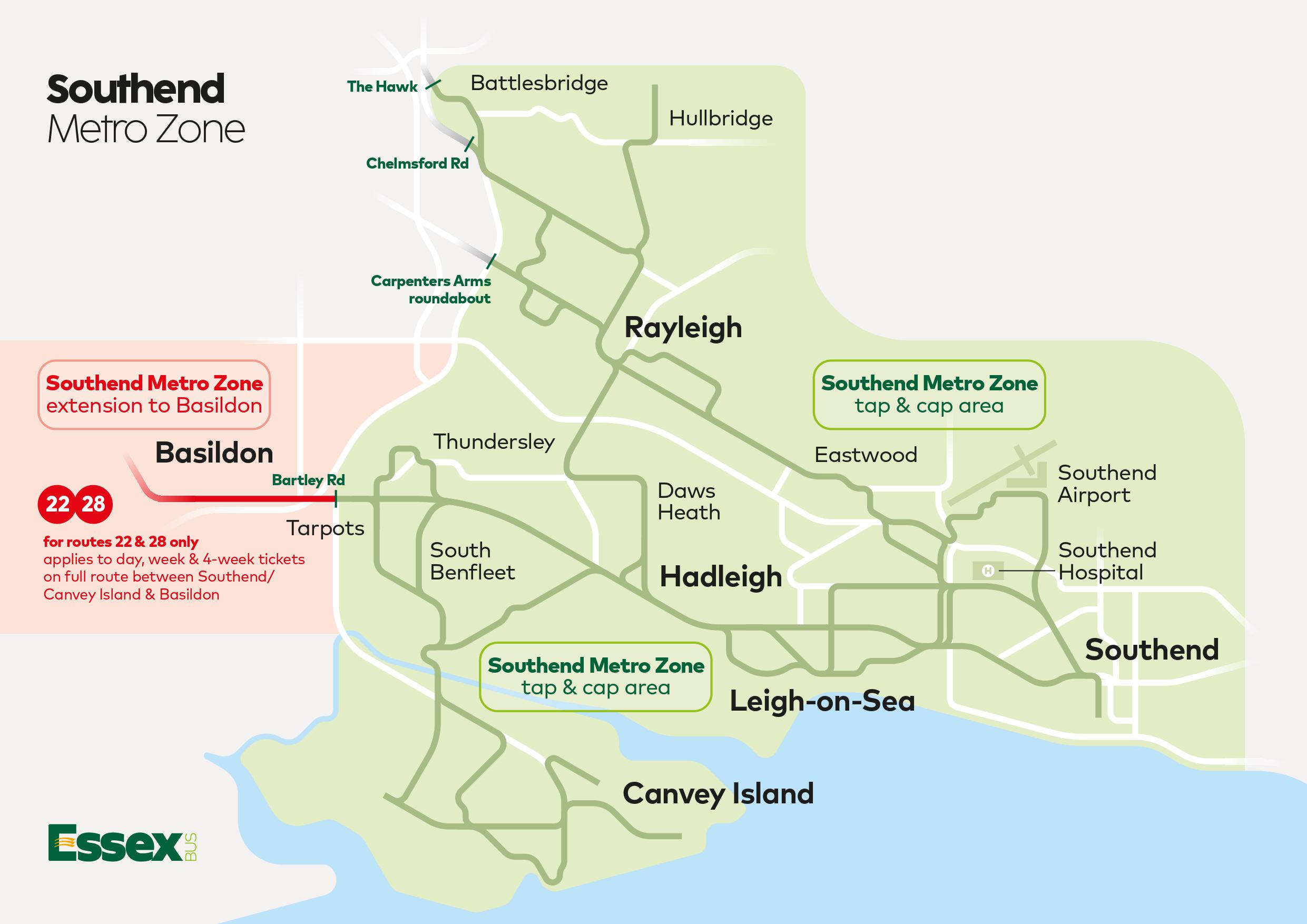 For more info on Tap & Cap, please visit: Tap&Cap | First Bus
Please see below table for new rates for the day, week and 4-week tickets from 14th August in a summary for each zone.
Zone

Ticket Type

Price from 14th August 2023

Buy On Bus

Buy as M-ticket

Basildon Inner

Adult Day

£6.50

Yes

Yes

Child Day

£3.70

Yes

Yes

Group 1+2 Day

£7.70

Yes

Yes

Group 2+3 Day

£11.00

Yes

Yes

Adult Week

£26.00

Yes

Yes

Child Week

£16.00

Yes

Yes

Adult 4-Week

£85.00

Yes

Yes

Child 4-Week

£55.00

Yes

Yes

Basildon Outer

Adult Day

£9.20

Yes

Yes

Child Day

£5.00

Yes

Yes

Adult Week

£38.00

Yes

Yes

Child Week

£22.00

Yes

Yes

Adult 4-Week

£120.00

Yes

Yes

Child 4-Week

£72.00

Yes

Yes

Chelmsford

Adult Day

£6.50

Yes

Yes

Child Day

£3.70

Yes

Yes

Group 1+2 Day

£7.70

Yes

Yes

Group 2+3 Day

£11.00

Yes

Yes

Adult Week

£26.00

No

Yes

Child Week

£16.00

Yes

Yes

Adult 4-Week

£85.00

No

Yes

Child 4-Week

£55.00

No

Yes

Colchester

Adult Day

£4.90

Yes

Yes

Child Day

£3.40

Yes

Yes

Group 1+2 Day

£7.00

Yes

Yes

Group 2+3 Day

£10.00

Yes

Yes

Adult Week

£19.00

No

Yes

Child Week

£12.00

Yes

Yes

Adult 4-Week

£60.00

No

Yes

Child 4-Week

£44.00

No

Yes

Colchester & Brightlingsea

Adult Day

£5.30

Yes

Yes

Child Day

£3.80

Yes

Yes

Adult Week

£22.00

Yes

Yes

Child Week

£14.50

Yes

Yes

Adult 4-Week

£74.00

Yes

Yes

Child 4-Week

£50.00

Yes

Yes

Southend Metro

Adult Day

£5.00

Yes

Yes

Child Day

£3.00

Yes

Yes

Group 1+2 Day

£6.60

Yes

Yes

Group 2+3 Day

£10.00

Yes

Yes

Adult Week

£20.00

Yes

Yes

Child Week

£14.00

Yes

Yes

Adult 4-Week

£60.00

Yes

Yes

Child 4-Week

£44.00

Yes

Yes

Brentwood

Adult Day

£4.40

Yes

Yes

Child Day

£3.10

Yes

Yes

Group 1+2 Day

£5.50

Yes

Yes

Group 2+3 Day

£8.80

Yes

Yes

Adult Week

£18.50

Yes

Yes

Child Week

£12.00

Yes

Yes

Adult 4-Week

£63.00

Yes

Yes

Child 4-Week

£43.00

Yes

Yes

Thurrock

Adult Day

£5.40

Yes

Yes

Child Day

£3.70

Yes

Yes

Adult Week

£19.00

No

Yes

Child Week

£13.10

No

Yes

Adult 4-Week

£65.00

No

Yes

Child 4-Week

£40.00

No

Yes

All Essex

Adult Day

£10.00

Yes

Yes

Child Day

£7.40

Yes

Yes

Group 1+2 Day

£13.00

Yes

Yes

Group 2+3 Day

£16.20

Yes

Yes

Adult Week

£41.50

Yes

Yes

Child Week

£32.00

Yes

Yes

Adult 4-Week

£130.00

Yes

Yes

Child 4-Week

£100.00

Yes

Yes

All Essex + X10 X30

Adult Week

£49.00

Yes

Yes

Adult 4-Week

£178.00

Yes

Yes