All aboard! First Bus to run £57 million Cribbs Patchway bus service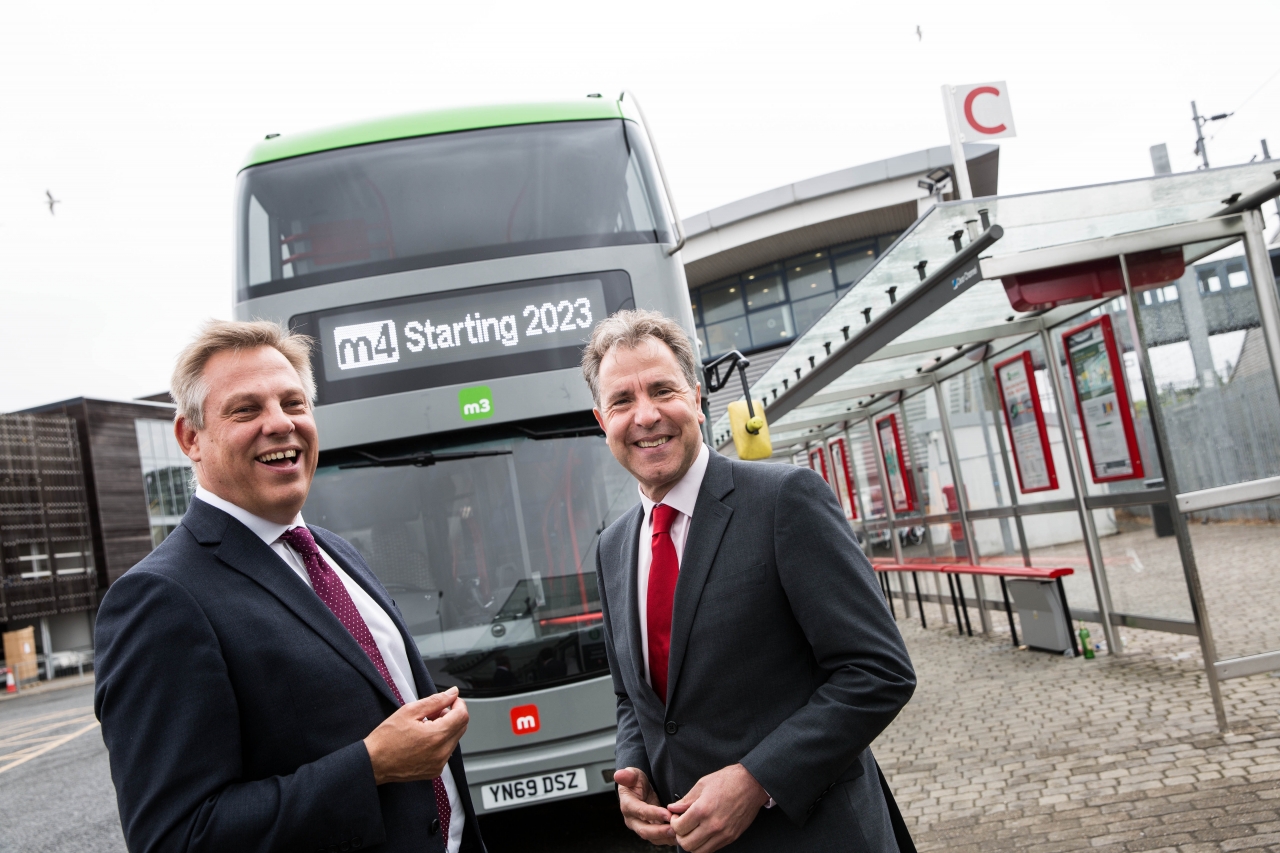 Metro Mayor Dan Norris and South Gloucestershire Council have officially welcomed First Bus aboard plans for the brand-new Cribbs Causeway to Bristol Parkway metrobus service.
First Bus will run the new Cribbs Patchway 'm4' service opening in Spring 2023. Mayor Norris made the announcement alongside South Gloucestershire Council's Cabinet Member for Transport, Cllr Steve Reade, and First's Managing Director Doug Claringbold at Bristol Parkway Station. 
The new service, providing a fast and direct bus route between Parkway Station and The Mall and linking with the existing 'metrobus' network, has been made possible thanks to a bumper £57 million cash injection from the West of England Combined Authority, led by the Metro Mayor.
The new bus route will benefit communities in Stoke Gifford, Patchway and the forthcoming mixed-use Cribbs Patchway New Neighbourhood development on the former Filton Airfield.
As part of the move, a number of bus stops along the route are being upgraded to 'metrobus standard' including having brand-new bus shelters, 'iPoints', cycle hoops, fully accessible kerbs and CCTV to keep locals safe while travelling, helping the Combined Authority and partners, including South Gloucestershire Council, in the mission to create a greener, safer West of England.
Welcoming the announcement, Metro Mayor Dan Norris said: "I'm so pleased that we've got First on board to operate this important new service fully funded from the West of England Combined Authority I lead, which will make a real difference to communities in Stoke Gifford to Patchway and beyond. The m4 will get even more people out of cars and onto our snazzy new greener, cleaner and reliable buses, so important if we're going reach our net-zero ambitions and ensure more local people breathe cleaner air and lead healthier lives."
The Combined Authority will be working closely with First over the coming months to finalise details of the m4 service, with more information to be announced later in the year.
Doug Claringbold, Managing Director of First Bus, said: "We are delighted to be operating this new metrobus route and very much welcome the ongoing investment in bus infrastructure which is critical to the region's transition to a sustainable, low carbon future.
"Since the m3 and m2 were launched in 2018, followed by the m1 in January 2019, they have carried over 11 million passengers, despite the pandemic. These services enable faster, more direct journeys which offer customers a very viable alternative to taking the car."
The new Cribbs Patchway bus route, which has been project-led by South Gloucestershire Council, also includes new bus lanes, cycle and pedestrian pathways, a new, larger bridge on Gipsy Patch Lane, and improvements to the San Andreas roundabout at Cribbs Causeway. These improvements will benefit buses and locals alike.
South Gloucestershire Council's cabinet member for transport Councillor Steve Reade said: "The Cribbs Patchway metrobus extension is a flagship project for South Gloucestershire Council and is part of our commitment to improve public transport, walking and cycling facilities and the road network in the area. "We have worked closely with the Combined Authority since its inception, who have backed the scheme and agreed the £57 million funding enabling the creation of this vital new route, which is nearing completion.
"I am very pleased to see this project reach such an important milestone and welcome First Bus onboard. This new metrobus service will make public transport a credible and attractive option for our residents living in Stoke Gifford and Patchway and for those moving to and working in the Cribbs Patchway New Neighbourhood."