If your driver doesn't have enough change for your fare you could be issued a Change Voucher.
Our drivers always try to carry enough change but sometimes we can run short of coins so we're made some improvements:-
• You may be issued with a Change Voucher which can be redeemed on any of our buses for a journey or cash*
• We accept contactless payments - pay with your card so there's no more worries about change
Please help us to have the right change available by paying with exact fare wherever possible. We are grateful when customers are able to do this as it helps to keep the change flowing.
Regular traveller?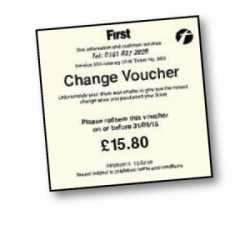 If you have any questions:

Call us on 0345 646 0707, lines open 0800 - 1800 Monday to Friday (excluding Bank Holidays)

or send us a tweet @FirstLeicester
*We always try to carry enough change but cannot guarantee your chosen driver will be able to exchange this for you immediately