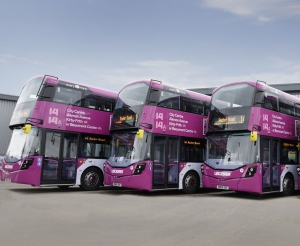 First is the UK's leading bus operator, transporting more than 2.8m passengers around the country every day.
Our Leicester operation is part of a regional structure that includes sister depots in Staffordshire.
Leicester dates back to the Roman times and is truly a historic city and the largest within the East Midlands region. The city is a diverse and exciting location, boasting some of the best nightlife, restaurants, shopping and festivals in the country, as well as offering a range of museums and historic landmarks.
First is proud to play an important part in keeping Leicester moving by providing a comprehensive network of bus services and offering a wide range of ticketing products to suit peoples travel needs.
If you are a resident or a visitor to the city and you are looking to travel around in a safe, comfortable and stress free environment and without having to find a parking space, give the bus a try and travel with us.
We are proud to be the longest established bus operator in the city providing an important link to communities and places of interest.
We hope you find our website to be both interesting and informative, we welcome feedback from all our customers on all the services we provide - you can find our contact details here.
---
Company details
Leicester CityBus Limited. Registered in England and Wales No. 02000072. Registered office: Westway, Chelmsford, Essex. CM1 3AR