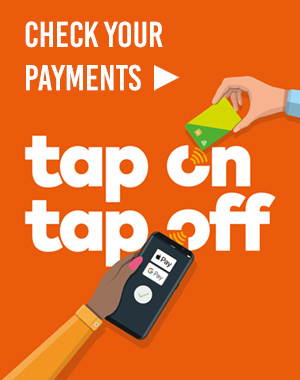 The easiest, most flexible way to pay for your travel
No need to choose the ticket to buy upfront, simply tap on with the driver and tap off on the dedicated reader as you get off on every journey and we'll automatically work out the best fare. Available on most buses across Leicester.
You'll never pay more than £5 for a day's travel, or £18.90 for a week on First buses, and now you'll be capped at the 'Flexi' price on other operators too, for full details click here >>
Works with any valid debit or credit card and Google Pay & Apple Pay.
How it works
When you tap on and tap off, we'll automatically calculate the single fare for your journey
If you only make one trip, you'll pay the single fare - if you make several trips in one day the price you'll pay will be capped at the day ticket price
If you travel several days in a week, the price you'll pay will be capped at the weekly ticket price
Easy!
If you've more questions check out our FAQs >> or drop us a line >>