Truro and Penwith College
We run direct buses to Truro & Penwith colleges from all over Cornwall, plus some useful connecting services too.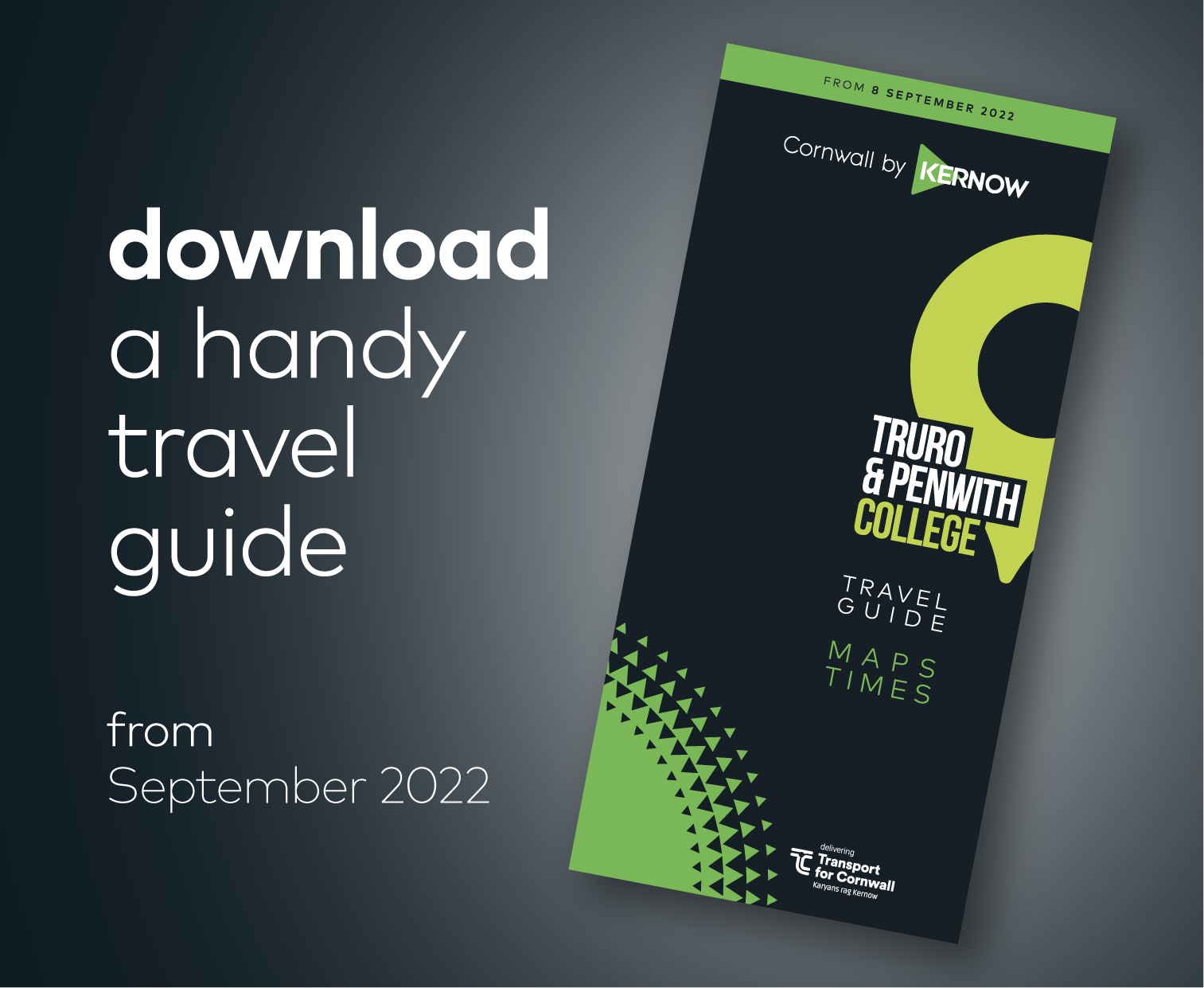 To help you get to your lessons, we've put together a handy travel guide showing our network of direct buses. Inside you'll find maps of our routes, the times of buses to get you to and from your lessons, and details of how to activate your annual college bus pass for the first time.
Some of our routes run all day too - so you don't have to be in college all day. Our handy guide show you the main buses to and from college. If you want to see times of buses all day, check our timetables page here.
Don't forget to download our mTicket app - you can use it to help you plan your journey, buy tickets and to activate your College bus ticket.
We offer a range of great value bus tickets. If you plan to attend college most days, the best value ticket will be an annual pass. Buy this direct from the college.
Truro & Penwith College are able to reduce the costs of travel for many students. Visit the college website or speak to the Student Services Teams at college.
This year we are working together with all operators in Cornwall to make bus travel easier - you can use your bus tickets on any bus, on any route* across Cornwall – we're one big bus network.
Once you've found the ticket that suits you best you can use it on any bus in Cornwall no matter what colour it is, or who's driving it.
If you haven't used the bus in a while, remember to raise your arm in good time when you see the bus approaching so the driver can see you.
You can find details of upcoming changes to routes and timetables here >
You can find all of our fares and tickets here >
(remember that the best value annual bus pass can only be purchased direct from college)
*excludes Truro Park & Ride