Ticket types
Coronavirus. For the latest service levels visit our Coronavirus page here >>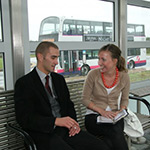 Potteries Bus Ticket & Pass Types
Need great value bus travel with a range of options to suit your needs and wallet? We can do that.
We've got a wide range of bus tickets available across Stoke-on-Trent, Newcastle-under-Lyme and surrounding areas to suit your needs, whether you travel every day or only now and then, on your own or with the family, we have just the ticket for you.
We offer unlimited travel tickets in daily, weekly and monthy formats. Young People get a discount on tickets, as do students.
Download our app to buy in advance.
Buying on bus? We accept contactless credit/debit cards, Apple Pay and Google Pay. Cash is accepted but we are asking customer to pay by card or mobile app to reduce transmission of Coronavirus