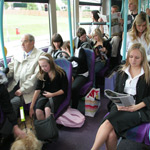 At First in Berkshire & The Thames Valley we want you to have a safe, reliable and high quality journey every time you travel. The majority of our fleet is low floor & easily accessible meaning parents with buggies and wheelchair users can travel with ease.
We continually monitor our progress and because your travel needs are constantly changing, we strive to find new ways of improving our service. We will always publicise upcoming service changes through this website.
Customer Service and Safety are very important to us at First and we welcome comments from all our customers. You can contact us in a number of ways:
If you do have cause to report an issue, we will investigate what went wrong and give you a full response. We aim to acknowledge your query within 2 working days and to respond within 2 weeks, however depending on the complexity of your query and whether we've needed to contact you for further information this may take longer.