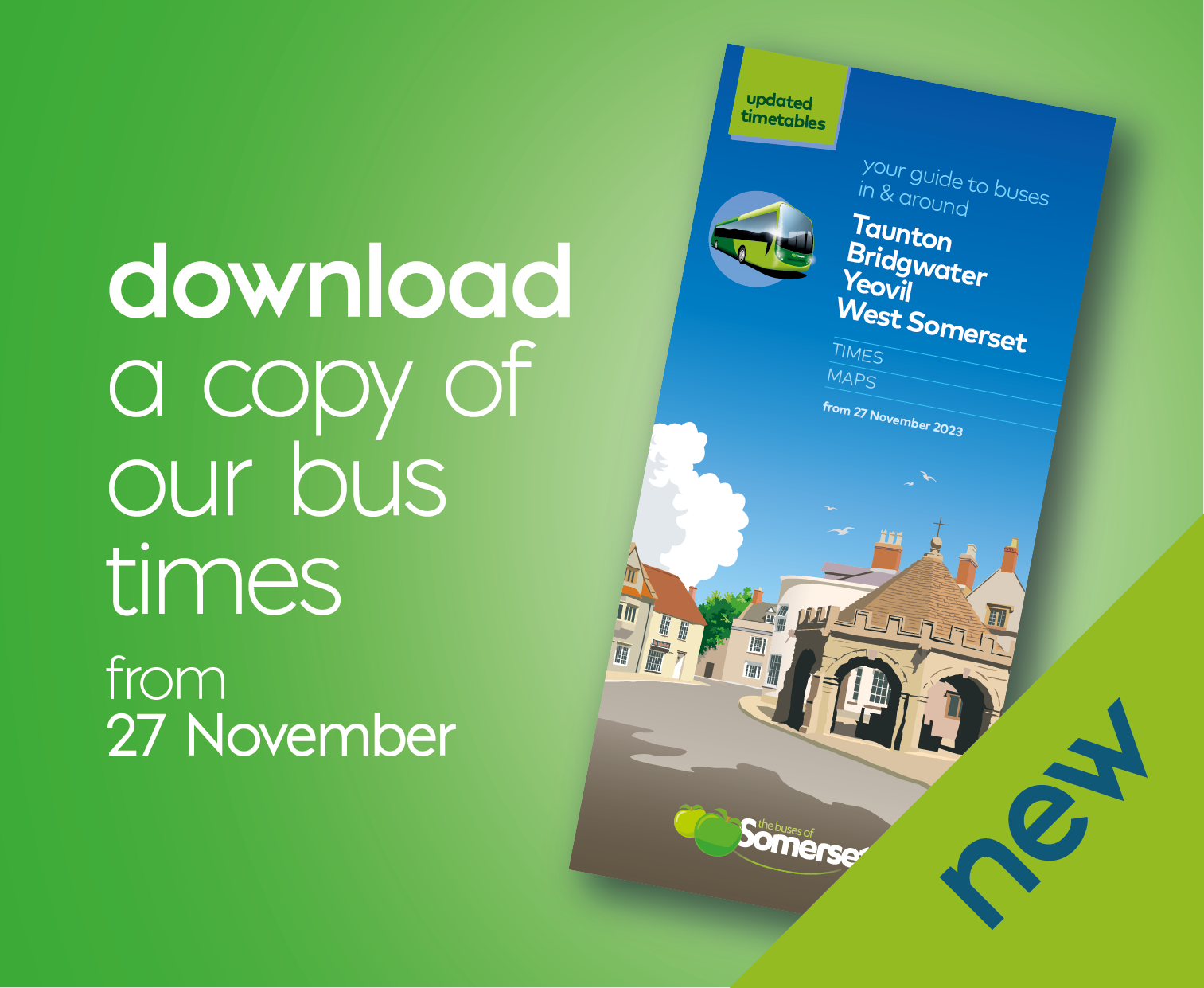 Services 55 and 77/77a
Services 55 (Wrantage - Strode College) and 77/77a (Yeovil - Wells) are now operated by our sister company First West of England. Click to find out more.
If you have any queries relating to these service you will need to reference First West of England. Click here to visit their website.
---
Our Timetables are listed below. To search for a specific route number, please type the number into the Bus Timetable Search box. Once you have found the timetable you require, choose the day of the week you want to travel to view bus times.
Timetables show main stops. For routes with a return journey, you may need to scroll down to view details.
You can choose to view and print your timetable in standard or large print pdf format. Or you can personalise the timetable to display your start and end point and to show only the services for a specific time of day.
We can't find any timetables matching your query.
Travel Alerts
From Thursday the 14th to Friday the 15th of December, there will be a closure along Station Road, Ilminster between the hours of 21:00 and 06:00.
This will affect service 30.
Buses will be diverting as follows:
Towards Axminster:
Buses will travel along the A358 until the reach Southfields Roundabout. They will then turn right and take the third exit for the A358. They will follow this road down and resume their normal line of route towards Peasmarsh.
The same route for the trip from Taunton.
This will only affect 21.11 from Chard and 22.10 from Taunton
Unfortunately, we will not be able to serve Ilminster for the duration of this closure.
We apologise for any inconvenience this may cause.
From Monday 27 November, changes to Buses of Somerset's timetables will further improve punctuality and reliability

Following customer feedback, earlier buses added to help locals get to work

Evening services extended on the 21 service
As part of our programme to improve bus services for local people, we are adding extra journeys to a number of our services.
Following customer feedback, wer're making some changes to timetables from Monday 27 November. These changes include adding earlier journeys to some routes to support workers, as well as extending evening services on the 21.
We have also been monitoring punctuality and reliability, and some other minor amends will be made to timetables to improve the running time of buses.
James Eustace, Commercial Director at First South, said: "Our customers are at the heart of everything we do, and we're making these changes after listening to their feedback. People told us they needed earlier buses to get to work, so we're adding these journeys in on weekdays. We're also adjusting some journey times to improve punctuality and help students get to school.
"At the same time, we are also seeing improvements in punctuality on our services, following the timetable changes during September. Our focus is on running a reliable service for local people and we're working hard to make that happen."
Here is what is changing:
Services
What is changing
Services 1, 6 and 7 (Taunton Town Services)
Some changes to journeys in the morning peak to support people to get to work. No changes to Saturday journeys.
Services 21, 21a (Taunton – Bridgwater – Burnham-on-Sea)

A new timetable will be introduced to allow additional journey time to improve punctually.

Following customer requests, an earlier journey on the 21 will be added from Taunton at 0500 to Burnham-on-Sea (Monday to Friday) and 0515 from Taunton to Bridgwater (Saturday).

During the evenings Monday to Saturday buses on service 21 will be extended from Bridgwater Bus Station to Dunball, Admiral's Table providing an hourly service to the North of Bridgwater.

The 0750 21 journey will become a 21a, departing at 0755 to allow students to get to Heathfield Community School. There are no changes to the Sunday timetable.

Services 22, 22a & X22 (Taunton – Wellington – Tiverton)
A new timetable will be introduced to allow additional journey time to improve punctually. Some changes to early morning departures on Monday to Friday to allow earlier arrivals in Wellington from Taunton.
51 (Yeovil Town service)
Minor changes on Mon-Fri only at 0900 to remove waiting time at Asda. Buses will now wait in Yeovil Bus Station.
Services 623 and 625 (Bridgwater College)
Minor Changes to the timetable to improve punctuality.
The Exmoor Coaster
Services will stop running for the winter from Sunday 26 November. The service will return in early 2024.
Services 55, 77/77a
Service 77 will have an additional journey added from Yeovil at 1820 Monday to Friday and 1810 on Saturdays. No other changes will be made to the timetables, but these services will be operated by First West of England and Wales from Wells depot, rather than Buses of Somerset's Yeovil depot. This does not affect customers.
Service Y4
Dorset Council have requested that the service now becomes the CR4. No changes to the route or timetable.
New timetables will be available on our website by mid November. Customers will also be able to check timetables via the First Bus app and get updates via Buses of Somerset on Twitter
From Tuesday the 11th of April until Monday the 15th of January 2024, Yeovil town centre will be closed for the town centre Re-generation project.
This will affect services 6, 51, 54, 58A and 77 into Yeovil High Street.
Buses will divert as follows:
All services will continue around the Hospital roundabout as normal and into Park Road they will then turn LEFT along Court Ash and drop off at the Temporary Bus stop.
Please note that NO buses will be able to serve to the borough (Town Centre)
We apologise for any inconvenience this may cause.