Halifax & Calder Valley
Halifax Ski & Snowboard Centre
Nestled in the hills above Halifax, the Ski & Snowboard Centre is the destination for experienced skiers and snowboards, or those wanting to learn.
Website: www.ridehalifax.co.uk/
---
Westgate Arcade
A stylish shopping and dining destination at the heart of Halifax.
Website: www.westgatearcade.co.uk/
---
Halifax Borough Market
The beating heart of the town, Halifax Borough Market has been open since 1896 and offers a slice of Yorkshire life within an old victorian building.
Website: www.halifaxboroughmarket.co.uk/
---
EUREKA!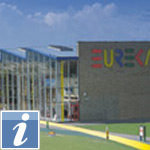 Eureka! Is the National Children's Museum, a place where children play to learn and grown-ups learn to play. Everything at Eureka! has been designed to inspire children to find out about themselves and the world around them through 100s of hands-on exhibits.
Services: Any bus to Halifax Town Centre
Website: https://www.eureka.org.uk/
---
Woolshops Shopping Centre
A bustling, urban hub of modern retail shops, restaurants, cafes and community events.
Website: www.woolshopsshoppingcentre.co.uk/
---
Shibden Hall, Park and Gardens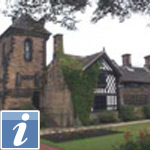 The historic, half timbered Shibden Hall, set in majestic parkland dates back to 1420 and is home to a fine collection of 17th and 18th century furnishings once belonging to the Lister family. The 90 acres of beautiful parkland have extensive playground facilities, a boating lake, minature railway and a dry-stone walling display.
Services: 508, 548/9, 681/2
Website: museums.calderdale.gov.uk/visit/shibden-hall
---
Piece Hall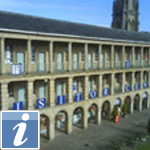 The Piece Hall is a former 18th Century cloth market, where local traders sold their cloth by the 'piece'. Currently home to a collection of curio shops, a market every Thursday and Saturday, an art gallery and the Halifax Visitor Centre. Events are also held throughout the year.
Services: Any bus to Halifax Town Centre
Website: www.thepiecehall.co.uk
---
Manor Heath Park
Manor Heath Park is open all year round and offers a great, family day out and attractions such as walled gardens, a sunken garden and 19 acres of grasslands.
Website: www.calderdale.gov.uk/parks/manor-heath
---
Bankfield Museum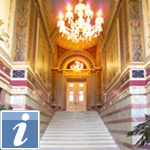 Set in a wonderful Victorian mill owners house, Bankfield has a growing reputation as a centre for textiles and contemporary craft.
With its internationally important collection of textiles, weird and wonderful objects from around the world, plus commissions by leading makers and a varied programme of exhibitions and events, there is much to see and enjoy.
Services: 576 (Lime Line)