Message from our Managing Director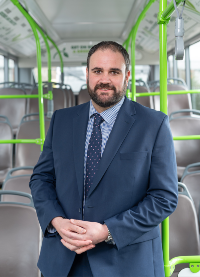 Hello and welcome to First Bus in West Yorkshire
I am proud to lead a business in such an exciting county, with over 2000 local staff working hard to deliver great standards of customer service every day.
Our buses are on the region's streets to support communities, helping to ensure our customers get to where they need to be safely and with confidence. They are vital to the region's economy and keep people moving freely around our towns and cities.
Our unprecedented investment in modern low emission buses has led to the launch of the first-ever zero emission bus fleet for West Yorkshire which started operating in Leeds in October 2020, and now supplemented by new electric vehicles on the Stourton Park & Ride, south of the city. Our new and exciting Tap on Tap off capability on all buses, introduced in December 2021, means nobody pays more for their journeys than they have to. We also have introduced dedicated customer service staff in bus stations to assist you, being professional and welcoming to help you with your journey. But there is so much more to do.
Due to a more buoyant labour market, we have seen a number of staff leave to pursue other career adventures and whilst we are delighted that we continue to attract replacements, this does take time due to our training regime. We are now starting to overcome our shortage of drivers and continue to look at ways to make the role more rewarding and flexible.
Work on the exciting Connecting Leeds infrastructure building programme is drawing to a close and beginning to deliver the benefits of better bus priority to improve journey times and reliability for our customers in Leeds. Our commitment to a reliable service does not stop there. We work with our partners in WYCA and local authorities to identify and bid for government funding to support even more transport investment in the region. This joint success means that by 2024 our Bramley depot will be transformed with electric buses making up a third of its fleet. Investment by transport authorities in improvements to Halifax and Leeds Bus Stations is also welcome and we thank customers for their ongoing patience in the construction phases.
We're always listening, and I really welcome and value any feedback about your journey. We have online and offline ways of communicating which you will find detail of in the Help and support section.
We want to keep playing an active role within our local communities and to keep the people of West Yorkshire moving - safely, comfortably and reliably.
I really hope you enjoy your journey with us and that you find everything you are looking for on this site.
Andrew Cullen
Managing Director
North & West Yorkshire