Huddersfield
The Kirklees Light Railway
Open - online booking required
Enjoy the history and experience the locomotives with a day at the railway!
Website: www.kirkleeslightrailway.com/
---
Packhorse Shopping Centre
A shopping centre in the heart of Huddersfield, offering a bright and welcoming shopping experience.
Website: www.packhorseshoppingcentre.co.uk/
---
Castle Hill
An ancient monument and green space overlooking Huddersfield.
Website: www.yorkshire.com/castle-hill-and-victoria-tower
---
ROKT Climbing gym
ROKT climbing gym offers the UK's highest man-made outdoor climbing wall, in addition to indoor climbing, a Nerf arena, spin cycle studio, escape rooms, yoga studio, an award-winning pub and a restaurant.
Website: www.rokt.co.uk/
Website Miller's Bar: www.themillersbar.co.uk/
---
Piazza Shopping Centre
Your one stop centre for a complete shopping experience!
Website: www.piazzapaisley.co.uk/
---
John Smith's Stadium
Closed - currently a vaccination centre
 A conference, wedding and sports venue all tied in to one; John Smith's Stadium will host one of the quarter finals of the Rugby World Cup 2021.
Website: www.johnsmithsstadium.com/
---
Kingsgate Shopping Centre

The Kingsgate Shopping Centre is home to nearly 50 shops, including House of Fraser, Next, River Island, HMV and New Look.
Services: Any bus to Huddersfield Town Centre
Website: www.kingsgateshoppingcentre.co.uk
 
---
Colne Valley Museum, Golcar

The Colne Valley Museum provides a look back at Victorian Huddersfield. Displays of textiles and former industries based in Huddersfield from the early Victorian days. There's often spinning, weaving and clog-making demonstrations.
Services: 301/2
Website: www.colnevalleymuseum.org.uk
---
Tolson Museum
Each intriguing layer of Huddersfield's past is revealed at the Tolson Museum. From the tools of the earliet settler - made for hunting in the primative forests - to the modern day collectors from local people. Learn how the boom in the textile industry changed peoples lives and brought prosperity to the town. Tolson leads you step-by-step through the centuries of Huddersfield's history.
Services: 372. Services 370/1 will also drop you a short walk away. 399 Saturdays and Sundays only.
Website: www.kirklees.gov.uk/beta/museums-galleries-history/tolson-museum.aspx
---
Standedge Tunnel, Marsden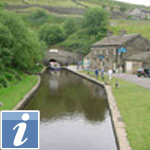 The former canal warehouse opposite the towpath at Tunnel End has been converted into a Visitor Centre, with displays telling the story of the canal and the tunnel. There is also a film about the canal showing continuously. Admission to the Visitor Centre is free. There are also boat trips from Tunnel End Cottages at the tunnel mouth which go about 500 metres into the tunnel.
Services: 185. Services 183/4 will also drop you a short walk away.
Website: www.penninewaterways.co.uk