Land's End Coaster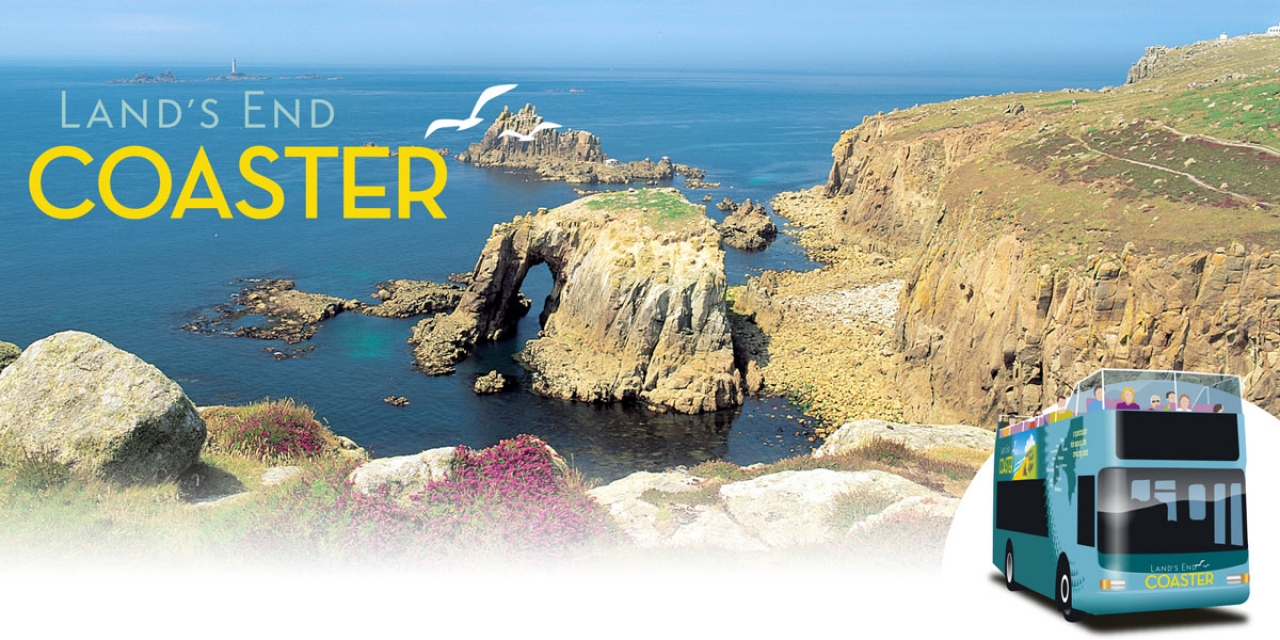 One of the UK's most spectacular open top bus rides, showcasing rugged coastlines, mining heritage sites, harbour towns and Land's End itself
Land's End is one of Britain's best known and most popular landmarks, uniquely located at the most Westerly tip of Britain's land mass, with breathtaking views inland across the moorland and out across the English Channel and Celtic Sea.
book your adventure
First adventurer
1 day - £15
2 days - £20
3 days - £25
7 days - £30
15 adventure days £60
Additional adventurers
1 day - £7.50
2 days - £10
3 days - £12.50
7 days - £15
15 adventure days £30
English National Concessionary Travel Passes Accepted
stops
St Ives
St Just
Land's End
Porthcurno
Newlyn
Penzance
Marazion
St Ives
what's en-route?
getting to the tour
By Bus
Penzance bus station
St Ives bus station
By Car
St Ives, Station Car Park, TR26 2BH
Penzance, Harbour Long Stay Car Park, TR18 2GA
Porthcurno Car Park, TR19 6JX
when do we run?
May – September: Daily every hour
October – May: Daily every 2 hours
In case of disruption, where can I find travel updates?
We always strive to provide an efficient and reliable service but inevitably, there are unavoidable situations which may affect your adventure. Please check our dedicated twitter feed - @ABBTravelUpdate for the most up to date Adventure travel news.
book your adventure
First adventurer
1 day - £15
2 days - £20
3 days - £25
7 days - £30
15 adventure days £60
Additional adventurers
1 day - £7.50
2 days - £10
3 days - £12.50
7 days - £15
15 adventure days £30
English National Concessionary Travel Passes Accepted
get in touch