Here at First Manchester, we have a comprehensive network of bus services connecting several towns and villages across Greater Manchester.
You can save money if you travel just with First Manchester buses, but we know it isn't always possible to complete your whole journey with us - we know that sometimes you need to travel that bit further.
If you need to travel with more than one public transport operator, we've listed below some great ways to save money on your journey.
getmethere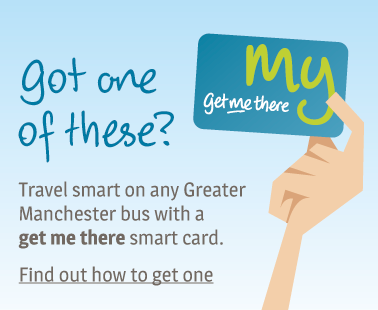 You can now get a smart card to buy and load flexible, better value travelcards that let you travel on First Manchester buses, and several other Greater Manchester buses too.
You can get a card from your local travel shop. There are lots of travel options available to load onto the card such as:
1-day Adult AnyBus
7-day Adult AnyBus
28-day Adult AnyBus
1-day Junior AnyBus
7-day Junior AnyBus
28-day Junior AnyBus
1-day AnyBus 16-18
Find out more about getmethere and find out more about the travelcards for sale.
System One
First Manchester is part of the SystemOne Travel Network, which is made up of several bus and train companies and Metrolink too.
SystemOne provides a range of tickets which offer unlimited travel options on many buses, trains and trams across Greater Manchester.
Find out more about SystemOne tickets, prices, validity and terms of use.
PLUSBUS

Will your journey take you outside Greater Manchester?
PLUSBUS is a bus ticket that you buy with your train ticket
PLUSBUS gives you unlimited bus travel around town, at the start, the finish, or both ends of your train journey. With PLUSBUS you can make as many journeys as you like on all participating bus operators services. PLUSBUS is now available to 227 towns and cities across Britain.
TransPennine Express
TransPennine Express is an intercity rail provider visiting towns and cities across the north of England and into Scotland. You can book your train tickets in advance. Book your train tickets direct and you could save over 50% at tpexpress.co.uk - and collect Nectar Points with every online purchase!