Days out with Vantage
Here's a selection of some of our favourite places in Manchester, and how you can get there with Vantage!
---
The Royal Exchange Manchester     

                               
Postcode: M2 7EF 
Website: https://www.theroyalexchangemanchester.com/
The Royal Exchange Manchester is an eclectic collection of luxury retailers, premium high street brands and independent boutique shops. It's also home to a range of cafes and restaurants to suit all tastes and dietary requirements, including Annies tearoom owned by Coronation Street actress Jennie McAlpine. 
---
Northern Quarter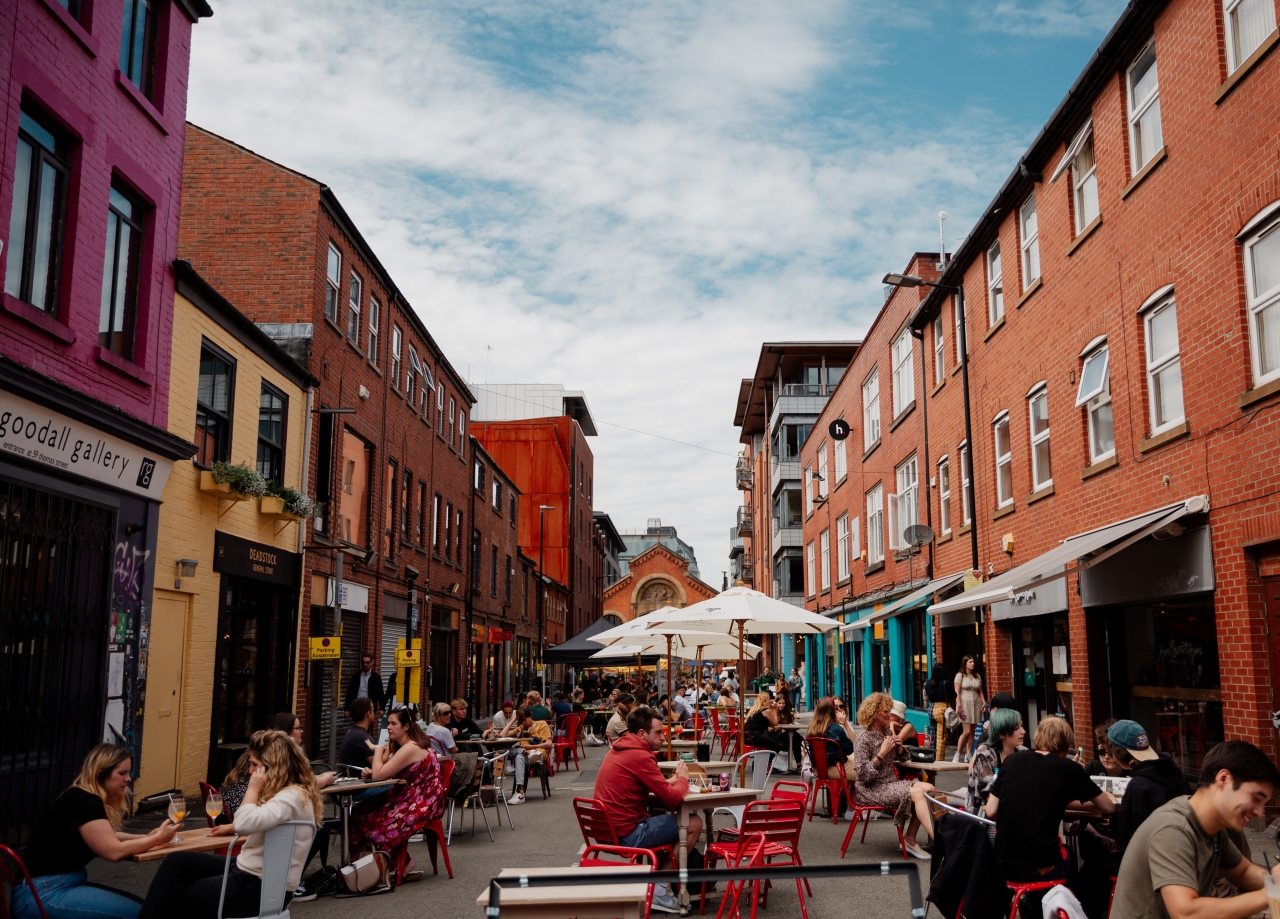 Postcode: M4 1HQ 
Website: https://www.visitmanchester.com/shopping/northern-quarter-p25851
A trendy neighborhood with vibrant street art, bohemian bars, independent shops and restaurants plus some of the city's liveliest music venues. Full of culture and always something to see and do.
---
Spinningfields
Postcode: M3 3EB 
Website: https://www.spinningfieldsonline.com/
Spinningfields is a vibrant destination featuring luxury international fashion brands, restaurants and bars. Firmly established as a premium venue for culture and entertainment, regularly playing host to public art pieces, outdoor cinema screenings and exciting pop-up activations it's always worth a visit.
---
Shambles Square
Postcode: M3 1SQ
Website: https://www.visitmanchester.com/things-to-see-and-do/shambles-square-p35...
A popular place to meet friends for a drink after work, a tipple in the sunshine at the weekend or for a well deserved break after a day of shopping. 
---
The Printworks
Postcode: M4 2BS
Website: https://printworks-manchester.com/
Printworks is an entertainment destination at the heart of Manchester City Centre, and is the ultimate stop for friends, families and nights out. Whether you're after a fun-filled day packed with mini-golf, bowling, cinema or escape rooms, want to be spoilt for choice of food with restaurants including Hard Rock Cafe and Frankie and Benny's, or fancy a night out with dancing at Bierkeller and Cargo or great drinks offers at Yates, there's something for everyone.
---
Afflecks 
Postcode: M4 1PW
Website: https://www.visitmanchester.com/shopping/afflecks-p19671
Afflecks is an emporium of eclectic retailers, an iconic symbol of varied styles and fashions based in Manchester's Northern Quarter. A great place to shop when you're looking for something a little bit different. 
---
Vertigo - Vegan restaurant inside Royal Exchange Manchester
Postcode: M2 7AE 
Website: https://vertigo.restaurant/
Named by The Times as one of the Top 20 Vegan Restaurants in the UK, Vertigo is an award winning vegan restaurant and coffee bar serving up the most delicious vegan breakfast, lunch, dinner, wines and beers. Situated on Cross Street, this popular eatery offers an eat-in or takeaway service. 
---
The Remedy Kitchen - inside Royal Exchange Manchester 
Postcode: M2 7EA 
Website: theremedykitchen.co.uk
Delicious, healthy and nutritious, The Remedy Kitchen café in the Arcade is the first of its kind. Its menu is 100% gluten, dairy, wheat and refined sugar free for people who want to feel the best without compromising on taste or quality. 
---
Annies Teamroom - inside Royal Exchange Manchester 
Postcode: M2 7PE 
Website: anniesmanchester.co.uk
Owned by Coronation St actress Jennie McAlpine and husband Chris, Annies on Old Bank St is renowned for its superb traditional Afternoon Tea and Sunday lunch. Its cosy interior, delicious traditional food and friendly service provides the perfect setting for any occasion, be it a business lunch or relaxing with friends over dinner and cocktails. 
---
Michaels Coffee House
Postcode: M2 7EA
Website: michaelscoffeehouse.com
Michaels coffee house in the Royal Exchange Arcade serves up the best coffee in town! Its team of friendly baristas serve up a range of delicious hand-crafted coffees, refreshing smoothies, luxury teas and homemade cakes, soups and freshly made toasties. It's also the perfect place to relax and watch the world go by. 
---
North Tea Power 
Postcode: M4 1LA
Website: https://northteapower.co.uk/
Located in Manchester's Northern Quarter, this independent little gem serves fine coffee, loose-leaf tea, soup, sandwiches and cake.
---
Grindsmith
Postcode: various locations in Manchester
Website: https://www.grindsmith.com/
Using regionally roasted beans such as Foundry Coffee or Cold Brew to suit the customers exact taste, this coffee shop is certainly worth a visit. 
---
Sugar Junction
Postcode: M4 1LG
Website: https://www.sugarjunction.co.uk/
Born from a passion for baking, and a love of wholesome food, excellent coffee and tea, Sugar Junction brings vintage to the Northern Quarter. Offering a selection of homemade cakes, sandwiches, and their well-renowned Afternoon Tea, plus 18 blends of tea and gourmet coffee.
---
Federal Cafe & Bar
Postcode: M4 1EY
Website: https://www.federalcafe.co.uk/
Independently owned café bar serving gourmet coffee, specialty teas, delicious brunch, bagels and homemade cakes.  
---
The Lawn Club 
Postcode: M3 3HG
Website: https://www.thelawnclub.co.uk/
A quintessentially British pop-up bar in the heart of Manchester, nestled amongst the greenery of Hardman Square. Whether you want to soak in the sun or relax in a futuristic pod, the Lawn Club offers the perfect blend of cocktails, craft beer, wine and al fresco summer socialising.
---
Cosy Club
Postcode: M4 3TR
Website: https://cosyclub.co.uk/location/manchester/
Cosy Club aims to provide a little something for everyone, serving breakfast in the morning and staying open late for drinks in the evening. It's the perfect venue for your dress-down Sundays or your glad-rag Friday nights, your lunchtime getaways or your family fun Saturday afternoons.
---
Banyan Bar & Kitchen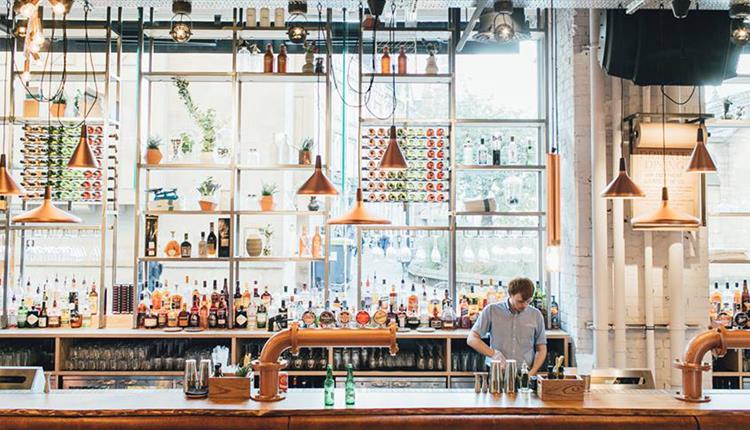 Postcode: various locations in Manchester
Website: https://www.banyanbar.co.uk/
During the day, the spacious and relaxing bar areas with floor to ceiling windows offer a perfect place to meet up for drinks or food. In the evening, customers can enjoy a meal in a more formal setting with all food made from local produce. 
---
The Anthologist
Postcode: M2 3DE
Website: https://www.drakeandmorgan.co.uk/the-anthologist-manchester/
The Anthologist provides a constant flow of new drinks and dishes from across the globe, a unique range of innovative cocktails and all-day dining.
---
Escape to Freight Island
Postcode: M1 2PZ
Website: https://www.escapetofreightisland.com/
Escape to Freight Island is an urban market and festival space full of food, drink, music, immersive entertainment, festival takeovers and family focused happenings.  
---
Impossible
Postcode: M2 5QR
Website: https://be-impossible.com/
Impossible is spread across three floors combining a bar, restaurant, Gin Nest, Theatre, and one of the largest garden/terrace areas in Manchester. Designed to be out of the box, playful and adventurous. Impossible as a whole promotes a sense of fun and mystery whilst maintaining a high level of service.
---
Trof Northern Quarter
Postcode: M4 1EU
Website: https://trofnq.co.uk/
Trof Northern Quarter is a dandyish den of opulence. The kind of place where you can hang out day or night. Serving food and drinks to suit every mood and time of day.
---
Albert's Schloss
Postcode: M2 5QR
Website: https://www.albertsschloss.co.uk/
Albert's Schloss has something for everyone with a Bavarian inspired menu, a drinks selection from across the globe and daily bakes fresh from the Schloss bakery. Plus it hosts a weekly programme of events and entertainment. 
---
Refuge by Volta
Postcode: M60 7HA
Website: https://www.refugemcr.co.uk/
With its welcome ambiance and sociable buzz, The Refuge has become a hotspot where you can play all day and stay all night. Sip cocktails, whizz through work emails, catch a live DJ, sample pours from a local brewery or enjoy their globally influenced small plates and sharing dishes. 
---
The Oast House
Postcode: M3 3AY
Website: https://theoasthouse.uk.com/
A place to indulge in deli boards, rotisseries and the grill plus some of the world's finest ales and beverages. Located in the heart of Spinningfields everyday feels like a festival.
---
Corn Exchange Manchester
Postcode: M4 3TR
Website: https://cornexchangemanchester.co.uk/
Showcasing all its original Edwardian beauty with a modern twist, The Corn Exchange is home to a mouthwatering mix of restaurants with something to suit every taste. 
---
Ducie Street Warehouse
Postcode: M1 2JQ
Website: https://duciestreet.com/
Set in the heart of the city is this iconic bar, lounge, restaurant, deli counter, takeaway shop and mini cinema. The ultimate all-day space to socialise, graze, dine and drink. 
---
Visit Manchester
---
Looking for some more inspiration? Head to Visit Manchester where you can search for places to eat and drink, things to do and learn about upcoming events.
---