Concessions

English National Concessionary passes can now be used as a Smartcard on your First bus. First have invested £27 million on new ticket machines - your pass automatically records on the ticket machine so there's no need for the driver to issue a ticket.
How?
Simply hold your pass against the card reader on the ticket machine and wait until it beeps. Then, just show your pass to the driver to confirm you're the authorised holder & take your seat.
Blind pass holders can continue to show the driver their pass - however if you prefer you can use your pass as a Smartcard.
What if my pass doesn't work? You can still travel - your driver will record your pass manually and issue you with a ticket. You should contact your card issuer to arrange for a replacement pass so you can go smart on future journeys. In York, call York Travel Planning on 01904 551670.
---
Elderly and Disabled Permit Holders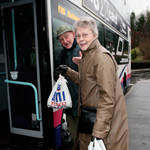 If you are of state pensionable age and over or registered disabled and hold a valid English National Concessionary Permit you are entitled to free travel on main network buses after 9:00am Monday to Friday and all day weekends and Bank Holidays.
Before 9:00am Monday-Friday the full adult fare is payable.
If you are a resident in York please visit the iTravel York website for more information on applying for a pass. If you are resident outside of York, please contact your local authority for further information.
Blind Pass Holders
If you hold a disabled pass showing the 'Blind' symbol you are entitled to free travel on our buses in York at all times.
York Park and Ride
English National Concessionary Travel Passes are also valid for travel on Park & Ride services in York.
A £1.20 fare applies when boarding at the Park & Ride site, three children age 16 and under can travel for free when you board at the site.