York £20K Restart Fund

---
Win your business a share of £20,000!
We're here to get York moving again and support its vibrant independent consumer businesses in building the city's recovery from the pandemic. That's why we created the restart fund, to help York's small firms in retail, food & drink, leisure, hospitality and health & beauty get going again and grow their customers.
We've made £20,000 available to finance ideas and plans that will enable York business to come back stronger from Covid!
First York has joined forces with the FSB (Federation of Small Businesses), the leading business support organisation for small businesses and the self-employed, to help with key decisions of the fund.
There are 15 awards of £1,000 and a further £5,000 to be awarded to the top 3 of the people's choice.
The 15 winners of the £1,000 award have now been selected - the next phase, the People's Choice, will commence from Monday 17th May.
---
Top 15 winners of the York £20K Restart Fund
Bish Bash Pot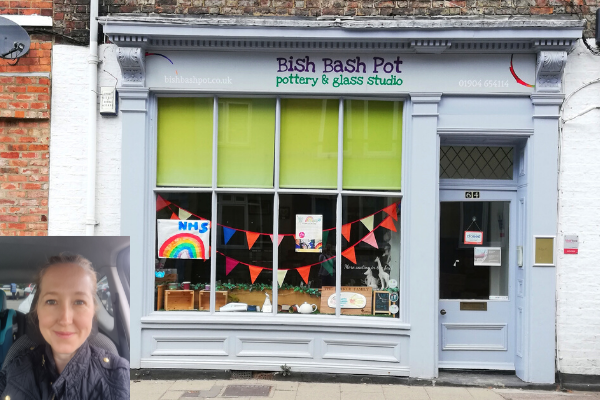 A colourful studio based in the city centre offering creative pottery painting and courses on using a pottery wheel and hand-building pottery! Bish Bash Pot has been closed completely during the Covid-19 pandemic and the team is looking forward to the return to indoor activities.
"I would absolutely spend the funds on a pottery wheel for the studio. Throwing on a potter's wheel is fantastic and we can offer another seat in the studio for someone who is wanting to learn. It would be great to have a bustling busy studio again and be able to offer the wheel for children to use," says owner Angela.
Braithwaite Gallery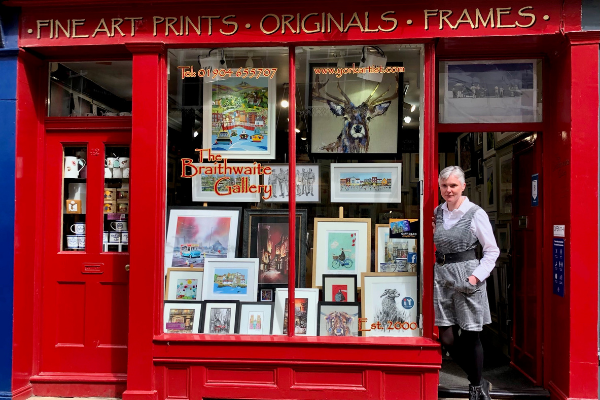 A family-owned art and framing gallery on Low Petergate, run by Anne and artist husband Mark since 2002. You may have seen Mark sketching on his stall outside Michael Le Belfry Church; he's a regular 'tourist attraction'! During the Covid-19 pandemic, Braithwaite Gallery had to completely close, offering a click & collect service but missing that face-to-face connection with customers.
Anne says" "We realised in each lockdown that our website was not clever enough to offer a complete sales experience. I am moving the existing site onto the Shopify platform which enables us to make the same stock available online, as well as in-store, and streamline the order process."
Caseys Coffee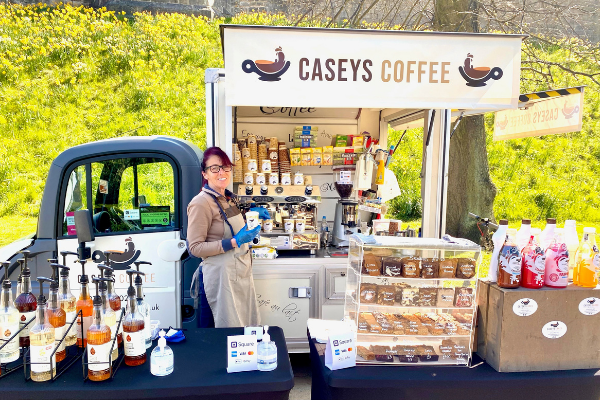 A husband and wife team running a miniature coffee house on Station Rise with a 5-star food rating and two coffee house units; 'Eric' in York and 'Ethel' in Allerthorpe Woods. They had to completely change the way they work; unable to claim furlough or Gov funding, the couple worked to secure a pitch for 'Eric' and 'Ethel' to offer takeaway services. "We have limited space on Eric now and it limits our ability to display all the products we have to offer, "says Clare. "We'd love to upgrade our coffee grinder and shelving would help to hold the cakes in-situ, giving easier access so we can serve customers quicker and be able to chat longer!"
Glamour, Glow & Glisten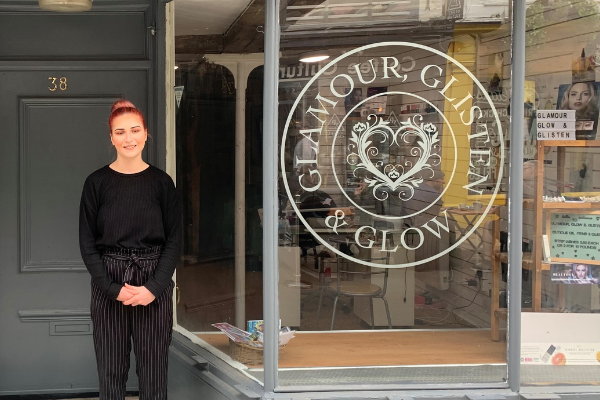 A beauty salon on Goodramgate which opened in November 2019 and provides treatments such as massages, facials, waxing, nails and makeup. Anna works one to one with her clients for a friendly, personal and professional experience, but had to close multiple times during the Covid-19 pandemic and couldn't offer her full range of treatments for the majority of 2020. "I would love to make improvements throughout the salon, including updating the décor and creating a reception area to look more welcoming and inviting to clients. I would also like to expand to include spray tanning - this fund would help me to buy the equipment and products to develop my business."
Granary Art House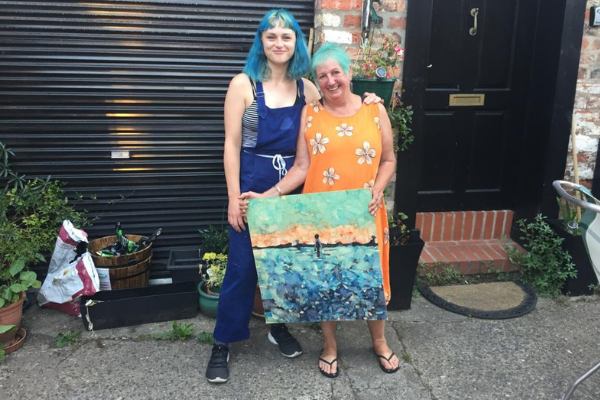 A small, exclusive holiday home providing self-contained accommodation for up to 6 people in the Groves, 10 minutes from York City Centre! The Granary had to close for most of 2020 during the Covid-19 pandemic and were unfortunately not eligible for Government funding. "Our proposed development is to transform The Granary into a series of functional, immersive art installations, showcasing artists, designers & makers' work from York," explains owner Ann. This will give visitors an opportunity to stay in an unusual lodging whilst exploring some of the local history and talent which lies within the city. The venue will also have regular 'view from the street' Covid-safe exhibitions, which is the first phase of the project."
Hilda & Jane's A Bit Of What You Fancy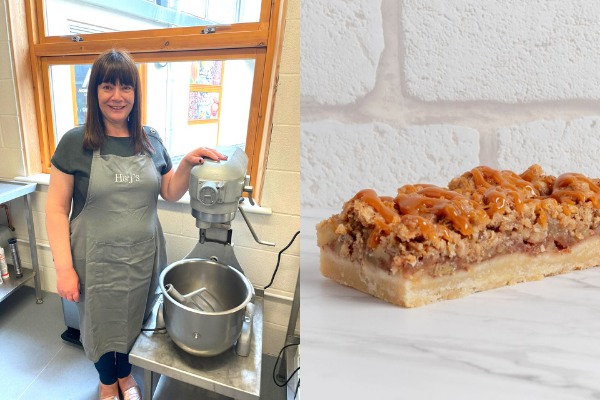 A small, family business inspired by Jane's mum, who taught her to bake as a child. The business has grown over the years, progressing to baking artisan brownies and cakes. Due to Covid-19, they were not able to serve their wonderful treats from their pop-up at York Station, but adapted to offer local, home deliveries and set-up a website for postal deliveries. "I have a unit where I bake from and would like to get a coffee machine installed so that I can offer good quality drinks along with my bakes. I would also like to go mobile and would love to be able to purchase an old trailer or caravan."
Just Smile Designs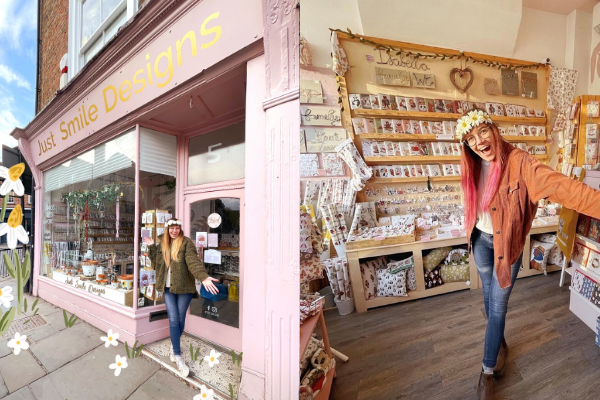 A unique, small business on the corner of Bootham Bar & Gillygate that sells originally-designed and hand-made products from stationary, greeting cards, fabric items and pictures, to wedding cards and home décor! Where possible, all materials are locally-sourced and eco-friendly. During the Covid-19 pandemic, it was able to sell products online but had to close the store for most of the year. Owner Kerry says: "I would like to invest in materials such as paper/card/fabrics and machinery to be more efficient, such as a sublimation printer or mug heat press. Space-saving shelving would enable me to utilise space as the building is Grade II listed and has restrictions."
Micklegate Social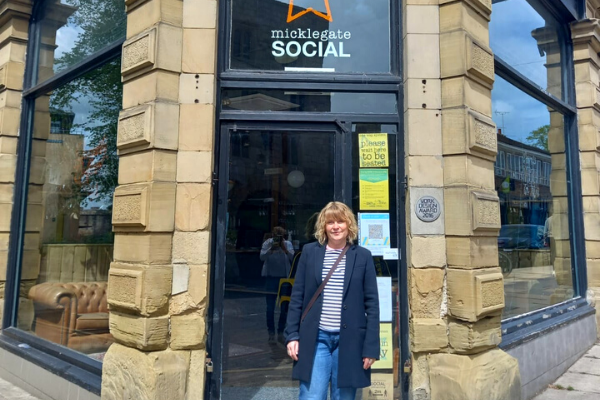 A specialty coffee shop and bar, with a micro-brewery, offering something for everyone and being social by nature! During the Covid-19 pandemic, it closed for 10 months and has little outdoor space to allow socially-distanced, outdoor service. "We would like to invest in two areas," says Sarah.
"Outdoors we would like to design and build movable tree planters with seating and wheels to beautify and green-up the pavement and mark out the location of our small street cafe. And we would like to develop our basement room as a function space. It already has a lovely Victorian tiled floor, but it needs better heating, an improved sound system and a lick of paint."
O + M Snowhome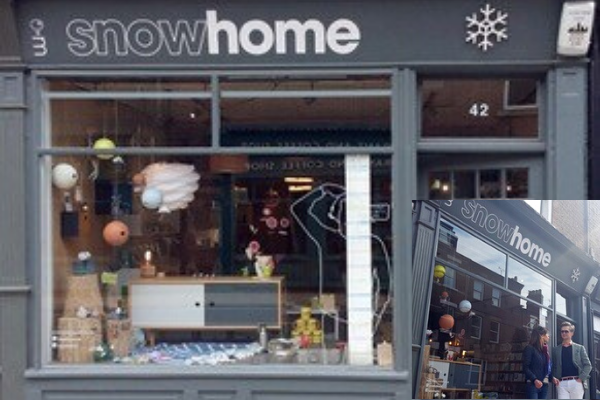 An independent homewares and lifestyle shop established in 2001. Following a takeover in the early part of 2020, Snowhome was largely unable to open its doors again due to Covid-19 and subsequent lockdowns for the remainder of last year, but now looks forward to welcoming back loyal, local followers. "Our proposal is to develop our in-store experiential offering along the lines of the stationery trial-area bench which was an important element our original Owl & Monkey shop on Heslington Road," says owners Matt & Helen.  "This zone offered an important 'try-before-you-buy' experience focused on a range of niche, hard-to-find stationery brands, but also a chance to for people to connect with creative ideas and local artists and makers."
Paul Dawson Coins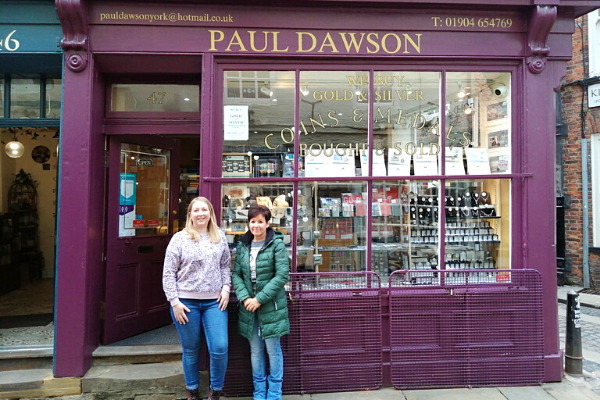 A long-established business based in the Shambles, offering a wide range of "weird and wonderful, interesting stuff", from coins to medals, fossils to artefacts, and more! To adapt to the Covid-19 pandemic, Paul Dawson Coins created a website to sell their unique products, but the loss of customer interaction and tourism has had a significant impact. "We would use the fund to invest in a photographic set up which would allow us to get better pictures of our coins and fossils in clearer detail, as this is the most important aspect to our customers and to increasing sales," says Angela.
Soul Organic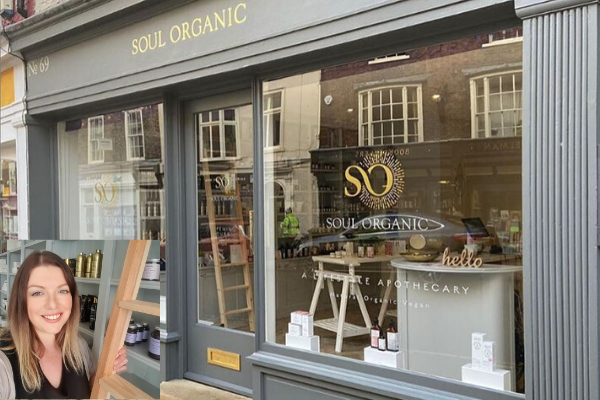 A young, female-founded, beauty and wellbeing apothecary situated on Micklegate, stocking a range of sustainable, organic & vegan products hand-picked in support of independent British brands. It also works with 'Beauty Banks' to end hygiene poverty and plants a tree with every purchase! During the Covid-19 pandemic, the shop had to close and was unable to offer click & collect services and expand into organic beauty and wellbeing treatments as planned. Founder Lauren says: "I would expand with a Beauty Bar by purchasing equipment such as a beauty chair, a hot towel warmer and a sterilising unit to offer organic, vegan-friendly, beauty and wellbeing treatments in addition to our retail range."
Studio 12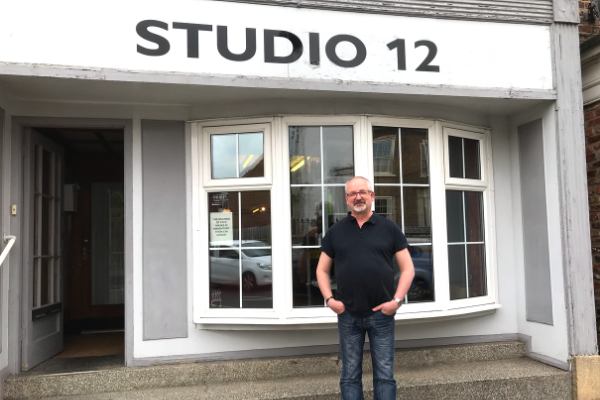 A long-established hairdressing salon on Acomb Road. Studio 12 had to close its doors for all 3 of the national lockdowns and looks forward to welcoming back the local community and reconnecting with clients, helping them beyond hairdressing with iPhone lessons, tech help, local shopping and much more! Owner Paul says: "With the shop front facing south, it gets sun-bleached and weathers quickly. I would use the fund for a fresh lick of paint and to renew the 'Studio 12' sign; that's the first thing our clients see and would make us look more welcoming. Sadly, it's one of the parts of our business that has been neglected during the last year and would make such a difference."
The Hat Shop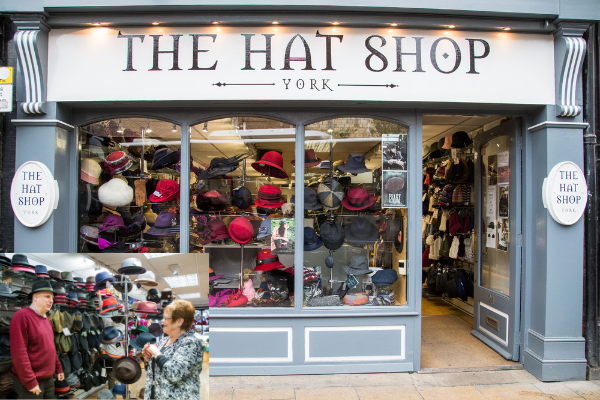 An independent, family-run business in the centre of York selling all sorts of hats from occasion wear for weddings and the races to casuals to protect you from the sun or keep you warm in the winter! Covid-19 had a significant impact on the business, with a reduction in weddings and reduced footfall impacting casual hat sales. "Our plan is to try something we haven't done before: videos playing in the shop window and also within the shop," says owner John. Our proposal is to buy a large screen for the shop window and a tablet for playing the video and to produce engaging video content to recreate the buzz from those pre-Covid days."
The Little Yorkshire Candle Company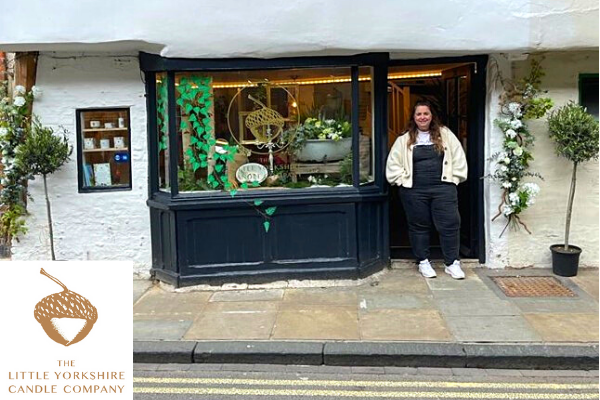 The Little Yorkshire Candle Company was founded in 2016, with the physical store opening in 2019, and offers a range of self-made home fragrances and homeware, as well as hosting workshops in which local creatives can teach others their crafts. During Covid-19, the physical store had to close but the business adapted by boosting its online presence and orders. "Our candle containers and diffuser bottles are printed out of house, so we would use the fund to buy printing equipment, sublimation ink and paper to print our candle containers in-house and potentially a range of heating elements to fit different products," says owner Phillippa.
Yoghurt Delights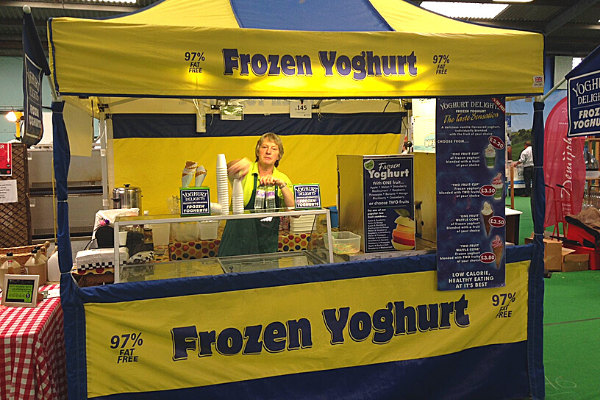 A family farm diversification offering gluten free and vegetarian frozen yoghurt, a unique alternative to ice cream.  Yoghurt Delights have been unable to attend local shows and events due to Covid-19 but managed to stay positive and secured opportunities working with the Forestry Commission, serving yummy treats to walkers, cyclists, horse riders and more! "We would like to purchase a professional blender to enable us to serve iced coffee, milk shakes, and/or smoothies from our purpose-built catering trailer," says Elaine. "Creating an additional line to sell would hopefully increase our income as the shows, festivals and events begin to return."