The Malverns
Coronavirus - service information on this page is not up to date. For the latest service levels visit our Coronavirus page here >>

Your handy bus connection between Great Malvern and Worcester 7 days a week and running up to every 20 minutes.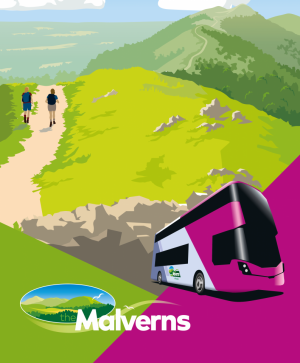 With smart comfortable buses,friendly professional drivers, and handy ways to pay, it is a great way to get into the city of Worcester or to Malvern for work, for shopping or just an enjoyable day out
Need help planning your journey? No problem - visit our journey planner or download our First Bus App for help on the move.
View the timetable at the bottom of this page.
Tickets
Our county tickets are valid the full route of our Malverns services giving great value unlimited travel. Download our First Bus App for our cheapest tickets. Regular traveller? Sign up to county unlimited for just £60 a month. Your ticket delivered direct to your mobile every month when you pay by direct debit.
Just travel locally around Malvern? Our local ticket range is ideal for you.
View the full ticket range on our ticket selector.
Worcester
One of Worcester's gloriesis the magnificent cathedral overlooking a gentle curve of the river. There are royal tombs, medieval cloisters, an ancient crypt and Chapter House and richly coloured Victorian stained glass.
Climb the tower (open Saturdays and school summer holidays) for fantastic views over the city and way beyond.
Learn about the role Worcester played in the English Civil War in The Commandery, and in the Museum of Royal Worcester, in buildings that used to be home to the Royal Worcester factory, is the largest collection of Worcester porcelain in the world.
Worcester'sgreat for shopping, with everything from well-known High Street names to characterful independent shops and boutiques. Crowngate Shopping Centre is right by the bus station and includes M&S, Debenhams, Boots and Primark, plus loads more.
And of course there are tempting cafés and eateries everywhere to keep you refreshed all day long.
Great Malvern and The Malvern Hills
With its hillside setting and a style that is best described as chic meets alternative, it really is hard not to be bewitched by the charm of the spa town of Malvern.
Well-known for bookshops - new and second-hand - galleries, fashion boutiques and wonderful food shops, Malvern has always attracted artists and craftspeople.
Take a look at Great Malvern Priory, a cathedral-sized wonder of English medieval architecture, with treasures to reveal, carvings and tiles in many designs, and an enormous east window.
Another of Malvern's medieval jewels is the Abbey Gateway, home to Malvern's Museum. It's small but filled with exhibits on every aspect of Malvern's history, including items from Malvern's defence research establishment, where wartime radar was developed.
And for a real breath of fresh air get up into the Malvern Hills where, with a spring in your step, it can feel like you're walking on the roof of the world with awesome views all around as far the eye can see.
What are you waiting for?
We are experiencing problems serving our timetables at the moment. Until we get this resolved, you can call Traveline on 0871 200 22 33 or visit www.traveline.info